Karan Johar on deciding against directing Kalank, Student of the Year 2, and why it's too late to be in a relationship
'2018 has been a great year. I had my babies this year. My movies are also my babies. I feel like I'm running a nursery of babies,' says Karan Johar, in an exclusive interview.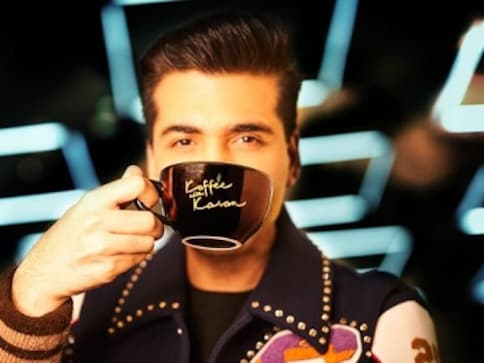 During the first few minutes into our conversation, Karan Johar fiddles with his phone, presumably checking the box office figures of his film 2.0, that releases on the same day. "I'm sorry, you know how release days are," he says, in an apologetic tone.
But soon, he removes the producer's hat and dons the interviewee mantle, to match it with his red tracksuit. Yes, the black suits and radiant shoes remain in the closet, as he comes out. The only distractions that he goes back to are his coffee and a tiny box of dry fruits. But as we all know, Koffee is anything but his Kryptonite. Unlike his popular chat show Koffee with Karan, the black coffee here rests in a sipper, rather than brewing in a smooth, ceramic cup.
On the other side of the Koffee table this time, he answers with abandon about why he passed on his babies (films he conceptualised) to his talent, how Sridevi's death broke his heart, and why he is in a relationship only with his work, mom and babies.
Why did you feel the need to delegate the directorial duty of Student of the Year 2 to Punit Malhotra, having directed a successful first part?
I thought he had the right elements. He handles that generation really well. He is Manish Malhotra's nephew so he gets his colour and aesthetic right. He also has the necessary energy and vigour. I just thought he was the right fit. Tiger (Shroff) leading the cast is exciting because his level of dance and action are unnatural. We're also launching two wonderful ladies in Tara (Sutaria) and Ananya (Panday). It's taking the franchise forward in the same zone. And the good thing about Student of the Year is you know exactly what to expect. It's a lot of fun, entertainment, gloss, glamour, song-and-dance, and narrative.
Also, why did you choose not to direct Kalank, which is a cross border period romance that your late father Yash Johar conceptualised?
The story of Kalank was actually my idea. My father helped me with all the research. When he died, I was too emotionally attached to direct the film. Then one day, I narrated the idea to Abhishek Varman and things fell into place. He then developed it entirely on his own.
Sridevi was supposed to play the role that Madhuri Dixit is now essaying. How difficult was that transition?
It (Sridevi's demise) was very sad. We'll always regret the opportunity to work with someone I consider my favourite actor. Nobody saw it coming. We were all shattered. It was very kind, largehearted and generous of Madhuri to fill those glorious shoes. She showed great spirit and emotion for Sridevi, and truly emerged as a strong member of the film fraternity.
Kalank will now reunite with Madhuri with her longtime co-star Sanjay Dutt after 26 years. How did you manage to cast them together?
I don't think that is the point of the casting. They were cast keeping in mind their individual parts. Sometimes, it is just made out to be much more than it actually is.
Brahmastra has been planned as a trilogy. What was it about director Ayan Mukerji's vision that gave you the confidence to invest in a three-part franchise?
Ayan is a visionary. He has been studying this kind of cinema as an academic exercise for the past 20 years. When he came to me with the idea, he told me that it needs to be told in three parts. And I think we're now ready to have our cinema play out in that way. More than his vision and passion, I was amazed by the hard work he has put into the project for the past four years. Four years literally, because he started right after Yeh Jawaani Hai Deewani released. His entire team, including Ranbir (Kapoor), Alia (Bhatt) and Mr (Amitabh) Bachchan, the direction crew, the production department and the technicians, have put in tremendous amount of work that I just feel awestruck every time I see them function. The money involved in such a case is secondary. What's primary is the passion. Brahmastra is a product of great passion.
What was the thought behind casting Nagarjuna and Dimple Kapadia in Brahmastra?
There was a very special role. We needed superstar energy for that. I called up Nag sir. He had a great equation with my father and said yes in one go. Even with Dimple, she just met Ayan and was swept by his energy, vision, and also because he has such a charming personality. I'm grateful to all the actors who've supported Ayan's vision.
Sidharth Malhotra had two recent box office failures in A Gentleman and Aiyaary. He will be seen in the Vikram Batra biopic, produced by you. How do you keep the spirits of one 'student' high when his films are not performing as well as the other two, Varun Dhawan and Alia Bhatt?
Sidharth Malhotra is immensely soulful in his demeanour. He has the most expressive eyes. Films work and they don't, but his sincerity and conviction have remained the same. I'm really excited for the great work he's doing now, like Jabariya Jodi and the hardcore commercial masala entertainer Marjaavaan, which also has Tara and Riteish (Deshmukh). Riteish and Sidharth are coming together after Ek Villain.
This season of Koffee with Karan has a wall asking the guests to 'Stop Making Sense'. Does that allude to them being diplomatic? Because I believe you do need some wit and sense to make your answers full of fire.
It just means that no one's watching you so stop making sense. You know how they say, 'Dance like no one's watching,' so this just means chat like no one's listening. Everyone's been coming and have a great time. It's not about gossip, scandal or anything topical. It's just a 45-minute chat about nothing. For all the purists of conversations, it may not be great. But for all those who're looking for a good time, it is. Which is why millennials are really taking to the show. The viewership is very skewed to the younger demographic. If I'm catering to the younger generation at 46, I'm really happy.
Saif-Sara Ali Khan, Janhvi-Arjun Kapoor, Ishaan Khatter-Shahid Kapoor, Shweta-Abhishek Bachchan and Ajay Devgn-Kajol. What is with the whole familial vibe on the show this time? 
It just so happened that the combinations were working so well. Also, with the younger kids, they don't know much about cinema. What do you talk to them about? So you talk to them about their journey, relationships, families. That makes much more sense.
The promo of your episode with Ajay and Kajol put a smile to my face. How did they react when you invited them to the show?
It was all very gracious. Over the years, we're all older and more emotional about our being. Kajol has been my closest friend for three decades. We've had ups and downs but now it's back to how it has always been,and how it will always be. I have great regard for Ajay as an actor, as a star. He has been around for three decades and is still a relevant movie star. I never had them on the show. They have such a beautiful marriage with two kids. I thought we had a lot to talk about, especially between the three of us. I hope that this phase of life, we strike a beautiful bond between each other.
You have become a love guru through your radio show Calling Karan. Since you have often curbed your sexuality, has that distance allowed you to look at other relationships more objectively?
When you are not in a relationship of your own, you do have the bandwidth to analyse other people's relationships. But you know, how they say a great acting coach may not be a great actor. So I may be a good adviser, but that doesn't mean I'm great in a relationship.
But do you still intend to suppress your sexuality now that people, and the law, are more receptive?
They're too late now. It's too late. At 46, I can't be in a relationship. And I'm not being cynical, I'm being practical. I don't think I can divide my time between a relationship, and my mom and two kids. Not that one has to be sacrificed for the other, but I want to divide my time only between the relationships I have with my work. And finally, I can say that I'm in a relationship with myself. And when you are in one of those, you don't have either the space or the time for anyone else.
How has 2018 been for you, on both personal and professional fronts?
Professionally, we had a great year. We had Raazi, Dhadak, 2.0 and now Simmba. Next year, we have a release practically every month. We have Drive, Kesari, Good News, Kalank and Brahmastra. I also start shooting for Takht in September. Personally, I had my babies this year. My movies are also my babies. I feel like I'm running a nursery of babies.
What are your expectations from 2019?
The same. Every year that has given me personal happiness has been the best year of my life. I hope 2019 is another one.
This is part two of the interview. Read part 1 here.
Entertainment
Titled "Brahmastra Part One: Shiva", the first movie was a big-budget fantasy adventure epic that came out in 2022 .
Entertainment
Mukesh Ambani was seen wearing a black suit whereas Nita Ambani carried a blue saree with grace and elan.
Photos
The hosts of the evening Mukesh Ambani and Nita Ambani ensured the world remembers how grand the launch of the centre was. Talking about the centre, Nita Ambani said in a statement, "Bringing this Cultural Centre to life has been a sacred journey."