Koffee with Karan: Sara Ali Khan discusses Saif's marriage to Kareena Kapoor, separation from Amrita Singh
'I'm glad I have two comfortable homes now rather than having just one uncomfortable home,' said Sara Ali Khan, on Saif and Amrita's separation.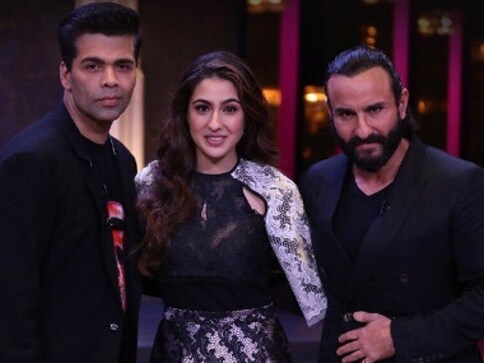 The latest episode of Koffee with Karan season 6 saw Saif Ali Khan return to the couch, this time with his daughter Sara Ali Khan, who will soon make her Bollywood debut in Abhishek Kapoor's romantic drama Kedarnath, and will also be seen in Karan Johar's action comedy Simmba.
Johar addressed the elephant in the room when he asked Sara about her equation with Saif's wife Kareena Kapoor Khan. "I always looked up to her as an actress. She was always Poo (referring to her character in Johar's 2002 family drama Kabhi Khushi Kabhie Gham). But then I have to tell myself she is now my father's wife," said Sara.
Sara explained how Saif, Kareena and her mother Amrita Singh never concealed anything about their dynamics. Kareena sat her down and clarified that she does not want her to be a second mother (or "chhoti maa" as Karan put it) to Sara, but only another friend. "She would be in trauma if I call her 'chhoti maa'," said Sara. "I don't think she event wants Taimur (Ali Khan) to call her mom," added Johar.
Sara also confessed that she is glad that her parents separated at the right time. "They would have been very unhappy together had they stick together. They took the right decision and now, everyone's happy. I'm happy, abba is happy, mumma is happy, and Kareena is happy. I have two comfortable homes now, rather than having an uncomfortable home," said Sara.
Saif recalled when he wrote a note to Amrita before getting married to Kareena, requesting her to put their past behind her. Sara called Saif minutes later and confirmed that she would come for his wedding. Amrita then dressed up Sara for Saif's wedding, asking her to "go, have fun at your dad's wedding."
Saif also addressed Sara's early acting aspirations, which dated back to when he went for a world tour and she, about five, accompanied him. "She saw Aishwarya (Rai Bachchan) perform in front of a crowd... the crowd reacting... so she decided, 'This is what I want to do. This is what I am.'" In order to lighten up the mood, Johar showed videos of a younger 96 kg Sara enacting a death scene with her brother Ibrahim and dancing on an old Hindi song when she was in Columbia University, leaving the father-daughter duo in splits.
Sara made an impressive Rapid Fire debut when she beat her rather experienced father to win the coveted Koffee Hamper. She confessed that while she would like to marry Kareena's cousin Ranbir Kapoor, she would want to date fellow actor Kartik Aaryan. Saif, on the other hand, kept poking Sara that he would "sell her daughter" only to a rich son-in-law.
In the concluding round, Game On, Sara outpaced her father when she managed to name more members of the Pataudi family than Saif. Saif would find the name of his best friend, Salim, stuck in his head and crop up out of nowhere whenever he would be blank. His default answer did not fail to amuse Johar and Sara, who could not figure out Saif's obsession with that name.
After Sara won both the rounds, Saif clapped as a proud father and said that it is as much a victory for him as it is for her. "You know that's an advantage of being a dad. You can cover up how incompetent you are," he said.
The next episode of Koffee with Karan season 6 will see Janhvi Kapoor share the couch with her brother Arjun Kapoor. Expect them to talk about their rumoured love interests and the bond they have developed after the unfortunate demise of her mother Sridevi earlier this year.
Entertainment
The promo for the upcoming episode of Koffee With Karan 7 shows Karan Johar unveiling some of Vijay Deverakonda's and Ananya Panday's secrets.
Entertainment
Talking about the show, the filmmaker also said, "When I started, I thought I was doing something just for fun, I was doing something for my own amusement, I can't believe it became such a thing."
Entertainment
Aamir Khan spoke of his "harmonious" relationship with his two ex-wives, thereby setting instant relationship goals for those watching the show.