Democracy In India Part 15: Merit, not birth gets precedence as aura of elitism recedes from Indian military
Freed from the control of British officers after Independence, the army wanted to self-Indianise, while people too established a bond with the army.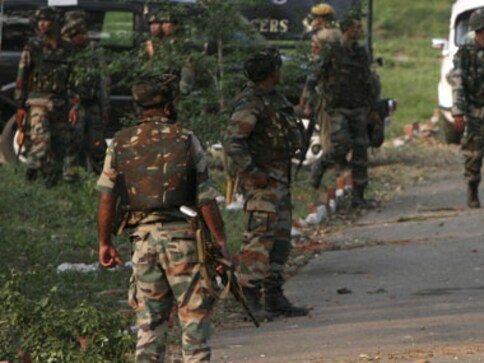 Editor's Note: As the Indian Republic turns 70, Tufail Ahmad undertakes a journey through the country to examine the working of democracy at the grassroots level. Inspired by the French author Alexis de Tocqueville, who toured America and wrote Democracy in America, the author—a former BBC journalist and now senior fellow at the Washington-based Middle East Media Research Institute—will examine how sociological realities of India and the promise of democracy interact with each other in shaping the lives of the Indian citizen. This report is the fifteenth in a series called "Democracy in India".
Pune: In this part of the series on the workings of democracy in India, I examine democratic influences on the Indian military. Pune being the headquarters of the Southern Command, it's the right place to reach retired, experienced officers to discuss this subject. Unlike in America where democracy grew from below, it was imposed from the top in India. My objective is to analyse how the top-down process of democracy, young at just about 70 years of age in India, impacts hierarchical and large organisations like the Indian military.
"There is a devolution of power in the Indian military which would not have been possible without democracy," says Col (retired) JS Uppal, who served in Sri Lanka, the North East and Kashmir, and now works in the civilian sector. "Earlier, an officer would give limited responsibility to a havildar," he says and cites the example of how an army golf course, which was earlier looked after by an officer, is now managed by a havildar.
Uppal says: "Earlier, orders used to be passed with no discussion or lesser discussion. But due to democratic awareness, now officers discuss orders before they are issued. There is more discussion now, more participative interaction in the military. There is more exchange of ideas between soldiers and officers." He adds: "Now, it is easier for an officer to bounce off ideas with havildars and JCOs (junior commissioned officer, the equivalent of a sub-inspector)."
One impact of democracy is the spread of education and skills. Uppal notes that democracy teaches which careers are good for the money and as a result lesser number of people now join the army. "The quality of those joining the army has gone down. The 32-inch chest wallas do not join the army. They go for other jobs," he says. Uppal Observes: "People with the right skills are finding army less attractive. If you go to IIT-Bombay or Fergusson College in Pune, most students will prefer to launch their own start-ups. Twenty years ago, they would have said yes to joining the army."
Atul Bhardwaj, a former officer of the Indian Navy, concurs with Uppal's view, saying that democracy has downgraded the army from its elite status. "In British times, the army had been an elite club. Post-democracy, it lost its elite status," Bhardwaj says. In the past, youths who had studied up to sixth grade could join the army, but democracy has also ensured mass education. Now youths are required to have passed grade XII to join the army. Their education also helps in handling weapons and machines that require an educated person.
Bhardwaj also expresses concern that democracy has been negatively impacting on the apolitical nature of the military. "Earlier, Indian military was totally apolitical. Even when officers used to visit the USSR, there was no ideological impact of Soviet communism on Indian military. This apolitical character of the military lasted till about the 1980s," the former naval officer notes.
The military's apolitical nature was also due to the reason that officers had to prove their loyalty to the newly independent India. In this regard, an important point Bhardwaj makes is this: "There was a guilt factor in the military that they were not part of the freedom struggle because they were a force saving British colonialism." He adds: "The army wanted to self-Indianise. So, the officer class wanted to show full allegiance to the Indian state. They were changeable and had distanced themselves from politics."
However, in the wake of the Ayodhya movement led by LK Advani, the military's apolitical image took a hit because, Bhardwaj says, about 80 former military generals joined the Bharatiya Janata Party. "Though they were retired generals, this was the first major politicisation of the officer class," he says and notes that the second major impact on the military's apolitical image came after the election of Narendra Modi as the prime minister. "After Modi's rise to power, there is further polarisation. Serving military officers are offering positions on political issues on social media such as Facebook. This polarisation is new and post-2014," he adds.
A retired major, who spoke anonymously, says: "No general should be permitted to join politics (post-retirement). If he does so, his subordinates who are still in the army may come under political influence. This will polarise the army along party lines. It will affect the army's professionalism." Brig. (retired) Hemant Mahajan, an author of books on national security issues who has served in the North East, Kargil and many states, takes a contrary view. "There is no contact between the army and politicians," he says, adding: "What part of politics actually affects the army is the budget given by the government." He also says that if Tata, Infosys and other firms can use talent from the army, why shouldn't the government do it? In his view, ex-soldiers could join the police forces and raise their competence level.
Freed from the control of British officers after Independence, the army wanted to self-Indianise, while people too established a bond with the army. Bhardwaj notes that the 1962 war had a great impact on the Indian military, saying: "Though we lost the war, it helped Indianise the army." He says: "When Lata Mangeshkar sang Ae mere watan ke logon, Zara aankh me bhar lo paani (O people of my country, Fill your eyes with water), it captured the mood of the nation." Bhardwaj adds: "This war brought the Indian Army into mass consciousness. The song instantly connected the people with the army."
The 1962 war had another major impact. Hemant says that following the 1962 war, the army almost doubled its divisions and became representative of the whole of India. "Soldiers were recruited from all over India, especially from rural areas… There was an emphasis on recruiting from rural areas. Recruitment rallies were held in remote areas," he says, adding that earlier recruitment centres used to be mainly in cities. Hemant also notes a huge democratising impact of army schools. By the 1970s-80s, the Indian Army established a large number of schools and colleges to address the needs of soldiers' children, he says and adds that children of jawans and officers go to the same schools and colleges and eat at the same table.
I sat down with Lt Gen (retired) Vinayak Patankar, who served the army across four decades and saw action in many wars, to put this discussion in perspective. Speaking of democracy's influence, he says: "One of the positive things is that roots of democracy are now firmly embedded at the grassroots level. Today's generation is absorbing (democratic) ideas from their surroundings." He says that some army units, though not his own experience, insisted that officers sleep in barracks along with soldiers. In those days, officers were expected to know not only the names of soldiers but also their socio-economic backgrounds and family circumstances, especially if there was a need for money if a soldier's mother was ill or for his sister's marriage, he says.
"Today, it will be seen as an intrusion," Patankar says. The reason why such an interest into a soldier's personal life will be seen as intrusion is this: the rise of democracy across the world has engendered the birth and rise of the individual, whereas castes, tribes and communities have taken a backseat, though not so much in India – an ongoing conflict between the individual and the community that I examined in the Part 1 of this series. "By the 1970s, we could see democratic politics reaching villages. It meant caste. Vote-banks became a factor," Patankar says.
He notes that earlier officers would write to government officials to help a soldier, never for themselves, when he was visiting home for some work to be done. "There was mutual respect between the army and civilian authorities. It was sacrosanct. Now, a soldier will need the support of a local politician to get his work done," Patankar says, adding that as the fruits of democracy percolated, the awareness level of soldiers went up and they could get things done through a government official at the block level.
Democracy has also brought soldiers and the officers closer. "In colonial times, the gap between officers and soldiers was huge. JCO was the link between havildars and officers. Today, the JCO rank has become aspirational (i.e. for perks) rather than a communication necessity," Patankar notes. His observations reveal a trend: democracy has emerged as the destroyer of traditional elitism in most countries. This impact can also be seen in the Indian military.
"Today, officers are coming from lower strata of Indian society. Anybody can become an officer based on qualification. This process became rapid by the late-1970s," Patankar says, noting that previously officers came from the elite, military backgrounds. "Today social gap between officers and soldiers has reduced. Sons of bank security guards or auto drivers become officers," he notes. Gen Dalbir Singh Suhag, the son of a JCO, went on to become the army chief.
Patankar says: "This is very good. Elitism has been broken. Democracy has broken the aura of elitism that existed in the colonial army." His observations indicate that the impact of democracy is comprehensive. "Myths of some communities being martial and non-martial — in the recruitment of soldiers — have disappeared now due to democracy," the former officer says. Anyone, men and women, with right qualification can get into the military.
With democracy's roots growing deeper in Indian society, a change of fundamental nature is being witnessed in women's empowerment. More than 1.3 million women are elected into local government bodies. Girls are doing better than boys in schools across all religious communities. Women are entering every sphere of life, including in different corps of the Indian military. Indian women, known for tending to husbands and children, can be seen patrolling peace in far-away Liberia on a UN mission. A debate that has emerged is this: Should women be given combat roles?
"Army is not a place for social engineering," says Hemant. He says that only two armies in the world – the US and Israeli – permit women in combat, but there too women are not fighting at the front. Patankar holds similar views: "Democracy also means gender equality. Equal opportunity must be given. We are not averse to women being in combat, but there are concerns – it can get raw." He says: "If a man is taken captive, we can bear. If a woman soldier is taken captive, you begin to imagine the worst." However, now women are entering different branches: medical, engineering, signals, intelligence, etc. "Earlier, a soldier would not have taken order from a woman officer probably, but now there is respect for women officers," Patankar says. He points out that some women have now joined as fighter pilots.
Democracy's impact is also seen in counter-insurgency operations. "In the 1950s, our army came across this situation in Nagaland – against people up in arms, people who were our own. So, we developed our own counter-insurgency doctrine," Patankar says. "Earlier, armed forces were taught to apply maximum force. Now, minimum force is applied. Our counter-insurgency doctrine is inspired consciously or unconsciously by democratic awareness," he adds. At this point, I drew Patankar's attention to a 2003 interview and asked him if still held the view that commanders must not involve in collateral damage even if a few terrorists escaped. "Absolutely," he says and adds: "We have to look at the larger interest."
Industrial houses like Sterlite which has attracted headlines for pollution issues, army cantonments and ammunition depots are established far from populated areas. However, with the rising population, people begin to settle around them. I was interviewing the officers when the issue of opening cantonment roads was in news headlines. Many officers told me that it was an interference from the government. These issues arise in cantonment areas because politicians, who are largely unaware of the army's viewpoints, are acting to please their voters.
"Why to open all roads in cantonments," wonders Patankar. He says: "Politicians must understand that there are limits to how much they can meddle in military matters." He says: "This is due to the lack of knowledge among politicians. Cantonments are not in towns; towns came up around cantonments." He described such political influence as "sad" and pointed out that such serious issues have also emerged around ammunition depots. He expresses concern: "Civilian areas have come up around them. And no way out appears."
While Patankar seems to view it as a political meddling, he rejects the argument that there is any politicisation of the army. Asked if former officers should join the government or political parties, he says, "At this point, it will be judgemental." He notes: "It doesn't affect army's professionalism. Current army leaders are not seeking support from such ex-officers in various parties or the government. The army does not go to them. They don't come to the army." However, he notes that some former officers proved to be effective as Central ministers and chief ministers – a reference to Maj Gen (retired) Bhuwan Khanduri who became chief minister of Uttarakhand. Whether on the Left or Right, former officers in the government can be helpful at times, he says.
Patankar says that once on a visit to the US he noticed that about 96 of the total 100 members of the US Senate had served in the World War II and the Vietnam War. Though noting that "it impacts military indirectly in many ways", he says: "Such ex-officers in legislatures and governments can improve decision-making in the government." He expresses concern on the non-representation of the chiefs of army, navy and air force on the Cabinet Committee on Security (CCS). "It will be completely democratic. If a leader (Prime Minister) needs advice from all sectors of society, there has to be a military advice," he says and adds that service chiefs should be "automatically" on the CCS. Patankar points out how the government "ended up using the army like a fire brigade" in the 2008 Mumbai terror attacks because there was "no military advice in the government."
In my interviews, one issue that frequently came up is media's subversive role and political comments of serving soldiers and officers appearing on social media networks like Facebook and Twitter. Patankar, who appeared to take a hopeful view of events, defends such comments on social media, saying: "Everybody has freedom of expression that will happen. But it doesn't affect the military." "As long as a person is in uniform," he says, "politics is not affecting the army."
Speaking anonymously, another retired lieutenant general, who was the first chap into Dhaka in the 1971 war, makes the distinction between democracy and republic, the former being shor-o-gul (cacophony), guftagu (discussion), or "the noise of democracy." He says: "Along with democracy, we are also a republic. Institutions run the republic. The noise of democracy (on social media like Facebook) shouldn't be allowed to singe the republic's institutions." He also describes the 1971 war as "the victory of democracy over military rule" because the Pakistani rulers had rejected the election verdict resulting in the war. In terms of consequences, this is a regional view of the 1971 war because all the countries in the region, Bangladesh, Nepal, Sri Lanka and Pakistan are forced to follow democracy, inspired by the Indian Army's exemplary role.
While the Indian military remains largely unaffected by politics, the concerns raised by former naval officer Atul Bhardwaj regarding the impact on the army's apolitical image and the counter-arguments by Hemant Mahajan and Vinayak Patankar are both valid at the same time for the simple reason that these viewpoints are under discussion in public space created by Indian democracy. I would like to leave my reader with this thought: the biggest beneficiary of democracy might be the army dogs and horses. For long there had been a practice in the military to kill dogs and horses once they were of no use. However, with increasing awareness of rights, including of animals, now these animals are being auctioned for adoption.
Read Part 1: BJP, Congress prioritise community over individual, use caste and religion to enslave citizens
Read Part 2: Use of religion by ruling parties overwhelms secular character of Indian State
Read Part 3: Caste and politics continue to collide, sometimes violently, in a cyclical struggle for power
Read Part 4: Rule of law routinely trampled upon by politicians in power, who act like 'new kings'
Read Part 5: Cities are drivers of democratic change, secure rights and liberties of individuals
Read Part 6: Despite caste and religious divisions, our democratic journey reflects silent revolution
Read Part 7: Country's polity vastly unaccountable to citizens despite relative success of democratic process
Read Part 8: Strong democratic process engendering surplus of free speech, empowering communities
Read Part 9: Narendra Modi, Arvind Kejriwal's ascent shows Republic is truly becoming 'of people'
Read Part 10: Scourge of casteism in slow retreat as more and more youth marry for love
Read Part 11: BJP systematically excluding Muslims, marginalised groups from poll process
Read Part 12: Gujarat's Muslims face social exclusion, lead ghettoised lives, but remain positive about future
Read Part 13: Girls' empowerment begins right inside homes in Pune district's Shirur taluka
Read Part 14: Marathi literature vibrant but its Muslim writers shying away from challenging religious orthodoxy
The author is touring India to write a series on the workings of democracy. He is a senior fellow at the Middle East Media Research Institute, Washington DC. He tweets @tufailelif
Entertainment
It all began with a Twitter user tweeting the statement of the Lt Gen, and wrote, "'We're fully prepared to take back PoK from Pakistan. We are waiting for the orders from the govt."
India
India has deployed more than 50,000 troops along with a large number of new equipment to tackle possible Chinese aggression since April-May 2020 in Eastern Ladakh
World
Exercise Malabar 22, which culminated on November 15, witnessed maritime exercises and drills by warships, aircraft and submarines from India, Japan, USA and Australia