Democracy In India Part 9: Narendra Modi, Arvind Kejriwal's ascent shows Republic is truly becoming 'of people'
The election of Narendra Modi as prime minister and Arvind Kejriwal as Delhi chief minister, both voted in by masses, shows that true democracy is taking root in our society.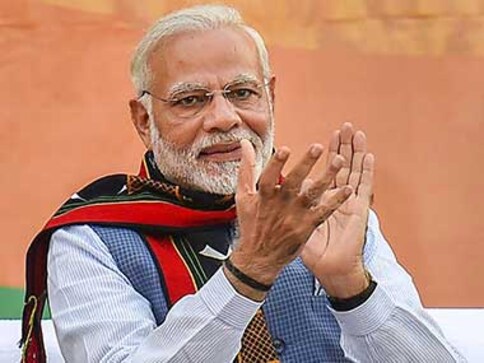 Editor's Note: As the Indian Republic turns 70, Tufail Ahmad begins a journey through the country to examine the working of democracy at the grassroots level. Inspired by the French author Alexis de Tocqueville, who toured America and wrote Democracy in America, the author — a former BBC journalist and now senior fellow at the Washington-based Middle East Media Research Institute — will examine how sociological realities of India and the promise of democracy interact with each other in shaping the lives of the Indian citizen. This report is the ninth in a series called "Democracy in India".
Vadodara: On this journey to examine the workings of democracy, I have so far travelled through Madhya Pradesh, Rajasthan and Gujarat. I have frequently asked simple questions such as: Amid mass poverty and pervasive corruption in government departments, how is it that voters turn up at polling stations in large numbers, even under adverse Weather Conditions
, to cast ballots? What impact does democracy have on society and vice versa?
In Alwar, Rajasthan, Ismita Bhati told me the ills of Indian politics are percolating into our society. Bhati, a teacher at the St. Anselms Senior Secondary School, said that her school organised mock elections as part of social studies. Students were part of the entire election process and stood as candidates. "We were surprised that good students did not win the election", she said. "Class ka badmash bachcha jeet gaya (the naughty ones won). The students of Class 9 learnt from our politics how to win", she said, claiming that politics in India has led to overall decline in moral values in different spheres of society.
In Ajmer, I met Umesh Kumar Chaurasiya, an actor and playwright who has directed educational plays for school students under the auspices of the National Council for Educational Research and Training (NCERT). He lamented that awareness of democracy is limited to a cognisance of the system: When polls will be held, how many members of Parliament and legislative Assembly are to be elected,  what is the process of contesting elections, how to register parties, and similar systemic questions. "But there is no awareness about where I stand (as a citizen)", he remarked.
"There is a race for power, but what is democracy? The youth does not understand. They think of winning student union election, joining party, getting power", Chaurasiya said. He staged an educational play as part of NCERT workshop in Ajmer. Chaurasiya's conclusion is this: Students understand people vote, but do not grasp that "equality" exists due to which everyone is in the same queue. The thought emerges that we are sleepwalking through the democratic process. "Today, most people vote because somebody has told them that the vote has to be given", he added.
In some American states, driving a car is part of the high school curriculum. Chaurasiya advises that values and tenets of democracy be taught to students by the age of 14 so they grasp democratic values and attitudes. "The focus of education should be on principles and values of democracy, not just about party politics and legislative and political system", he added.
Chaurasiya also noted that even in panchayat elections, someone comes from a different region, resides in a specific panchayat constituency, contests the election and wins. His point is: There is awareness of procedures under which democracy operates in India.
Manmohan Singh, who won elections from Assam to Rajya Sabha, though he never actually lived there, is a case in point. Singh is a good example of the procedural democracy: Or functional democracy, as political scientists call it. One can say that in seven decades of democracy, there is awareness of the system.
In Vadodara, I went to the Centre for Contemporary Theory and posed these questions to professor Prafulla Kar, the institute's director. "In India, we have functional democracy. Political process emerges from the government, from the top. People are coerced by the government to be part of the democratic process. There is no consensus among people about democratic attitudes", he said, adding that America has real democracy: The political process emerges from democratic attitudes from below.
"Democracies are a way of thinking from below. In the United States, people are proud of democracy. In America, people come from outside and feel proud of democracy", Kar said. He added: "Unlike in India, there is a tradition of critiquing the government from within American society. In India, if you critique the government, you are seen as anti-national". India has a functional democracy, elections take place and people are elected, there is an instrumentality to it, he said, adding: "Indian democracy functions with the role of the government while American democracy gets public support without government and is less controlled by the government".
Asked why people do not have democratic attitudes, Kar said that in England, democracy emerged from royalty and the government process but became part of the people's psyche over hundreds of years. The argument is that democracy in India is relatively young and democratic attitudes will permeate into society over coming decades. He pointed out that Indian democracy is supported by a majoritarian consensus with its attendant consequences of religious and caste diversities, while diversity has become largely irrelevant in American democracy.
Abraham Lincoln described democracy as the "government of the people, by the people, for the people". Kar is of the view that democracy in India is as of now "by the people" and to some extent "for the people". However, he added: "The psyche and thinking of people are changing in India. Democracy is becoming of the people". He noted that the election of Singh as prime minister was a symptom of the functional democracy because he was imposed from the top. But the election of Narendra Modi as prime minister and Arvind Kejriwal as Delhi chief minister, both voted in by masses, shows that true democracy is taking root in our society.
He tends to reject the idea that voters are sleepwalking through democracy. Kar said: "People can vote a party in a certain election and vote out that party in the very next election. It means that there is a process of thinking and rethinking among people". It can be said that during seven decades, democracy has made India's people aware about instrumentalities of the new political system introduced by the Constitution in 1950, but it is also correct that the victories of Narendra Modi, Arvind Kejriwal and Jignesh Mevani reflect a qualitative change in the democratic attitudes of people of India.
Read Part 1: BJP, Congress prioritise community over individual, use caste and religion to enslave citizens
Read Part 2: Use of religion by ruling parties overwhelms secular character of Indian State
Read Part 3: Caste and politics continue to collide, sometimes violently, in a cyclical struggle for power
Read Part 4: Rule of law routinely trampled upon by politicians in power, who act like 'new kings'
Read Part 5: Cities are drivers of democratic change, secure rights and liberties of individuals
Read Part 6: Despite caste and religious divisions, our democratic journey reflects silent revolution
Read Part 7: Country's polity vastly unaccountable to citizens despite relative success of democratic process
Read Part 8: Strong democratic process engendering surplus of free speech, empowering communities
The author is touring India to write a series on the workings of democracy. He is a senior fellow at the Middle East Media Research Institute, Washington DC. He tweets @tufailelif
Politics
What Narendra Modi has gone through and accomplished for India is immensely poignant and deeply transformative
Politics
No matter at which end of the spectrum one stands, it cannot be denied that Narendra Modi is a phenomenon
India
Prime Minister Narendra Modi also asked the ministers to spend the maximum possible time in their constituencies and to implement all the schemes of the government, according to sources