Democracy In India Part 3: Caste and politics continue to collide, sometimes violently, in a cyclical struggle for power
With the Indian democracy emerging as a dominant player, some social and political changes have been seen. But caste and politics continue to collide.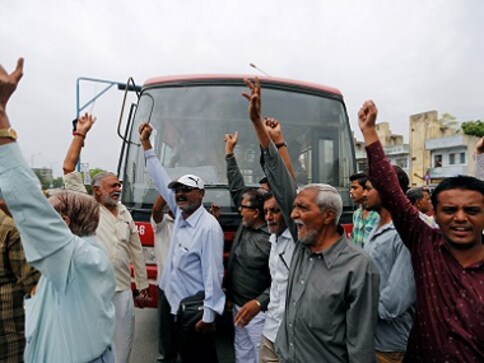 Editor's Note: As the Indian Republic turns 70, Tufail Ahmad begins a journey through the country to examine the working of democracy at the grassroots level. Inspired by the French author Alexis de Tocqueville, who toured America and wrote Democracy in America, the author—a former BBC journalist and now senior fellow at the Washington-based Middle East Media Research Institute—will examine how sociological realities of India and the promise of democracy interact with each other in shaping the lives of the Indian citizen. This report is the third in a series called "Democracy in India".
Unlike theocratic and authoritarian forms of government, democracies empower people on a large scale. As democracy grows deeper roots in India – both as a movement of ideas and a system of government – there is mass awareness of democratic rights. On 8 April, the Rajasthan government opened 40 percent seats in caste-based hostels for all irrespective of castes. The Tirumala Tirupati Devasthanams is training hundreds of Dalit priests, ending the dominance of Brahmin priests. Some inter-caste marriages also happen in urban India. Such positive changes would not be possible without the increasing awareness of democratic rights. But, in the Indian democracy, it's also the case that caste and politics collide, sometimes violently, in a cyclical struggle for power.
It is 5 pm on 4 April, 2018. The corridors of the district court (the old high court) in Gwalior are largely empty. Advocates can be seen milling around. The situation has been tense since the 2 April Bharat Bandh called by Dalits. A group of more than a dozen upper caste advocates, each holding six-foot long lathis (sticks), walks in a show of muscle flexing. The Dalit advocates watch on with concern. A clerk whispers that the upper caste advocates had purchased 60 lathis that day. A day earlier, on 3 April, upper caste advocates had threatened to beat up some people when they had tried to file bail applications for Dalits arrested during the bandh.
In the Gwalior-Chambal region, upper castes continue to exercise their traditional supremacy. The corridors of a court should be the safest place for the Indian citizen, irrespective of caste, but this is not so in Gwalior. Dalit advocates fear that the district court will not grant bail in such an atmosphere of intimidation.
The assertion by the upper caste advocates, the most educated section of society, came in reaction to the 2 April bandh. In the Indian democracy, such assertions by communities have acquired a cyclical life. Political demands by one community lead to counter-demands by another. So, the upper castes organised their own bandh on 10 April.
Over the years, legislative measures like the quota for SC/STs in jobs and Parliament have empowered Dalits or at least a section of them. The caste-based politics for Other Backward Classes (OBCs), led by Lalu Prasad Yadav in Bihar and for Dalits by Mayawati in Uttar Pradesh, may not have ended casteism, but it has filled these castes with a sense of political empowerment. The castes which are losing their traditional dominance assert in their own ways. The demands for reservation by Gujjars in Rajasthan and Jats in Haryana are examples of this assertion.
It has become an acceptable idea that politically organised castes can disrupt train services and damage government and private properties. During the 2 April bandh, 1.2 kilometres of railway track was removed by the protesters in Agra region. Different caste groups feel that when they are organised, they can force political parties and the Indian state to surrender before them.
In principle, the right to vote makes the individual the fulcrum of Indian democracy, but in practice the organising principle of politics in India is caste. Most political parties continue to form their electoral strategy around caste. Caste has become the engine of Indian democracy.
For thousands of years, caste has been deeply entrenched in Indian society. Perhaps the first reform movements against caste emerged the during sixth-fourth centuries BCE under Buddhism and Jainism. But both these spiritual-social movements did not succeed in eliminating the caste system. In fact, caste received a shot in the arm as Shankaracharya launched an intellectual movement against Buddhism. The Bhakti and Sufi movements too failed in removing caste. Indian Muslims remain divided along caste lines and do not marry across castes. Sikhism, which started out as a movement against caste, too failed. All its gurus were Khatris.
Since the Constitution came into force in 1950, democracy is a new player in this game – or a new reform movement against caste. But, it appears that while democracy is empowering weaker castes like Dalits and OBCs, it may not be eliminating casteism.
From Gwalior, let's go to Morena and from there further 25 kilometres to Puravas Kalan village in Chambal region. From Gwalior to Morena, you can see billboards of Nimki Mukhiya, a television serial in which a woman accidentally becomes the chief of the village and works her ways attendant upon such an election. The TV series is popular among women. It's also a vehicle of political socialisation.
In real life, the Puravas Kalan panchayat was reserved for SC women in 2010. Consequently, Badami Devi was elected as a sarpanch in this panchayat which has always lived under upper caste domination. The first shock as a sarpanch came to her when she was not allowed to unfurl the Indian flag on Republic Day. For the next four years of her five-year term as a sarpanch, the upper castes prevented her from unfurling the national flag on Republic Day or Independence Day.
However, coming from a weaker caste, she noticed the positive role of politics and education. Speaking at her home at Puravas Kalan, Badami said: "When I first became sarpanch, I realised that politics and education are changing our daily life." This sense of empowerment convinced her to raise the issue of flag hoisting with Shivraj Singh Chouhan, the chief minister of Madhya Pradesh. With his intervention, Badami says she unfurled the national flag for the first time on Independence Day in 2014. She attracted the attention of national media as well.
Her story sounds like a positive change in Puravas Kalan, but it is not. Her husband, Chimman Singh, said that when the panchayat system was introduced, initially people did not understand the rules and husbands would represent the woman-sarpanch, which continues even today.
During Badami's tenure, attempts were made to organise gram sabhas (the meetings of panchayat). Also during her time, a Dalit woman cooked mid-day meal for six months during which the upper caste children would not eat at school. They would go home at mealtime, eat and return to school. Even the teachers did not eat the food cooked by the Dalit woman.
After Badami's term ended, the seat was reserved for OBC women. The new sarpanch enjoyed some electoral support of the upper castes. In a cyclical change, the de facto power is back in the hands of the upper castes in Puravas Kalan. The panchayat meetings do not take place. The mid-day meal is no longer cooked by a Dalit.
A member of the upper caste unfurls the national flag on important days, not the OBC sarpanch. Since the new sarpanch is backed by the upper castes, she does not feel the need to protest. This reveals the deeper role of caste in Indian democracy. As castes compete for power, it appears there is no real change at the political level.
But at a social level, there is some change, especially on the issue of untouchability which stands largely eliminated; some inter-caste marriages too can be seen in urban areas. Asked if she would allow her sons to marry outside caste, Badami said: "We are not ready yet for our sons to marry outside caste." However, when asked if her sons went to study in cities and brought wives from other castes, she responded: "We will accept."
This is some change at the social level. Some little change is also possible at the political level. For example, in the Chambal region, an upper caste man would touch the feet of a Dalit politician. Such social and political changes would not have been possible without democracy emerging as a dominant player in the lives of India's people.
Read Part 1: BJP, Congress prioritise community over individual, use caste and religion to enslave citizens
Read Part 2: Use of religion by ruling parties overwhelms secular character of Indian State
Read Part 4: Rule of law routinely trampled upon by politicians in power, who act like 'new kings'
Read Part 5: Cities are drivers of democratic change, secure rights and liberties of individuals
Read Part 6: Despite caste and religious divisions, our democratic journey reflects silent revolution
Read Part 7: Country's polity vastly unaccountable to citizens despite relative success of democratic process
Read Part 8: Strong democratic process engendering surplus of free speech, empowering communities
The author is touring India to write a series on the workings of democracy. He is a senior fellow at the Middle East Media Research Institute, Washington DC. He tweets @tufailelif
World
The protocol approved for use in the United States includes two medications. The first one, mifepristone, blocks a hormone called progesterone that is necessary for a pregnancy to continue. The second, misoprostol, brings on uterine contractions
India
The Congress leader's 'India is not a nation' statement exposes his long-held colonial beliefs and that he is still trapped and influenced by the colonial narrative
India
A bench headed by Justice AM Khanwilkar accepted the OBC commission report and allowed OBC reservation in the Madhya Pradesh local body elections