Democracy In India Part 8: Strong democratic process engendering surplus of free speech, empowering communities
In Indian democracy, free speech is empowering communities as well as individuals, a fact that can be gleaned from recent Dalit protests or Jat upheaval.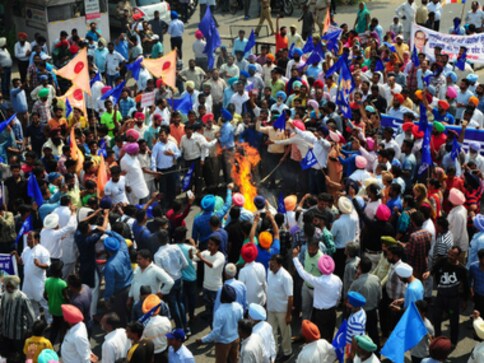 Editor's Note: As the Indian Republic turns 70, Tufail Ahmad begins a journey through the country to examine the working of democracy at the grassroots level. Inspired by the French author Alexis de Tocqueville, who toured America and wrote Democracy in America, the author — a former BBC journalist and now senior fellow at the Washington-based Middle East Media Research Institute — will examine how sociological realities of India and the promise of democracy interact with each other in shaping the lives of the Indian citizen. This report is the eighth in a series called "Democracy in India".
Gwalior: Democracies engender greater freedoms of thought and expression among people. Free speech is essential to the democratisation of social attitudes and empowerment of individuals in democracies. Free speech and democracy feed each other. An interesting point about the 29 April rally organised by Congress in Delhi was its chosen theme "Jan Aakrosh" – public anger, which is a good example of free speech, more so because it was expressed publicly.
At the rally, former Prime Minister Manmohan Singh said: "Our democracy is in danger." His statement was made with reference to dissatisfactions over the parliamentary business. But democracy in India is vibrant, not in danger. Such jan aakrosh rallies and other protests are symptoms of free speech – whether articulated individually, on social media, through political parties or communities – and a proof that Indian democracy is engendering a robust exercise of free speech.
In common parlance, free speech is understood mostly as involving written, spoken or artistic expression. But in a wider meaning, free speech includes individual and collective expressions such as in sports, religion and politics. The Article 19 of the Constitution guarantees free speech in a wider context, such as the right to assemble peaceably and without arms, the freedom of thought and expression, to form associations or unions, to move freely throughout India, to reside and settle in any part of the territory of India, or to practise any profession.
Protests, as forms of free speech, are taking place on different issues such as farmers throwing onions and tomatoes on roads to express anger against unfair prices of their goods. The 2 April Bharat Bandh by Dalits to register their protest against changes in the SC/ST Atrocities Act and the 10 April counter-protest against quota in jobs are also expressions of free speech. In 2015, the Gujjar community in Rajasthan protested demanding reservation in jobs. In 2017, Jats of Haryana led violent protests for quota in jobs. There is a surplus of protests in Indian democracy.
In Indian democracy, free speech is empowering communities as well as individuals. The fact that Shayara Bano – a 35-year-old Muslim woman from Uttarakhand – approached the Supreme Court against the unilateral practice of instant triple talaq (divorce) means that she is an empowered citizen. She has grasped, perhaps unconsciously or subconsciously, that the Article 14 of the Indian Constitution guarantees her right to equality. In 2014, the Maulana Azad Library of Aligarh Muslim University was forced to open its doors to undergraduate women too.
To protest, to go to a court, to vote, or to play at the Commonwealth Games is an expression of free speech. Such expressions of free speech will not be possible without democracy.
Most citizens are exercising freedom of expression on a larger scale than before. India has largely been anti-women, orthodox society for thousands of years. Women from Haryana can't exercise their individual freedom and win medals at the Commonwealth Game and other international events if there were no democracy and free speech in India since 1950.
"Azadi se pehle ka aam aadmi khamosh tha (Before Independence, the common man was silent/voiceless)," Kailash Pant, director of Bhopal-based Hindi Bhawan – not a government institution – told me on the first leg of this journey to examine the workings of democracy in India. He noted that public awareness had existed due to the freedom struggle but was limited to a class of people such as landlords, kings and nawabs, and those working for the British rulers.
"When we wrote the Constitution, priority was accorded to the freedom of expression. The Constitution made people mukher (vocal)," Pant remarked, adding that chetna (cognizance) became aam (common) among people who became sajag (aware). However, he observed that the masses did not understand that rights also make duties incumbent upon them. As a consequence, protests are accompanied by violence. Protesters disrupt traffic, forcibly shut down shops, damage government and private properties, uproot rail tracks, and the like.
Theoretically, every person has free speech. For example, you can choose to be naked in your room. Or, you can lock yourself in a room and hurl abuse at politicians, religious gurus, or prophets and gods. Your free speech will not be obstructed. However, when we speak of free speech as a concept in political science, it has a nuanced understanding. It means this: your right to free speech kicks in when someone opposes it. Except for the advocacy of violence and murder, every person has a right in democracies to unconditional free speech. Her right to free speech must be protected.
It follows logically that when a book's publication is opposed, it must be published and sold in markets exactly for the reason it is opposed. This is the precise reason numerous authors and publishers stood by Salman Rushdie when a fatwa was issued by Iranian cleric Ayatollah Ali Khomeini to behead him. Similarly, if a movie's filming is obstructed, that specific movie must be made exactly for the reason its shooting is obstructed. A cartoon, therefore, must also be drawn exactly for the reason some people don't want it to be drawn.
Free speech debunks social myths and religious orthodoxies. It propels societies forward. In Indian democracy, protests are negotiations for power between communities. But, while protests are free speech, violent protests are not free speech and can't be protected. In January 2017, Karni Sena activists in Jaipur assaulted Bollywood filmmaker Sanjay Leela Bhansali and vandalised his film set, forcing him to cancel the shooting for Padmaavat. Later, Karni Sena led violent protests in Haryana and in other places against the movie's release and was supported by BJP governments in Rajasthan and Madhya Pradesh who went to the Supreme Court demanding a ban on Padmaavat.
In such cases, threats to free speech emerge from political parties. So, while democracy empowers individuals and communities to express themselves freely through social media, sports or politics, it is also true that threats emerge from political parties and religious groups to free speech.
Such parties and groups engender political cultures in which dissent becomes impossible. In 2017, a youth was arrested by the Greater Noida police for allegedly posting objectionable content against Yogi Adityanath on Facebook. In 2014, a youth from Bhatkal was arrested for sharing a morphed picture of Narendra Modi on social media.
In 2017, a Muslim was murdered by Islamists in Tamil Nadu for expressing atheistic views. Indian democracy has also witnessed regular attacks on journalists from the land mafia, sand mafia, political mafia, religious mafia and the like. According to Reporters Without Borders, India's rank in World Press Freedom Index went down from 133 in 2016 to 136 in 2017 to 138 in 2018. In 2017, documented attacks on media personnel in India stood at 46. While Indians are exercising free speech, they are yet to imbibe democratic values. Democracy is a journey.
"In India, we did not inherit democracy like we inherited caste. Our anubhav (experience) of democracy has not been long enough," said Dr RG Singh, a former professor of sociology based in Bhopal. He added: "We also did not fight or struggle for democracy. Fundamentally, our society did not give birth to democracy."
Had we fought for democracy, we would have understood and imbibed its values. In nearly seven decades, as democracy matures, more protests and associated violence can be expected.
APS Chouhan, a professor of political science at Jiwaji University in Gwalior, observed: "For thousands of years till 1947, Indian society was stagnant. Castes were happy in their roles. But a new dynamism was introduced in 1950 through the Constitution." One thing is certain: democracy and free speech form the culture of India now.
Read Part 1: BJP, Congress prioritise community over individual, use caste and religion to enslave citizens
Read Part 2: Use of religion by ruling parties overwhelms secular character of Indian State
Read Part 3: Caste and politics continue to collide, sometimes violently, in a cyclical struggle for power
Read Part 4: Rule of law routinely trampled upon by politicians in power, who act like 'new kings'
Read Part 5: Cities are drivers of democratic change, secure rights and liberties of individuals
Read Part 6: Despite caste and religious divisions, our democratic journey reflects silent revolution
Read Part 7: Country's polity vastly unaccountable to citizens despite relative success of democratic process
The author is touring India to write a series on the workings of democracy. He is a senior fellow at the Middle East Media Research Institute, Washington DC. He tweets @tufailelif
World
Like the two Nordic countries, other nations joined the European Union for its promise economic and political unity without taking sides in the East-West divide that has endured beyond the end of the Cold War
World
The Russian defence ministry said Tuesday that its forces in eastern Ukraine had advanced to the border between Donetsk and Luhansk, the two Russian-speaking provinces where Moscow-backed separatists have been fighting Ukraine's army for eight years
Politics
The Congress is holding the three-day conclave in Udaipur in the backdrop of a string of electoral defeats and dissent in the party for the past many years