Ryan Reynold's Deadpool 2 promotional campaign was clever — until it became tiresome
A close look at all the posters, teasers, trailers, PSAs, free tattoos, music video and other promotional gimmicks employed by 20th Century Fox for Deadpool 2.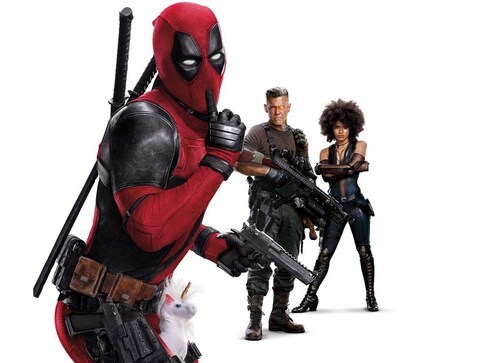 From the studio that brought you Lincoln and Abraham Lincoln: Vampire Hunter come posters, billboards, teasers, trailers, PSAs, free tattoos, a Good Housekeeping special issue, music video, gummy treats, some hard lemonade and tequila (to wash it all down) — all promoting a movie featuring mutant Van Wilder, his Indian sidekick and budget Thanos.
Yes, 20th Century Fox has certainly gone overboard with Deadpool 2's promotional campaign. And Ryan Reynolds sure has been indulging himself in plenty of meta-yakking gimmicks for the past year or so. The whole snarky, self-aware act was funny until it started getting tiresome. Now, it just plays like smug self-praise.
When the Merc with a Mouth made his debut in 2016's Deadpool, we were already at peak superhero saturation. So, a talkative antihero — who flattered audiences' knowledge of genre conventions with winking meta-LOLs — was a welcome surprise. Wade Wilson was firing bullets and banter at everyone in range. Yes, the dick and ball jokes were a bit too National Lampoon but it stayed loyal to the source material with its gleeful fourth wall-smashing. Deadpool's "little yellow boxes" from the comics translated remarkably well on the big screen as the movie mocked the very superhero-genre clichés that it nonetheless fulfilled.
The Tim Miller-directorial not only shattered records in its opening weekend, it became the overall highest-grossing R-rated movie pocketing over $783 million against its $58 million budget. So, similar to the marketing strategy it employed for the first movie, 20th Century Fox has again gone all out to promote David Leitch's upcoming sequel with a barrage of irreverent content.
Also read — Deadpool 2 can heal your post-Avengers: Infinity War blues; all you need to know about Ryan Reynolds-starrer
It all started with a teaser short film that was shown in cinemas ahead of Logan in March last year. Called No Good Deed, the short film finds Wade Wilson trying to change into his skintight Deadpool costume in a nearby phone booth Superman-style (with John Williams' iconic theme playing in the background) in order to stop an armed robbery. But it takes him a bit too long as the man he's attempting to save is shot dead. Drenched in irony, it was a sign of more things to come — some truly inventive, some not.
One of the more off-beat viral-friendly teasers amid this cacophony was a parody clip that paid homage to Bob Ross. Deadpool imitates the cult PBS painter — white shirt, majestic perm, calming voice and all — to share a little "Joy of Painting" of his own. After a few minutes of sexual innuendo-laden art monologue and some exaggerated brush-strokes, we are treated to exactly 10 seconds of Deadpool 2 footage — featuring smash cut glimpses of the returning characters with plenty of guns, explosions and bloody mayhem — before we return to the painting instructional's more comforting world.
With Thanksgiving, the publicity stunts had gotten a whole lot more bizarre as Deadpool took over Good Housekeeping magazine as guest editor to bring in some holiday cheer. The edition not only featured the Regenerating Degenerate on the cover but also included recipes to some themed snacks, such as "D's Spiced Nuts" and "Creamy Clam Skinny Dip."
In early February, a teaser titled Deadpool, Meet Cable offered more actual footage from the film with Josh Brolin's villain getting his moment in the limelight before the marketing team take over with more meta-commentary. This time, our mutated hero interrupts with complaints of unfinished visual effects. While the production team makes the correction, Deadpool gives an action-figure reenactment of his confrontation with Cable.
After all the fourth-wall-breaking twists and turns along the way, the trailer and final trailer were unveiled, finally revealing some important plot points. When he wasn't busy mocking DC's finest or even Marvel's own Logan and Thanos, Ryan Reynolds was indulging himself in plenty of paid advertising gigs, from 7-Eleven and Trolli's Sour Brite Tiny Hands to Tequila El Espolòn and Mike's Hard Lemonade. Of course, auctioning a bright pink version of his Deadpool costume to raise money for the F**k Cancer initiative in a PSA did earn the Merc some brownie points.
However, the gimmicks have only increased ahead of its release, such as the no-spoilers and Avengers rejection letters. In a rather silly music video, a stiletto-wearing Deadpool performs an interpretive dance to Celine Dion's latest single, "Ashes". In another promo, he profusely apologises to David Beckham for a dig he took at the former football star in the original film. For the movie's European promo tour, Deadpool channeled his inner Ryan Reynolds, "The Canadian", to make a case for the country — which also gave the world Justin Trudeau — in the Eurovision Song Contest.
Pheww! Such an exhaustingly long promotional campaign for a character that pretends to be oh-so-smug?
By virtue of Deadpool's absurdist humour and defiant irreverence, the "asshats" and "overpaid tools" at 20th Century Fox have sure promoted the pants off it.
But unfortunately, in its attempts to break down and subvert superhero films, Marvel's post-modern, potty-mouthed antihero has become the very thing he parodied when Deadpool turned into a franchise from a standalone venture. Because, after a while with more sequels, prequels and the accompanying large-scale promotional content, even the unconventional becomes conventional. The self-awareness becomes a trope, marking a saturation, over-familiarity and general weariness.
One seriously hopes this is not some form of overcompensation for the studio's lack of confidence in its finished product. The demographic these endless promos are targeting have been on board long before Ryan Reynolds bared his butt in the very first Deadpool 2 teaser 14 months ago. Now, all they really hope for is a movie as raunchy and refreshing as the first.
Watch the final trailer below:
Entertainment
Gibby and Goldstein have previously appeared as expert witnesses for Sanderson, who has said he broke ribs and sustained brain damage from the crash.
Entertainment
Bang Si-hyuk, chairman of HYBE and the mastermind behind BTS, said figures including global ratings and album sales now showed declining demand for K-pop.
Entertainment
Tems' cloud-like puffy white dress from this year's Oscars triggered several memes on social media.