Nimish SawantSep 08, 2018 16:55:09 IST
4 September 1998 was the opportune day when Google was registered as a company out of a garage in California. Over the course of the next 20 years, it would single-handedly alter the fabric of humanity. What started off as a simple search engine is now a larger entity called Alphabet Inc, which has interests in fields as varied as satellite mapping, artificial intelligence, self-driven cars, healthcare research, space research and much more.
The pre-Google era
By early 2000s, Google search was gathering steam in United States and other parts of the world, and giving sleepless nights to Yahoo, AltaVista — the go to search engines before Google. Marred by patchy at best, and non existent at worst, networks and terribly low adoption, Indian internet users were still a few years behind their western counterparts when it came to adopting this new search engine.
For me personally, the turning point for Google, rather that moment of epiphany, which absorbed me into the Google ecosystem, was when Gmail was announced.
I am talking about 2004, a time before which Yahoo Mail and Hotmail (owned by Microsoft) were the only popular email clients. Unlike the multiple social media networks now, online communication back then was possible only via email or chat clients, which both Yahoo and MSN (a Microsoft product) offered. But Hotmail gave a measly 2 MB of storage space — at a time when forwards and newsletters flooded your inbox. Google kicked off Gmail by offering 1 GB at launch in 2004 — a game-changer of sorts for its time. Of course, you needed an invitation to make your Gmail account.
This was followed by GTalk, Google's first chat client which eventually outlasted Yahoo! Chat or MSN Messenger (or ICQ anyone?). Google started regularly launching or acquiring new products that would get more and more people into the fold of the Google family — Chrome, Maps, Earth, YouTube, Android, Drive, Photos.
Even the first true social networking site, much before Facebook came on to the scene, was a Google-owned one. Anyone remember Orkut? For most Indians, Orkut was the first experience of social networking, beyond chatting clients. It was a great way not only to connect with your long lost friends and acquaintances, but also meet new people via the many interest-based Orkut groups. (It's another matter that Google never really capitalised on this early start in social networking, as its later products such as Google Circles / Google+ turned out to be duds.)
Since then, especially in the last 5 years, Google has seen an unprecedented growth in India. As far back as 2004, Google had chosen Bengaluru as its first R&D centre outside of the US. Yes, this was also the time when a lot of other Silicon Valley companies were setting shop in India. But unlike other companies, Google focussed on a lot of outreach programmes and new product announcements which would ensure that Google's popularity in India remained unchallenged. I shall elaborate on it in a while.    
But, it would be inaccurate to say that it has only been a joyride for Google. From furore over misrepresentation of the contentious LOC between India & Pakistan on Google Maps, to infamous Gmail hacks of popular politicians, businessmen and celebrities, objection to Google's Street View citing national security reasons, to the latest fiasco with inserting a UIDAI helpline number in your contacts, are just some of the instances that pop up in the feeble public consciousness.
Google's increased India focus
Over the last couple of years in particular, Google has been launching some of its products in India first before taking them global. Let's face it, a market as young, as diverse and as vast as India is the perfect testing ground for Google and its products. The kind of diversity its deep learning models require can be provided in huge numbers in India. So in a way, it just makes sense for Google to invest heavily here.
For Google, it is evident that the Indian market — where according to their own Next Billion Users Program, close to 40 million users will get on to the internet per year in India and 45 percent of those will be women — is something it needs to invest heavily in. Since China is off limits (draconian govt censorship), India will be an important playground.
If the last couple of years are any indication to go by, Indians too have much to gain from Google.
Here's how Google has played its part in the Indian technology sector
Android kick-started the smartphone revolution in India
Before Android phones started showing up in the Indian market — sometime around 2007-08 — the Indian smartphone market was vastly segregated. You had three major entry points — the BlackBerry ecosystem (for the high end and enterprise users), the Nokia ecosystem (with its Symbian lineup across budgets) or the many Java based smart feature phones which were catering to the mid to lower end of the market.
Apple's iOS was just about getting started, and Android was the only other alternative. But an OS that was completely touch-based, was a novelty and much needed disruption that would really take off in India.
I still remember the first phone I bought (back in 2006, yes I was a latecomer to the mobile phone world) was a Sony Ericsson Walkman series W330i. It lasted me for a good three years, and I was quite content with it. That was till I had a chance to review a smartphone in 2009, the HTC Hero.
The iPhone was already a couple of generations old by then, but was quite difficult to get by in India. Till this point, I was only using non-touch devices and the T9 keyboard was a good friend. But after using the full touchscreen experience on an Android 2.0 device, using the Hero's display as a screen to go up close to the Eiffel Tower using Google Maps' Street View, making photographs whenever I felt like it and other such experiences, I was blown away at the jump in user experience. And post that review, I started saving money as I knew I was going to buy an Android smartphone next. The iPhone was way out of budget for a rookie journalist anyway.  
Android was bought by Google as far back as 2005. One look at this chart tells us all we need to know about the domination of the Android smartphone OS in India. The reason this is important is because for a majority of Indian smartphone users, they have completely bypassed the PC era and their first internet connected device has been a smartphone. The telecom revolution in the last couple of years in terms of data plans is just adding to the growth pattern.
Android OS was the single reason for the death of Nokia when it decided to go it with the Windows Phone OS. Of course, after many years, we are finally seeing Android OS housing Nokia smartphones selling in India, and successfully at that. Thanks to a clean Android OS, Nokia has seen an upswing in its fortunes, managing to sell more smartphones than it did with Windows Phone OS inside it in India.
The importance of Android OS to the Indian smartphone landscape is a case study in itself. And being the unique market that India is, smartphone price wars are a common thing. Google is also trying its best to compete with smart feature phones segment now with its Android Go OS. It will be interesting to see how that space plays out, as a look at last couple of years' data points out that smart feature phones is a space where Android is being outsmarted by another OS called KaiOS, in which Google itself has invested.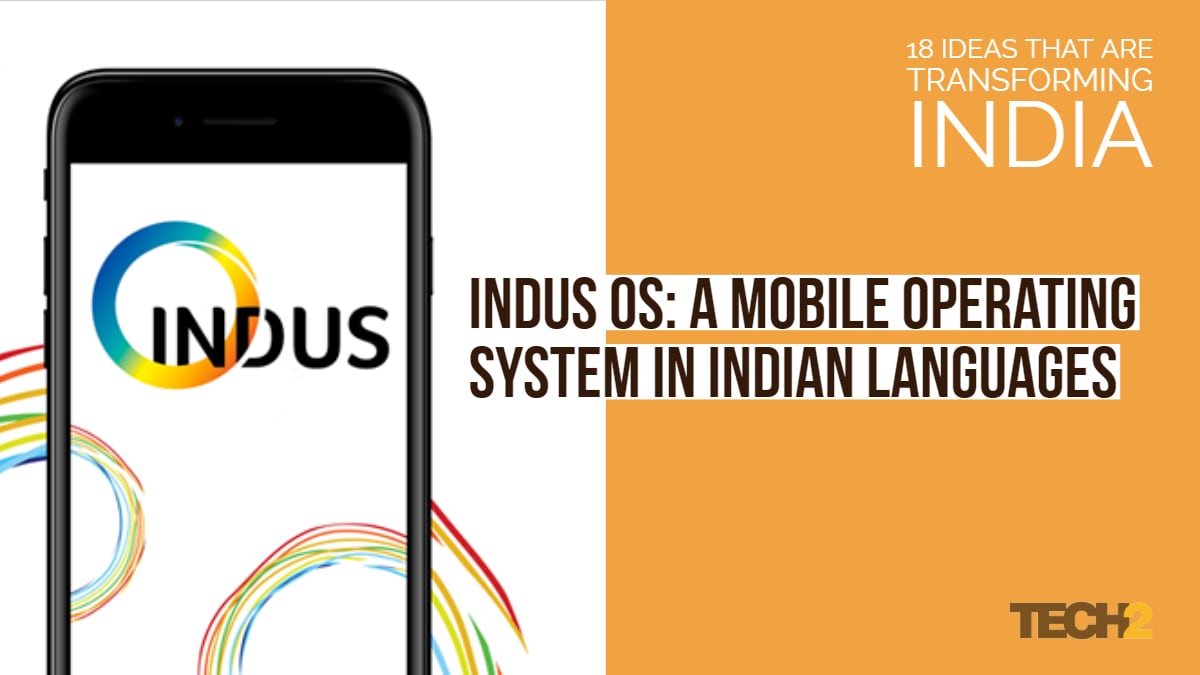 The second most used mobile OS in India after Android is Indus OS, which is an India-centric OS built from the ground up with regional language (up to 12) support in mind. It also has its own app store, a patented regional keyboard to help with translation and transliteration, hybrid instant messaging and more. All in regional languages. Thanks to the Android Open Source Project (AOSP) forks, this is possible only on the Android platform.
Google for India: Making India specific products, to ensure more Indians are loyal to the Google ecosystem
The data plan revolution has only been a couple of years old, and now we are at a stage when we are getting ridiculously affordable data plans, which even surprise smartphone users in developed countries.
But that wasn't always the case, and a majority of Indian phone users still use low end Android smartphones or smart feature phones. Presenting the rich web on a smartphone which has limited horsepower has presented Google and many other companies with multiple challenges. This led to the formation of the Google for India initiative, which has seen many India-first product launches which are slowly but surely, expanding to other geographies.
Initiatives such as offline YouTube downloading, offline Maps, two-wheeler navigation on Maps, Google Voice search in Indian languages, AndroidGo Oreo edition, Files Go, Maps Go, Datally, RailTel Wi-Fi initiative, and many more have the Indian user in mind. Providing a respectable mobile internet experience even on the lowest specced Android phones, has been a challenge, that Google tries to address regularly. It even has a special edition versions of Google Assistant and YouTube for the KaiOS sporting JioPhone.
This year's 'Google for India' summit was its fourth one — to put things in perspective, 2014 was a time when you had to shell out Rs 300 for 1 GB of data for an entire month's duration.
Google's payment app, Google Tez (launched in September 2017) which has now been renamed as Google Pay, has seen over 10 million downloads and has a definite advantage in the UPI payments ecosystem, as compared to its rival Facebook whose WhatsApp Payments feature has been languishing in beta mode for many months now. Google Pay's idea of incentivising people for making payments using Google Pay, via cashback rewards is a smart strategy and we are seeing new things being added to the app.
Earlier this year, Google launched an India exclusive app called Neighbourly, which basically is a hyperlocal app helping you get answers to some of your questions with regards to your neighbourhood. Now Google already has Maps, but even Google knows that its Maps or Maps Go product cannot tell you "where do i get papad at 11:20 pm in Mazgoan?" Google is using its vast pool of users to crowdsource such answers. Of course, all this generation of data will help Google in the long run as well.
Google is even adding regional language focussed features in a lot of its products. Indic keyboards from Google have been around for a while now, and as the user base of smartphone users increases, Google knows it can't just bank on English language. Recently, Google Assistant got a shot in the arm with support for Marathi and Hindi. Its project Navlekha is aimed at working with regional language publishers.
Come to think of it, it makes perfect sense for Google to develop for India. Google's only objective is to get people online. Once that is done, thanks to the vast number of online services Google provides, it knows for a fact that the user will eventually end up using one of them. Given its need to analyse and draw inferences from large data sets, Google cannot think of a more diverse, a more vast geography to test out its products. It's no wonder it is investing heavily in India, to make products that can be scaled to other global markets. Most Silicon Valley companies such as Amazon, Uber, Microsoft are investing heavily in India as they know that most of the developed countries have reached a level of maturity and the only growth market outside of China is India. Add in the fact that India has a majority of its population under the 35 years age bracket, and an English-speaking one at that, it gives all the more incentive needed for companies to focus on India. Google and Microsoft are the only software heavy companies which have had an early start over others. And it sure is paying dividends.  
Google's offline initiatives to get more people online
India has just under 500 million mobile internet users, according to Kantar IMRB research. This number while impressive, pales in comparison to the Indian population (around 1.3 billion) and definitely when compared with the 900 million plus mobile internet users in China. Google has no presence in China, which has its own homegrown brands. But in India, Google is well-respected as a brand.
Even Google knows that online medium isn't the only way to reach the untapped Indian markets. And off late, we have been seeing a lot of offline initiatives from the Silicon Valley giant as well. RailTel Wi-Fi and Google Stations are unique Google initiatives which promise free Wi-Fi connectivity for a lot of smartphone users. The number of internet connected railway stations has crossed the 400 mark and around 150 Google Stations (which is an initiative which lets Google partners provide Wi-Fi in public areas). And the best part is, the Wi-Fi provided does not have a walled-garden approach (something that led to the demise of Facebook's free Wi-Fi initiatives in India — RIP Free Basics). This free internet has been used at Indian railway stations for educational purposes as well as to surf porn.
The Internet Saathi is a Google backed program which is meant to identify entrepreneurs in rural areas and empower them with the knowledge of the internet. It's a program that is slowly growing across different parts of India and is helping a lot of women entrepreneurs set up their businesses. Yes, the initiative does evangelise about Google products such as Search, YouTube and so on, but the internet related education that's imparted can be used by these entrepreneurs to improve their existing situations, which not just helps them monetarily, but in some cases can also bring about improvements in the social status quos as well as levelling the gender gaps.
These initiatives help Google to reach out to sections of society who would otherwise have nothing to do with the internet. Even its Navlekha initiative which was announced at this edition of Google for India, is planning to help regional language publishers have their content up and running on a website.
Apart from this, Google has a lot of developer outreach programs in India. With initiatives such as Google Developer Day, Solve For India, Launchpad Accelerator programme and more, Google is ensuring that it is creating a healthy environment for the developer community in India.
It's not all a bed of roses though: Google has screwed up on many occassions
While Google is doing most things right, its market dominance in many fields online is also a cause for concern. For starters, Google has a lot of data on you, most of it with your permission of course, but a lot of it which it monitors even without your permissions. India's data protection laws, when they are drafted, should hopefully be able to address some of these issues.
Internationally, Google has been caught on the wrong foot in many instances such as Project Maven and the more recent murmurs about Google planning to re-enter China by willing to compromise on some of its own principles. In both instances, Google employees took it upon themselves to force Google to come out in the open against such practices.
Google CEO Sundar Pichai even had to send out a letter titled 'AI at Google: Our principles' to address any fears Google employees would be having about Google's increasing cosiness with the government apparatus. But the fact that there is a partnership between Google and the Department of Defence still concerns many. Google is a world leader in AI and machine learning, but when this leadership is used in controversial areas such as defence or to learn habits of users in a particular country to alter search results, then that's a problem.
Although India hasn't had to face any such issues as far as Google is concerned, there are worries. Recently, Google was involved with inserting a UIDAI helpline number into its Android emergency numbers list, which caused a huge furore online. According to Google, the number was inadvertently added into the Setup Wizard on Android phones back in 2014 and it remained there. With the controversies surrounding Aadhaar and it being a sub-judice matter, a company like Google having anything to do with it, will be viewed with a suspicious eye.
You only need to log in to YouTube, Google's flagship product, to see the kind of content that is present there. While it is a resource to learn and follow interesting YouTubers who are creating some great videos, YouTube is also infested with a lot of clickbait. Many times, the recommendation engine suggests strange videos, which are violent, sexual or just plain fake in nature. YouTube India trending videos aren't always PG friendly, so to speak. At the cost of being branded as prudes, YouTube has been in the news for acting too late on many of the videos that showed up on its site. The most recent example being the delay it took to take down Logan Paul's video on the suicide forest in Japan.
Fake news propaganda using YouTube as a platform has been an issue for quite a while now, and with the general elections coming up in India next year, YouTube needs to do a lot more to avoid the kind of bad press that WhatsApp has been having to face. Of course, the blame here is not completely with YouTube or Google, but the company has the right tools to avoid inappropriate content from showing up on its platforms and it needs more proactive actions on issues that have been flagged.
On 6 September, Google didn't show up at the Senate hearings which had Facebook's Sheryl Sandberg and Twitter CEO Jack Dorsey answering questions by the Senate Intelligence Committee. At a time when mid-term elections are approaching in two months in the US and given Google's influence online, it was really stupid on its part to not be present. Even though Twitter and Facebook are more in the line of fire for the Russian involvement in US elections, as an influential online company with interests in search, video, and a lot many other areas, it just does not look good for Google to not show any representation.
To sum it up
Google's 20 year journey has been more than eventful. It's no longer just a search engine anymore, but an entire conglomerate that is diversifying into everything from making internet accessible to everyone, self driving cars to even increasing human lifespan.
Google's India journey has been, for most practical purposes, a success. It is impressive how Google is making India-specific products and scaling them to other geographies. Yes, it has an incentive to be collecting all this user data for its own profits. But if such a product is making your online life a bit more organised, is it such a bad thing? I know this question will get different responses from different people and it would be great to hear your side as well.
Looking at Google's India initiatives and the feedback it has been getting from this market, it would be safe to assume that there will be many more products which will be India first. After all, Google's Next Billion Users initiative cannot succeed unless it takes India into consideration.
In a way, Google needs India. Now more than ever.
Find latest and upcoming tech gadgets online on Tech2 Gadgets. Get technology news, gadgets reviews & ratings. Popular gadgets including laptop, tablet and mobile specifications, features, prices, comparison.