Gujjars in Rajasthan intensify protests over reservation demands, block highways
Pressing for 5 percent reservation, Gujjars on Sunday intensified their agitation by blocking highways in parts of Rajasthan.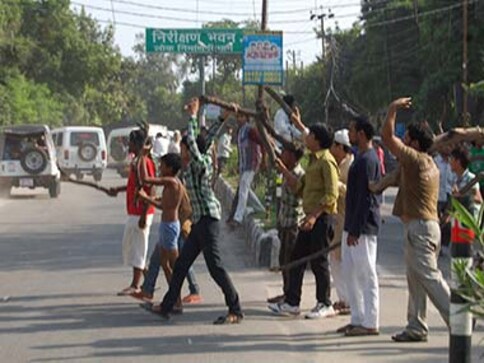 Jaipur: Pressing for 5 percent reservation, Gujjars on Sunday intensified their agitation by blocking highways in parts of Rajasthan and threatening to expand it across the state as they alleged that the state government had failed to offer any concrete proposal to meet their demand.
The community members, who started the renewed agitation on Thursday last by disrupting rail traffic, on Sunday blocked National Highway 11 at Dausa and a state highway in Sawaimadhopur district to build pressure on the state government, a day after their talks ended in a deadlock.
The Gujjars blocked the Agra-Jaipur highway at Sikandara in Dausa and Sawaimadhopur-Sheopur state highway in Khandar area of Sawaimadhopur district where the Gujjars are squatting, police said.
Traffic on both the highways has been diverted to other roads and police has been deployed around the area to maintain law and order, police added.
"Several hundred people blocked the highway at Sikandara this morning while the Sawaimadhopur-Sheopur state highway is also blocked since last night," they said.
"We are intensifying the agitation after the government failed to offer any concrete plan to provide the community five per cent reservation under the legal limit of 50 percent.
"Similar agitations would also be launched in other parts of the state if the government does not fulfill our demand," Himmat Singh, spokesperson of the Gujjar Arakshan Sangharsh Samiti told PTI.
He said Saturday's meeting with three ministers in Bharatpur's Bayana ended inconclusively and there was no fresh proposal from the government so far.
The stir was launched on Thursday in Bharatpur with community members blocking Delhi-Mumbai rail tracks in Pilukapura, which has affected many trains.
Several trains have been cancelled, partially cancelled while others were diverted causing inconvenience to the passengers.
Representatives of the Gujjar community and Rajasthan government met yesterday but the meeting ended in a deadlock as the community leaders accused the government of not coming up with concrete proposal to fulfill their demand of 5 percent quota in government jobs.
"The talks have failed because the ministers came without any clear proposal to address our demands," Gujjar leader Kirori Singh Bainsla told reporters after the meeting.
After the meting, Minister Rajendra Rathore had said another round of meeting would take place on Monday in Jaipur.
However, Gujjar leaders did not confirm whether they would attend the meeting and returned to the agitation venue after the meeting.
PTI
India
Chief Minister Ashok Gehlot offered condolences to the bereaved family members of the deceased and wished for speedy recovery of the injured
India
The approaching western disturbance is likely to affect northwest India and decrease the temperature significantly after 24 hours, said senior scientist Naresh Kumar
India
Satveer Saharan was attacked Wednesday evening when he, along with others, objected to a group of people sitting on a vacant plot adjacent to a temple and creating nuisance