Watch: Kaavad, a dying Rajasthani art form, combines mythology and family histories to tell stories
A deep dive into the 400-year-old Rajasthani oral tradition of Kaavad — which involves a wooden box with painted doors and stories from mythology and folklore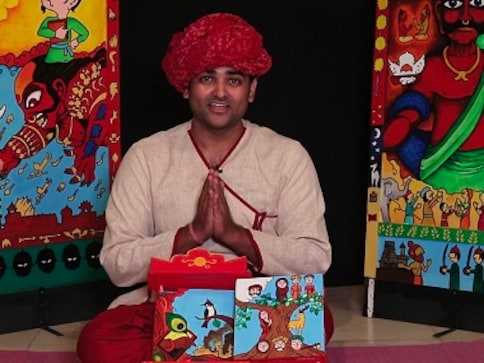 Stories can be found in various places — in libraries, performance spaces, hidden rooms of old buildings, the crowded parts of a new city, and even the most deserted corners of the world.
Sometimes, they can also be found in wooden boxes akin to cupboards with multiple doors, each of which depicts a different scene. Opening one door leads to the next, until you reach the very heart of the story. The protagonists of these stories are characters from mythology and local folklore, and this form of storytelling is called Kaavad.
A single performance of this art form is evidence enough for why it gained popularity half a century ago; it is performed in a sing-song manner, and it is open to interpretation both in terms of the words uttered and the paintings on the wooden box, which is also called a Kaavad. But this box isn't merely a prop — it is considered a shrine by those who practice this art and those who are its patrons.
Akhshay Gandhi, a theatre artiste from Bengaluru, explains that this oral tradition originated in Rajasthan nearly 400 years ago as a ritual. Kaavadiyas or storytellers would visit patron families and use the Kaavad to tell stories which drew from mythology (the Mahabharata, the Ramayana and Puranas), then turned to local folklore, and finally to the lineage of the family or clan itself. "The practitioners were primarily genealogists; they maintained records of family trees and histories, and instead of telling these details as facts, they presented it as a story. Through this melange of genealogy and storytelling, wisdom was also imparted, and patrons were able to discover minutiae about their own families," he says.
There seem to be two different stories about the origin of the word 'kaavad'. The first is that the Rajasthani word for door is 'kivaad', which is an integral part of the wooden box used. The second is that a group of people called the Kaavads, who were genealogists from Uttar Pradesh, travelled to Rajasthan and practised the same profession, only that their work become more detailed and stylised. Kaavad is not a profession that people suddenly took up; it was a practice passed down from one generation to the next.
"The beauty of Kaavad lies in the existence of its multiple doors, which contain multiple aspects that are interconnected. It is the shrine that allows the Kaavadiya to tell a story within a story," says Gandhi.
This art form developed primarily as a ritual that members of a family engaged in together. Gandhi says that as the popularity of the ritual gradually reduced, so did the demand for Kaavadiyas. "It is losing importance as a ritual in a world where many rituals are no longer being practised," he says. His own interest in it grew out of the realisation that an entire generation of Rajasthani people — his father and mother — had grown up hearing about Kaavad only as a legend, or rather an outdated practice. This is unsurprising, considering that the artists had begun taking up other professions, because Kaavad baachna was no longer lucrative. "Now, there are very few practitioners. They embark on journeys to tell stories only once or twice a year. It is an art form that is on the verge of being lost out, which is certainly worrying. What do we do to save it, is the question," he explains.
Part of the reason why Kaavad remains obscure and largely unknown is because it is practised only in Marwadi or Rajasthani. This language barrier, combined with the fact that it has existed thus far in the context of a ritual rather than a standalone art form has made it less accessible, Gandhi opines. The content too might have a role to play. "Because the performance partly deals with the lineage of one specific family, it may not appeal to a wide audience, especially considering the kind of entertainment market that exists today," he says.
His interest in the art form sent him on a journey to discover the artists who practice it. It took him very long to find practitioners, and the one he finally managed to meet and speak to — Khojaramji — kept his identity a secret. "People in his village were not aware of the fact that he was a Kaavadiya. But this need to withhold one's identity may be specific only to Khojaramji," says Gandhi.
In the process of this investigation, he realised that while he cannot help sustain Kaavad monetarily, he could raise awareness about it by performing it. "A performing art survives only when there are performers, not just when there is enough information about it. As I began performing, I understood more about the form than I would have as someone who took an academic interest in it and viewed it from a distance. It allowed me to learn things that I perhaps cannot articulate," he explains. Gandhi says that the art form has gone from having value to entire communities to only having value for patrons. "If it regains its communal nature, maybe there is a hope that it will survive," he says.
Through his own rendition of Kaavad, Gandhi has presented the idea that one need not limit the accessibility of an art form by strictly adhering to rules, provided that one retains its essence and spirit. It also allows him to make a point about how a form need not be dictated by its content or the language it is presented in. "Being connected to a larger system of thought definitely lends to it a greater richness, but our attempt is to present it as an art form, and this is definitely a dilemma — should we let it remain as it is, or change it such that more people can consume it? In the process of making it more popular in the market, we may end up diluting its value. We need to strike a balance," he explains.
He uses Hindi in his performances (not the urbane kind, more refined) and draws from sources other than the epics too. One of the doors of his Kaavad was extremely contemporary — a contemplation about today's politics and world leaders. Despite the fast-paced narratives and slightly complex metaphors, people seem to enjoy his performances. This he says is the light at the end of the proverbial tunnel. "I think they can connect to the stories I tell. People now want to know more about the art form, if not begun their own research about it. It will live on in their memory," he says.
Akhshay Gandhi performed Kaavad Katha at Harkat Studios in Mumbai
also read
First Cricket News
Firstpost caught up with the Uttar Pradesh-born Dhruv Jurel on his conversations with his idol MS Dhoni, his ambitions and several other aspects.
First Cricket News
Talking to Firstpost, Yuzvendra Chahal discussed his IPL legacy, recently-concluded 2023 season with Rajasthan Royals, his spin partnership with Ravichandran Ashwin and more.
India
Pilot had last month defied a warning from the party and went ahead with a day-long fast targeting Gehlot over his "inaction" on alleged corruption during the previous Raje government.