Alwar lynching: Human lives important but cows important too, says Yogi Adityanath days after SC judgment
Yogi Adityanath said that his govt will provide protection to everyone but every individual, community and religion should respect each other's sentiments.
Uttar Pradesh chief minister Yogi Adityanath on Wednesday said that mob lynching cases are being given unnecessary importance and went on to blame the Congress for making a ''mountain out of a molehill'', reported ANI.
These incidents are given unnecessary importance. If you talk about mob lynching, what was 1984? Law & order is a matter of state. Congress' intention to make mountain out of a molehill won't be successful: UP CM Yogi Adityanath on mob lynching incidents pic.twitter.com/4RdeEy4yns

— ANI UP (@ANINewsUP) July 25, 2018
The chief minister further said that his government will provide protection to everyone but every individual, community and religion should be responsible enough to respect each other's sentiments. "Humans are important and cows are also important," said Adityanath, days after the lynching of 28-year-old Rakbar Khan in Alwar, Rajasthan. The victim was taking his cows back to their village in Haryana in Alwar's Ramgarh when a mob lynched him on suspicion of cattle smuggling.  
We'll provide protection to everyone, but it's responsibility of every individual, every community & every religion to respect each other sentiments. Humans are important & cows are also important. Both have their own roles in nature. Everyone should be protected: Yogi Adityanath pic.twitter.com/s12OwaZxwc — ANI UP (@ANINewsUP) July 25, 2018
The local police were accused of negligence and delay in taking Khan to the hospital. Later, a high-level panel set up by the state police found four policemen guilty of dereliction in duty and suspended assistant sub-inspector Mohan Singh, who was in charge of the Ramgarh police station at that time. Officials also shunted three constables to police lines.
'But what about 1984?'
On the fifth day of the ongoing Monsoon Session, mob lynching issues came up in both Houses of Parliament. Union home minister Rajnath Singh, in response to Oppositions questions, said that the central government will enact a law, if necessary, to curb similar incidents.
Rajnath, in response to TMC leader Shanta Chhetri's criticism of the government's failure to keep such incidents in check, said, "I want to make it clear that the government is not just concerned but has taken lynching incidents very seriously."
He reiterated that the biggest lynching in India had occurred in 1984 when thousands of Sikhs were killed in the aftermath of the assassination of then prime minister Indira Gandhi.
Meanwhile, Adityanath, in his comments on Wednesday, also brought up the comparison and said, ''If you talk about mob lynching, what was 1984? Law and order is a matter of state."
The home ministry on 23 July had announced that it would set up two high-level committees to suggest ways and a legal framework to effectively deal with incidents of mob violence and lynching.
Prime Minister Narendra Modi on 21 July urged states to take stringent action in such cases. "The incidents of violence are against the basic principles of humanity. I once again urge the states to take strict action in such cases," he said during the no-confidence motion debate in the Lok Sabha.
The Supreme Court on 17 July had instructed Parliament to deal with offences of mob-lynching. A bench headed by Chief Justice Dipak Misra condemned such cases and called the incidents "horrendous acts of mobocracy" which cannot be allowed to become a new norm.
The bench passed a slew of directions to provide "preventive, remedial and punitive measures" to deal with offences like mob violence and cow vigilantism as it said that it was the duty of state governments to ensue law and order in society. "Citizens cannot take law into their hands and cannot become law unto themselves," the bench had said three days before the lynching of Rakhbar Khan.
With inputs from agencies
Find latest and upcoming tech gadgets online on Tech2 Gadgets. Get technology news, gadgets reviews & ratings. Popular gadgets including laptop, tablet and mobile specifications, features, prices, comparison.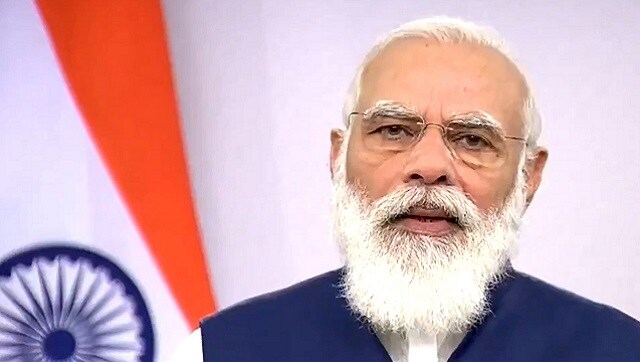 India
Durga Puja was the epitome of pluralism and reflected the collective strength of India, said Narendra Modi during a virtual address on Thursday
India
India has been ranked lower than its neighbours, including Pakistan (88), Nepal (73) and Bangladesh (75), in the global report released recently
India
'Like the decisions on Ram Mandir and Article 370, the prime minister has decided when there would be war with Pakistan and China,' he is heard saying in a video clip on social media