Justin Bieber's India concert: Did 'Sorry' singer cheat Beliebers by lip syncing at a 'live' gig?
While legions of Beliebers seemed only too happy with Canadian pop sensation Justin Bieber's performance in Mumbai on 10 May 2017, there are now rumblings of discontent from some quarters over the 'Sorry' singer's lip-syncing.
A quick lowdown:
Bieber's Mumbai performance — at the DY Patil Stadium — marked the India leg of his Purpose World Tour. It was his first concert here in India and he flew down from Dubai (the previous pit-stop on his tour).
There was a crowd of about 45,000 people at the convert venue, many of them teenagers accompanied by their parents, who had gathered to hear Bieber sing.
They queued up outside the stadium from 8 am onwards (some of them even earlier) — the gates were to open only past 2 pm — in the sweltering May heat; paid anything between Rs 100-200 for bottled water (which they weren't allowed to carry inside the stadium); paid another Rs 100 for snacks like chips, ice cream and Rs 150 for a can of Red Bull; waited expectantly while DJs Sartek, Zaeden and Alan Walker played their sets — and cheered loudly for their idol, Bieber, when he came on stage.
Bieber himself came on stage about 10 minutes after the scheduled time 8 pm, and performed for around 120 minutes (fans had initially been told it would be a 90-minute set).
But then came the part the audience hadn't perhaps expected — Bieber lip-synced to at least right of the 12 tracks he performed on stage that night.
The concert had cost a cool $4 million; like an international artiste of his level, Bieber had a pricey list of demands from the organisers; and fans had shelled out anything between Rs 5,000 to Rs 15,000 for tickets to the gig.
So the consternation over the lip-syncing was all too-understandable.
Add to that the general consensus that this was among the most badly managed concerts anyone had been to in recent times, and what you had, was a recipe for dissastisfaction.
Musician Leon Saalis de Souza pointed out that there goof-ups right from the box office onwards.
"The box office ran out of paper and people had to wait for a whole hour till somebody finally realised that there was a show already running inside! Missed Alan Walker's set due to this, and the attitude of the Book My Show people at the box office didn't help either," de Souza wrote in a Facebook post, adding, "Justin Bieber, please don't do a show in India, like you were coming out of a shower and running late for a dress rehearsal. It is safe to say, that the show was an operational and a production nightmare, except for the fireworks bit and the feeling I got when I finally managed to sit in a cab two hours after the concert got over. And to think, we waited four months for this. Pathetic."
In a second post, de Souza also captured the disillusionment of many of the concert goers when he wrote:
Musician Sona Mohapatra also took a critical view of the lip-syncing, and expressed her views — much to the consternation of Beliebers — on her Twitter and Facebook pages.
"How come we don't hold our idols to some standards?" Sona wrote. "Forget higher, just — don't take our money and treat us with contempt?"
Here's a look at her complete post: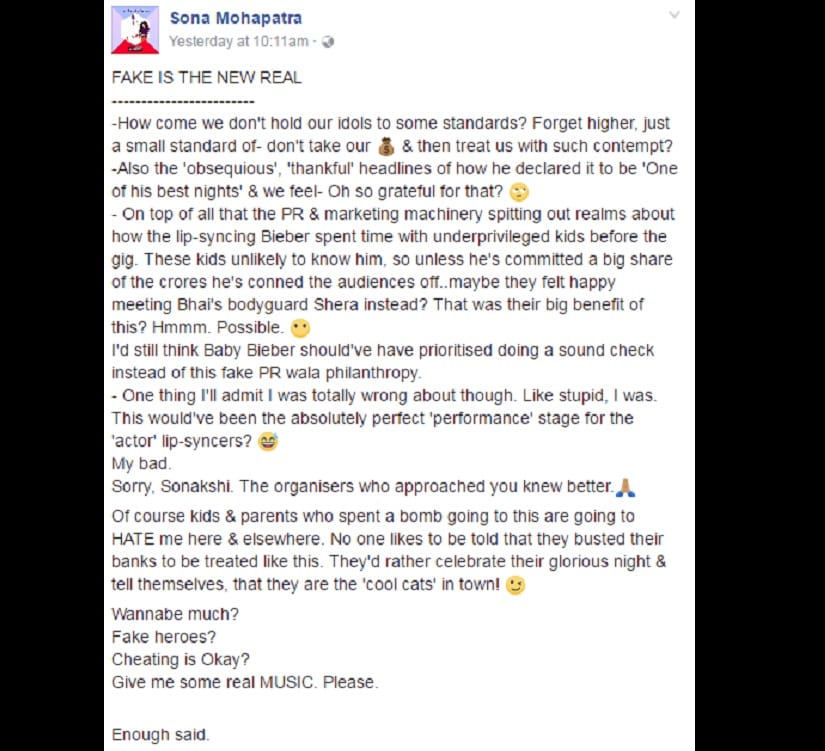 And then there was Only Much Louder (they're the folks behind the NH7 Weekender, among other things) founder Vijay Nair's series of tweets that we're reproducing here: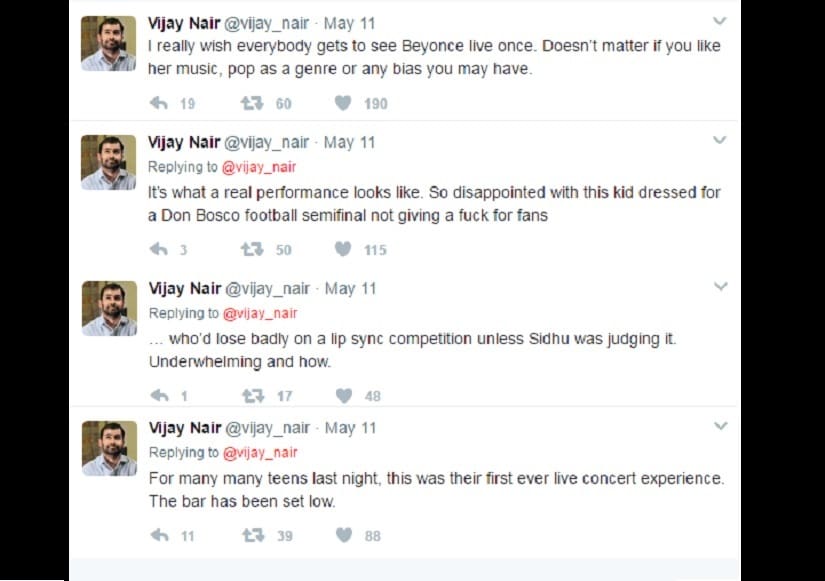 As well as this little gem:

Musicians that Firstpost spoke with, had mixed views on the lip-syncing issue, and whether or not it amounted to cheating the audiences, on the part of the performer (in this case, Bieber).
"You are not going there to watch a dance performance, or you are not going there because he is an actor who will be performing on stage. People who went there, even people who spent the 'lowest common denominator' — 5000 bucks — did come there to watch a live performance, and it is just not fair on them," said Mihir Joshi, of the Mihir Joshi Band.
"You go to a concert to see how the singer will improvise and add to his recorded songs. If you attend an Arijit Singh concert, he improvises on his vocals, adds to his lyrics. People come to see how a singer will take the studio version and improvise it. So I don't think lip syncing at a concert is fair," Joshi added.
Ehsaan Noorani of Shankar-Ehsaan-Loy took a less stern view.
"I was not at the concert so I don't know how much of it was lip synced. But a lot of dance-driven shows might be lip synced... As Indians, we should be used to lip syncing as that is what Bollywood films and shows are about, bar a few like Farhan Akhtar's. I'm sure the promoters and producers of the Bieber show were aware that he would be lip syncing (for some part of the concert) and eventually, if the people had a good time, that is what is important."
A lot of fans felt that the lip-syncing might be excusable because the Purpose World Tour has been an exhausting one for Bieber, and the heat in concert pit-stops like Dubai and Mumbai would have been too much for the Canadian pop star.
But Mihir Joshi refuses to buy those excuses: "For people who say Bieber didn't perform because it was too hot and humid, and he was tired, take the example of Bruce Dickinson, the lead singer of Iron Maiden. They are out on tour a lot, but Bruce Dickinson never lip syncs."
The lip-syncing seems unfortunate when you consider that most concert-goers counted Bieber's actual live, acoustic performances of the songs 'Love Yourself' and 'Cold Water' the best of the night, in addition to his sign-off song 'Sorry'.
These were the moments when the audience got what it really wanted from Bieber — a reaching out, an acknowledgement. As Bieber started to play 'Cold Water', he realised that the first few bars sounded off-key. He then apologised, re-turned his guitar and started from the top, giving audiences a sweet memory to hold on to.
Jaya Shah, 18, who counts herself a 'Belieber' said, "At least he performed! He looked really tired, so he could have cancelled. For me, the thrill was in seeing him in person. I am so happy about that. Nothing else matters. And he performed 'Love Yourself' and 'Cold Water' himself, which was phenomenal!"
For others, there wasn't much solace to be found.
Fifteen-year-old Priyal Desai was at her first-ever concert and didn't realise that Bieber wasn't singing live. "I only found out when people told me, afterwards," she told Firstpost. I wasn't close enough to the stage to see him; we couldn't see the screen properly and I couldn't hear him singing all too clearly either since the speakers in my section (I paid Rs 5,000 for the tickets) weren't very audible over the cheers of the crowd."
Updated Date: May 12, 2017 17:08:55 IST
Find latest and upcoming tech gadgets online on Tech2 Gadgets. Get technology news, gadgets reviews & ratings. Popular gadgets including laptop, tablet and mobile specifications, features, prices, comparison.