Jerry Before Seinfeld: How well does Netflix's hour-long Seinfeld retrospective fare?
For some weird reason that I don't remember the origins of, I have developed a pattern that dictates my liking for a TV show — for me to keep watching a show, I should really like at least one character on it. They don't have to be a swell person or anything corny like that, and I don't mean a judgmental kind of liking, but something about at least one character on the show should make me feel invested in them. Only then can I keep going back to it again and again, year after year. And so this pattern has stuck around — for everything from The Wonder Years in the early '90s to the latest season of Bojack Horseman that I watched just last week. A few shows gradually (and sometimes, rather suddenly) fell off the radar when I couldn't get invested in any character even after three or four seasons, like Mad Men for example. But otherwise, the pattern continues.
As far as I can recall, only one show has managed to hold my attention dedicatedly for its entire run, despite me never really developing any strong liking for any of the protagonists — Seinfeld. For nine seasons, I watched Seinfeld, even though I pretty much disliked Jerry, Elaine, George, and Kramer. Disliked them in the conventional sense of the term, in that I'd never want them as friends and I didn't ever particularly care about what happened to all of them.
Even then, I've re-watched all nine seasons multiple times, and I keep watching Seinfeld reruns on television all the time. Any other show with characters so decidedly non-likeable (not to mention an obtuse lack of character development for nine seasons!) would have been unbearable to sit through, but Seinfeld continues to be incredibly fun TV because of the ridiculously good lead actors, because of their chemistry with each other, and because of Jerry Seinfeld's brilliant comedic writing that managed to turn nothing-scenarios into observational comedy gold.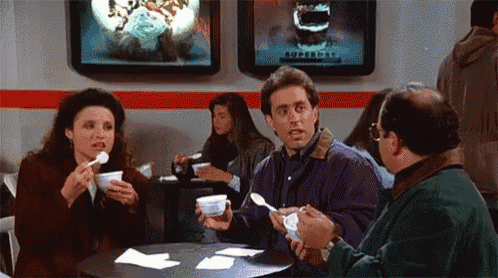 This week he's back, on Netflix this time, with a one-hour special called Jerry Before Seinfeld, that dives into his childhood and his rise as a stand-up comedian and other such nostalgia-inducing stuff, in a typical Seinfeldian manner — with no overt nostalgia or any longing emotion, other than pure comedy. And it's awesome!
Long before Jerry Seinfeld was driving around drinking coffee with President Barack Obama (Comedians in Cars Getting Coffee) and over a decade before Seinfeld first aired, there was just Jerry. A kid from Long Island who "came out" to his parents about wanting to be a stand-up comedian, and started performing at Comic Strip Live in New York in 1976. In 1981, Johnny Carson invited him to perform on The Tonight Show, and this is where Jerry Before Seinfeld begins. Seinfeld goes back to the intimate setting of Comic Strip Live for this special, right where it all began, chatting with fellow comedians from four decades back, and performing in front of a small crowd with a red brick wall behind him. It's all very Seinfeldian...except that without Elaine, George, and Kramer's antics to give context to his jokes, it's all up to Jerry. And it's all about Jerry.
There's a moment soon after we begin, where Jerry Seinfeld takes us back to his childhood home (home videos and sepia-tinged photographs from his childhood are showcased throughout the special) and for a moment, you almost can't believe that the great comic Jerry Seinfeld is going to a place he has never been to before (at least on screen) - an emotional narrative of his upbringing — and then the moment passes, drowned by a riot of constant giggling because Jerry Seinfeld has not allowed himself or the audience to get sucked into the sappiness of nostalgia; instead, he's doing what he does best — turning it all into finely observed comedy. As someone who made a career out of creating and starring on a show about "nothing", it's not surprising that, instead of a heavily emotional narration accompanying the childhood montage, Seinfeld launches into one of his signature quirky discourses about semantics:
"We moved out from the city, to on Long Island. You don't live in Long Island; you live on Long Island. You live in the city...You don't live on the city...But if you go out, you're gonna be on the Island. Long Island is not one of those places. You can't get in it. There's nothing to get in. You just stay on it."
It's hilarious, it's weirdly accurate, and makes you go, "oh yeah, that's right!" when you think about it a bit longer than the time this topic probably deserves. It's not deep or intense though, at least not in a way that makes you uncomfortable or queasy — like something Louis CK might talk about. It's very, for lack of a better adjective once again, Seinfeldian.
Critics have often said this about Jerry Seinfeld, that he doesn't really say much about anything. That he lacks passion, that his comedy is lukewarm because it lacks intensity, and that he complains so much about everything that he sounds like "a bitter philosophy professor teaching Intro to Cynicism." There is some truth in that. A lot of what Seinfeld talks about, even on Jerry Before Seinfeld, is a lot of this and that — a lot of "nothing." But it's the kind of "nothing" that, when you take the time to inspect it closely, you realise says something quite profound about human nature and behaviour.
As Matt Zoller of Vulture writes, "Those hoping for a thorough and surprising documentary about Seinfeld, or even a concert with a heavily confessional bent, will be disappointed. But of course, these same people would need to be unfamiliar with Seinfeld's work to expect more than that. Seinfeld built his legend by taking the 'how about airplane peanuts, folks?' school of innocuous observation, melding it to a PG-version of George Carlin's fascination with social rituals and language, and pushing the result about as far as it can go — which isn't all that far, considering the strict parameters you have to place on this sort of comedy to prevent it from becoming mildly uncomfortable." Complaining about the mundane, and mining something hilarious out of it, is a craft — one that Jerry Seinfeld, over 40 years of stand-up comedy, has perfected to its core!
There are moments during the special when a little bit of Jerry comes through, like when he's talking about having a perfectly normal childhood (interspersed with some of the most brilliant observations about being a kid, and then about being a kid in the '60s — "When you're five and you get bored, you literally can't support your body weight...Adulthood is the ability to be totally bored and remain standing," remembering the utter exhaustion he felt when accompanying his mom to the bank or the wallpaper store as a child, or "I was either 100 percent sugar or I was airborne," referring to kids those days and their meals consisting of sugar-rich cereal because a well-balanced diet was unheard of till then, and the lack of seatbelts and helmets protecting kids back then). Or when he's sitting on a side street in Manhattan in present-day, surrounded by hundreds of pages — the yellow letterhead-size variety — that he has written all his jokes on since the '70s (they're all kept in the same accordion style folder). Between that image and the grainy video of a 20-something Jerry performing at Comic Strip Live and his unwittingly-endearing-but-mostly hilarious stories of his childhood, you do see the Jerry that was before Seinfeld. And you forget that the man saying those jokes has amassed a fortune worth nearly a billion dollars!
There's another moment when you see a bit more of Jerry; not necessarily the Jerry before Seinfeld, but the Jerry that's outside of the Seinfeld brand. Towards the end of the special, he starts talking about what seems like a near-inevitable bashing of Donald Trump and the current political climate in the US, but instead of diving straight into it, he pulls a typical Seinfeld move and instead challenges the sanity of anyone wanting to be President, having so much control and "being in charge of everything" — "Why…would anyone want to be President?" Almost there, a near miss. But once again, the jokes make you laugh, and you aren't comfortable. Once again, it's all very Seinfeldian.
Jerry Before Seinfeld isn't groundbreaking comedy. And some of it isn't even new. But for those of us who grew up watching and loving Seinfeld, it's a great throwback to the classic humour of Jerry Seinfeld. Before Seinfeld. And since.
Updated Date: Sep 24, 2017 10:10:05 IST
Your guide to the latest election news, analysis, commentary, live updates and schedule for Lok Sabha Elections 2019 on firstpost.com/elections. Follow us on Twitter and Instagram or like our Facebook page for updates from all 543 constituencies for the upcoming general elections.