Ronnie Screwvala, Siddharth Roy Kapur on reuniting as producers for Pihu, The Sky Is Pink, Rakesh Sharma biopic
Ronnie Screwvala and Siddharth Roy Kapur had worked together for 15 years in UTV before they parted ways to form their individual production houses.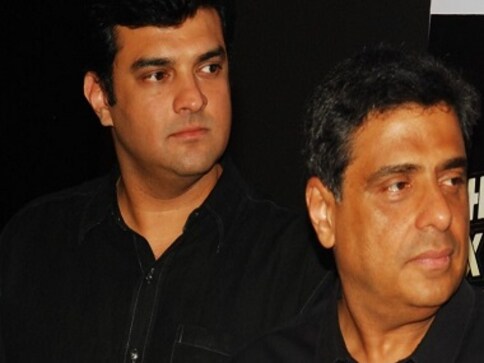 After backing Dev D, A Wednesday, Rang De Basanti and Barfi! during their earlier innings at UTV, the dynamic duo, Ronnie Screwvala and Siddharth Roy Kapur, have now  joined hands for Pihu, directed by National Award winner Vinod Kapri, who earlier helmed Miss Tanakpur Haazir Ho.
Screwvala and Kapur will take their association further with Shonali Bose's Priyanka Chopra-Farhan Akhtar-starrer The Sky is Pink, and Shah Rukh Khan-starrer Rakesh Sharma biopic Sare Jahan Se Achcha (to be directed by Mahesh Mathai), which will go on floors next year.
Pihu marks the first collaboration between Screwvala's RSVP and Kapur's Roy Kapur Films. The film is about what ensues when circumstances lead to a two-year-old girl being left alone in an apartment. It is based on a true story and has just one character throughout. "We were in the process of developing another project with Vinod and he told us about Pihu. We saw it and were quite amazed that how he has managed to craft a 90-minute experience with a two-year-old and held your attention all through. It keeps you on the edge of the seat and emotionally charged as well. That's when we decided that we want to back this film. It's always thrilling to come across directors who want to tell stories that disrupt the status quo using bold new narrative style," said Kapur.
"Imagine 90 minutes of a spellbinding experience. It can easily be a true story and yet it tugs at your heart at all times. Pihu is thrillingly real," said Screwvala. Pihu was officially selected for prestigious international film festivals, including Vancouver, Palmsprings, Iran, Morocco and Germany. It was also the opening film at the International Film Festival of India (IFFI), Goa, in 2017.
In their second innings, the duo has maintained that they would like to develop their own scripts but there could be exceptions like Pihu. "Both Siddharth and I have decided that in our second avatar, we are going to pick up movies in a different manner. We would make our own scripts. But Pihu was different and when we saw the film, it took us away from the fact that we won't be taking up ready-made movies. It was very special. Movies like this has to be opened up to the audience to come and watch," said Screwvala.
Further, talking about their long lasting relationship, Kapur said, "For me, the familiarity is great because I have worked with Ronnie for 15 years from the time he set up UTV Motion Pictures in the early days. There is a meeting of minds in terms of the content that we want to develop and produce. It just feels comfortable and pretty much the same in our second avatar because there has been sensibility match all through."
"There is a creative setting, there is a vision setting, there is a deep sense of understanding and trust between Siddharth and me. Especially when you are making things out of nothing, you need a lot of faith because whatever may be your best laid plans, things may go wrong, things are going to change and still you want to be clear that the final product will be what it wants to be. We have that comfort level," said Screwvala.
The duo will take it from where they ended the previous time – backing path-breaking cinema and encouraging new talents. "Ronnie's philosophy at UTV from the start was the same. We didn't go by film connections and it has always been a director-driven approach. We have backed directors who had great stories to tell regardless of the fact that their earlier films might not have worked or it was their first film. From a Dibakar Banerjee, to a Rakeyysh Om Prakash Mehra, to Neeraj Pandey, or Rajkumar Gupta… it has never been about backing a new director, but supporting the one who had a great story to tell, a director who was fully invested into it," said Kapur.
Elaborated Screwvala, "It is not just about giving chance to new people, but once you know there is a director then you don't think of him as a first time director, there is nothing charitable. If you have conviction, you go with it. It is same like when you are building organisations and working with new people, we don't think about giving a chance to first generation entrepreneurs. Working with new talents, new mindsets is great fun."
And the most exciting part for them of running their individual production outfits is developing their own scripts. While Screwvala's upcoming projects include Kedarnath, Sonchiriya and Uri, Kapur, besides producing an eclectic range of films (Vinil Mathew-directed Sinbad and Sooni Taraporevala's Ballet Boys) is going digital in a big way by partnering with Jio. "We are working with Jio and we will be launching a few shows next year. For content creators, it is a great chance to be able to have stories available to length and breadth of the country," said Kapur.
"For me, at present, movies is the fun. If something really creatively appeals, then we will look at digital," said Screwvala, who along with Kapur, was supposed to reunite with Aamir Khan for the Rakesh Sharma biopic. But for some reason, the actor opted out and SRK replaced him. Aamir has worked extensively with both the producers for films like Rang De Basanti, Delhi Belly, PK and Dangal. "We would work with Aamir at any time but at present, he is focusing on Mahabharat," said Kapur.
With 2018 being profitable for Bollywood as compared to previous years, both, Screwvala and Kapur are quite excited about the future. "Footfalls have increased this year as compared to last few years where it has been declining, and that is a great sign. That tells you that cinema is not going anywhere, it is all about creating great content, and people will come. They are as sold on the cinematic experience as they have always been, just that we didn't give them good movies. It is not that OTT or digital is taking them away, they will come to cinema week after week if they like the content," said Kapur.
Lastly, commenting on the star system, both unanimously believe that one cannot beat the combination of star coupled with a great story and script. "What has changed is probably the films that didn't have any star in the past might have had certain glass ceiling to the box office. But that has now changed and they are doing Rs 100 crore plus numbers as well, and that is a great sign. Seven to 10 years ago, it might have done half of that, if not less. That means the audience taste has broadened but not changed. The audience will still go for big Khan films, and they will also go for small or medium budget films," said Kapur.
Entertainment
Celebrities including Deepika Padukone, Ranveer Singh, Amitabh Bachchan along with his family, Kiara Advani, Janhvi Kapoor, Kangana Ranaut, Allu Arjun, Kartik Aaryan, Karan Johar, among others shared videos of themselves as they clanged 'thalis'
Entertainment
Twitter users were furious at Jimmy Kimmel's error in calling RRR a "Bollywood" movie and immediately expressed their displeasure at the matter.
Entertainment
The video of the actor's gesture is going viral on social media.