Pihu director Vinod Kapri on how he got the idea for the film and being 'directed' by his two-year-old actor
Pihu director Vinod Kapri: 'I didn't direct the child, she directed me. We were only following and capturing her'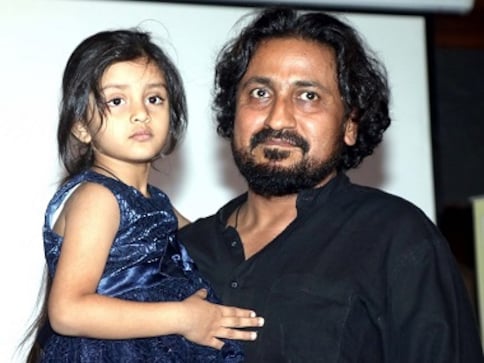 A two-year-old girl left all alone in an apartment in a high-rise building is an unlikely choice for a film but journalist-turned-filmmaker Vinod Kapri knew that he was exploring a very unique subject. His film, Pihu, a social thriller featuring two-year-old Myra Vishwakarma as the protagonist hits the screens on Friday, 16 November. Technically, she is the only person present in a huge apartment with zero supervision. "We felt in the beginning that it may be an impossible task and we may not able to make it. But if it gets made it will be unique. It will generate lot of interest that how a two-year-old kid can carry the 100-minute film on her tiny shoulders. It will be a very different kind of cinematic experience to watch this film. Earlier we felt it was impossible and I have that feeling even now. If today, I am asked to make a film with a two- year- old, I won't be able to make," said Kapri, in an exclusive chat with Firstpost.
"When I met the child she was one year and 10 months old. I knew her parents, we are family friends, and I told them that their daughter had something special. I took their permission to spend three to four hours every day with her so that she could get familiar with me. I paid lot of attention to her habits, her likes, dislikes and body language in three to four months. I noticed that she would do all her work herself. If she dropped something and the floor got dirty, she would swab it herself. She liked the balcony space and would often go there and call out total strangers, so we have shot in the balcony. Accordingly, I changed the screenplay of the film. So whatever she does, I have kept all of that and what she doesn't, I have deleted that without disturbing the story."
Kapri read a newspaper report of a similar incident in Delhi, which spurred him to make Pihu in 2015. "Also, I would hear many stories from my colleagues and working couples. Today the concept of grandparents is almost over. Parents leave their kids with maids. Some couples told me that they sacked their maid and house-help because they left their kids alone at home and went out. This set me thinking that what happens when a child is left alone, what could they possibly do," says the director.
It has been three years that Kapri completed the film but he took very long to edit it. "Usually, for a regular film we have five to six hours of footage, including retakes but in Pihu's case we had 64 hours of footage. To make it a 100-minute film was a tough call. We had to see the footage several times. First cut was ready in four to five months where we faced lot of problems. We edited 17 times and then it was ready," said the director.
Further, remembering the unusual shooting experience, Kapri, without revealing how the scenes were shot, says, "Throughout the 34 days of shoot, I never said 'action' or 'cut'.  The crew brought over all her belongings, her toys, clothes…to the apartment where we were shooting to make her feel familiar with the place. Then, normally we have 10 to 12 hours of shooting shift every day but with Pihu, we were shooting for only two hours every day. We would shoot just for two hours and have 10 hour break when Myra would be sleeping, eating, get cranky…We paid lot of attention to her behaviour. I wasn't directing the child, in fact, she directed me. We were just following and capturing her."
While Myra's parents, Prerana and Rohit, would always be present on sets and give their suggestions, the director would also leave the child on her own to bring that natural feel in shots. "Myra's parents have contributed a lot as whenever we got stuck, they would help us. They were very supportive. They never felt that their child was unsafe. Whatever looks hazardous and scary, we made sure that it was all made into fun. We would discuss all the scenes with them but we would also leave the child by herself. Suppose our requirement is that she has to apply cream to herself. We would leave her after showing her the cream and just show her by applying it on our face. She would do the same and we would shoot that," says Kapri, further adding, "We were very patient during the shoot. Many a times, we wouldn't get anything that we wanted for two to three days. We would keep waiting. We would pamper her a lot, give her lot of love and attention. Now, she is five and she has started understanding few things but she doesn't know that she has shot a film."
Pihu may be an intense watch but finding a producer and raising money for the unconventional film was an uphill task for the director. A friend helped him with part of the funds, but then he had to turn to film festivals to garner the reputation required to attract producers into shelling out the remaining chunk. "It's very difficult to make such films especially when there is no star. When I approached producers, most of them felt that it would be impossible to pull off a 100-minute film that had a single character which was being played by a child. Studios told me that who would come to watch it. They were not confident about the story," said Kapri.
Eventually, Pihu got both as Ronnie Screwvala's RSVP Pictures and Siddharth Roy Kapur's Roy Kapur Films got on board as producers. The film also opened the Panorama segment of the International Film Festival of India (IFFI), Goa in 2017.  "I am grateful to Ronnie and Siddharth. I am already doing a film with Siddharth which is in the backdrop of Uttarakhand and Kedarnath floods. Siddharth asked me to show the film. He was completely blown away and Ronnie also liked it. They came on board within a day. I feel parents, children, family and people who love their family will love the film and tell others to watch it," said the director.
However, once the film got a release date, the film's marketing strategy did not go well with a section of people. A random call with a wailing sound from a child asking for help, gets abruptly cut. And when you call back, you get the trailer of  Pihu. As a result few people took to social media to share details of the call, slamming it as "a horrible idea", "inhuman" and "a desperate promotion strategy". Defending himself, Kapri says the intention was only to draw attention to a movie which is offbeat and sans "stars".
"When you don't have a big star but have an offbeat, out-of-the-box, unique kind of film, we experiment with marketing and getting the word out to people. I'm not a big director and nobody knows my actor either. So, the attempt was to reach more people to make them understand what Pihu is all about," said Kapri. Desperate promotion strategy or not, Pihu's trailer managed to garner 7.5 million views on YouTube and has been lauded by industry folk like Amitabh Bachchan, Abhishek Kapoor, Bhumi Pednekar and Swara Bhasker.
also read
Entertainment
As Vin Diesel and company hit the action highway again in Fast X, we rank the films based on which ones are most and least likely to stand test of time
Entertainment
Harry's representative has dismissed all such claims by saying all these reports doing the reports are not true
Sports
The actress has created a niche market of her own and enjoys a dedicated loyal fanbase across the country.