Amidst divorce rumours Harry & Meghan lost their police protection and how | Explained
Prince Harry lost a legal challenge which is a hard blow to his years-long effort to pay for police officers to protect him and his family while they're in the United Kingdom.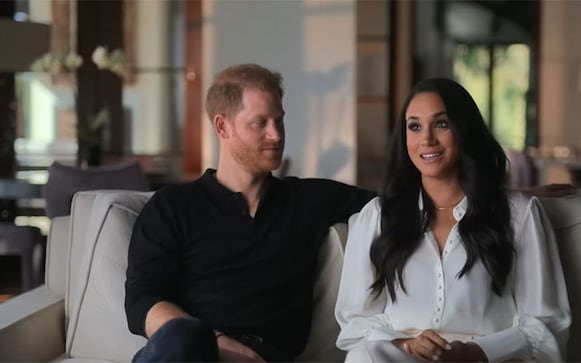 Prince Harry and his wife Meghan Markle lost their police protection when they ceased to be "working" members of the royal family in 2020. According to abc news reports A judge ruled Tuesday that Harry cannot bring a second case against the U.K. Home Office, querying their stance that Metropolitan Police protection could not be bought.
Harry, the fifth in line to the throne, has been fighting back against a 2020 decision by the government that denied his family automatic police protection while in Britain after he and his wife Meghan, the Duchess of Sussex, stepped down from their roles as senior working royals.
At the time, the Executive Committee for the Protection of Royalty and Public Figures, known as RAVEC, made a decision that security for the Sussexes would be granted on a case-by-case basis.
According to abc new, Harry, who now lives in California with Meghan and their children Archie and Lilibet, has said he wants police protection for his family while on British soil and is willing to pay for the cost himself, but the Home Office denied that request.
The judge ruled Tuesday that Harry could not seek to challenge that decision. Harry is still involved in a separate, ongoing case with the Home Office as to whether he should still be entitled to Met Police security while he is in the U.K.
Harry has only returned to the U.K. a handful of times since moving in 2020.
Rumours of Harry and Meghan's divorce
On the other hand, there are rumours about Harry Meghan's separation. According to GeoTv report, Prince Harry and Meghan Markle seem to be heading in different directions five years after their marriage, according to an article published on the fifth wedding anniversary of the Duke and Duchess of Sussex. In fact, according to sources, Prince Harry has a separate room to get away from Meghan Markle.
As per reports a royal commentators believe all is not well in the Sussexs' marriage. Eagle-eyed observers say the couple did not release a family photograph on Christmas and Harry was seen promoting his book "Spare" without Meghan by his side earlier this year.
They think no acknowledgment of their five-year wedding anniversary, Harry's solo appearance at the coronation of King Charles and Meghan's solo brand relaunch with WME are enough of evidence to corroborate their claims that the marriage of Prince Harry and Meghan Markle is on the rocks.
"When we take a look at the changes in Harry and Meghan's lives since the beginning of their relationship, Meghan has become a global figure and one of the most recognisable people in the world. While this may have caused issues for other couples, Harry and Meghan appear to be stronger than ever. The fact they have managed to overcome certain challenges and show genuine emotion proves they are clearly meant to be. I definitely believe they are in it for the long haul. I do think they will last the course of time," Darren Stanton said.
Harry and Meghan have had to overcome a number of hurdles and Meghan "was very much like Princess Diana as she was new on the scene and had to get to know the Royal Family", the expert said.
Meghan's half sister confirmed that the couple is heading for a divorce
According to the Daily Mail report, Meghan Markle's estranged half-sister has launched another blistering attack on the Duchess of Sussex by claiming that her marriage to Prince Harry will end in divorce unless they get 'extensive counselling'. Samantha Markle suggested the Duke may already be 'questioning' the marriage and predicted it could 'get nasty' until he 'starts dissenting or pulling back from her'. The 56-year-old American also called on the Sussexes to go on an 'apology tour' after the couple made accusations of racism within the Royal Family during their bombshell interview with Oprah Winfrey.
(With added inputs from agencies)
Read all the Latest News, Trending News, Cricket News, Bollywood News, India News and Entertainment News here. Follow us on Facebook, Twitter and Instagram.
also read
Entertainment
Amidst divorce rumours, here is why Meghan Markle has been labelled as a 'low grade reality star' and certainly not an A- lister which she claims herself to be.
Entertainment
Amidst Harry & Meghan's divorced rumours, Charles III's sigh of relief as they are not planning on releasing any more royal projects which talk about the British Royal's dark secrets.
Entertainment
Prince Harry could be denied entry to the US by any border guard who has read his admission of drug taking in Spare, claim legal experts.