Virushka, Baahubali, Dangal, Padmavati: A complete A-Z glossary for everything Bollywood got up to in 2017
Ah, 2017! A year that kept us Bollywood watchers on our toes, busy as bees | YearInReview
This article is part of our 2017: A Year In Review series
Ah, 2017! A year that kept us Bollywood watchers on our toes, busy as bees. If only it would slow down some! While that shows no signs of happening, here's a quick recap of all the particularly attention-grabbing things Bollywood said or did over the past 12 months, arranged here as an A to Z glossary for your reading convenience. Don't stop till you get to the end!
A
Azaan
Awoken from his slumber by the sounds of the azaan from a nearby mosque, a disgruntled Sonu Nigam shot off a tweet that had TV channels buzzing, talking heads talking, and debaters debating. Matters reached a 'head' (ahem) when a fatwa was issued against Sonu by a cleric, who promised a princely sum to anyone who'd shave the singer's hair and parade him around the country. Sonu shaved his hair off himself and demanded the bounty. Last heard, he still tosses and turns in bed, bemoaning the azaan and the loss of his silken tresses.
B
Baahubali 2: The Conclusion
It came, it saw — and it conquered the box office. Long before it petered to a stop with its handsome earnings of Rs 1,700 crore, Baahubali 2: The Conclusion was already a sensation. That was due, in no small part, to the success of the original film. But SS Rajamouli, Prabhas, Anushka Shetty, Prabhas and Ramya Krishnan created magic yet again in the franchise's concluding part — a few controversies notwithstanding in the run-up to its release. Not only did Baahubali 2 go on to become (for a while, until Dangal's China release) the highest-earning Indian film, it also had a slew of other records to its credit: first film to cross Rs 1,000 crore, fastest Rs 100 crore earner, only Hindi film to cross Rs 500 crore in domestic collections and so on.
C
Central Board of Film Certification
After a highly controversial tenure, CBFC chief Pahlaj Nihalani was replaced with adman-lyricist Prasoon Joshi. The film industry heaved a sigh of relief, Nihalani went on to produce the skinfest Julie 2, and Joshi settled down to the task of balancing creative freedom with censorship laws.
D
Dangal
Dangal should have been 2016's biggest news. And it was. Then, it opened in China over May 2017, and became the talking pint for this year as well. From its original earnings of Rs 700+ crore, Dangal's dream run in China (it would collect over Rs 1,200 crore from that territory alone) helped catapult it past PK and Baahubali 2 to become the highest earning Indian film of all time. Odes were written to Aamir Khan's genius, and Bollywood had the shining figure of Rs 2,000 crore to aspire to.
E
Ed Sheeran
Also, eugenics
First, there were the million variants of 'Shape Of You'. Then, there were the hysterical fans that greeted him when he performed in Mumbai. Just when Ed Sheeran began to think that India (and Indians) had treated him pretty damn well, he was subjected to a Bollywood party (thrown by Farah Khan) that made him the butt of all memes. As photos of a somewhat dazed-looking Sheeran began to do the rounds of social media, Twitterati (who hadn't been invited to the party) wondered if he'd been held hostage by the celeb crowd, or if he made do with wearing trick glasses that had eyes painted onto them (to cover up the fat that he was snoozing behind them).
As regards, 'euegenics', see N for Nepotism.
F
Fairness creams
In a year that saw rampant attacks on Africans living in India, Abhay Deol chose to highlight the casual racism of Indians by taking aim at fairness creams. He 'named and shamed' celebrities who did endorse these creams on his social media account — and got into a minor tiff of sorts with Sonam Kapoor, who pointed out that Abhay's cousin Esha Deol had also appeared in a commercial for said unguents.
G
Gurmeet Ram Rahim Singh Insaan
Perhaps the self-proclaimed godman had an inkling that his luck would soon run out. And s, before he received his 20-year jail sentence in the latter half of 2017,  MSG (the 'Messenger of God') squeezed in not one, but two films that had a theatrical release. Hind Ka Napak Ko Jawab — MSG Lionheart 2 and Jattu Engineer were works of such inspired creativity, that we do not have words to describe them. We'll just leave you with this little gem instead, and let MSG do the talking:
H
Hrithik Roshan
After it dominated the entertainment industry discourse in 2016, the Hrithik Roshan-Kangana Ranaut feud was back in the spotlight. This time, because of a long and impassioned social media post written by Hrithik Roshan, in which we asked why there was no trace of an alleged seven-year-long passionate affair, except for a series of one-sided emails that had already been sent to the Cyber Crime Cell? Kangana responded, and the slugfest continued.
I
IFFI
The International Film Festival of India (or IFFI as it's known to one and all) found itself talked about less for its heavy star presence and programming than it did for what was seen as an attempt at heavy-handed censorship. First, the films S Durga and Nude were dropped from the festival line-up, prompting IFFI jury members Sujoy Ghosh and Apurva Asrani to resign. Then, despite a Kerala High Court order directing the IFFI officials to screen S Durga, director Sanal Kumar Sasidharan was kept on tenterhooks until the eleventh hour of the fest as to the fate of the screening. Amid a notice issued by the regional office of the CBFC in Thiruvananthapuram, S Durga was not screened after all.
J
Justin Bieber 
Also, jauhar and Johar
Jagga Jasoos
The 'Sorry' singer's much-hyped concert in Mumbai came down to a mostly lip-synced performance. But apart from his lacklustre onstage act, Justin Bieber did manage to set off some fireworks between Sonakshi Sinha and Armaan Malik, who had a nasty Twitter feud over whether or not Bollywood actors should sing professionally.
For jauhar, see P for Padmavati; check N for Nepotism for Johar; and U for under-performers for Jagga Jasoos
K
Kangana Ranaut-Karan Johar
When Rangoon stars Saif Ali Khan and Kangana Ranaut (joined later by Shahid Kapoor) appeared on Koffee With Karan, the episode began normally enough. But then Kangana got into her groove, calling Karan out for having made fun of her when she first became part of the industry, and labelling him the 'flag-bearer for nepotism'. And thus was triggered an exchange that kept Bollywood watchers engaged for several more months to come.
Johar had some good news to celebrate as well this year: see under M for memoirs and Y for young 'uns.
L
Lipstick under my Burkha
Also, legs
The film deemed too 'lady-oriented' by the CBFC finally released to much acclaim across India this year. Lipstick Under My Burkha triggered much-needed conversations about women and sexuality, while its triumphant path to the theatres was an inspiration on its own.
Legs — specifically Priyanka Chopra's, when she met Narendra Modi. When PeeCee and the Prime Minister happened to be in Berlin at the same time, the actress dropped by for a meeting. The off-white dress she chose to wear was demure enough, but for some 'patriotic'-minded Twitterati, Priyanka's bare legs were too much to bear, and they launched a vicious attack against the actress. Her reply? Another image of herself, with her mother Madhu Chopra, both of them showing off their shapely legs. Scoreboard — PeeCee: 1; Sanskaari Trolls: 0.
M
Mahira Khan
Manushi Chhillar
Also, M for Memoirs – Karan Johar, Rishi Kapoor's
Mahira Khan's Raees released in India in January. The actress, however, could neither participate in the film's promotions, not celebrate her cross-border release, because of the boycott on Pakistani artistes issued in 2016 after the Uri attacks. Later in the year, photos of Mahira — sharing a smoke with Ranbir Kapoor while on holiday in New York — went viral, causing a further backlash against the actress. Twitterati picked over everything from the act of her smoking, to her choice of clothing (a casual, white halter-neck dress) and companion (a Bollywood actor).
Manushi Chhillar brought home the Miss World crown after a gap of 17 years and quickly became India's favourite 'daughter'.
The memoirs of Rishi Kapoor (Khullam Khulla) and Karan Johar (An Unsuitable Boy) had readers and Bollywood fans talking for a long, long time with their mix of style and unabashed truth-telling.
N
Nepotism
Also, National Awards; North-eastern cinema
Triggered by the Kangana-Karan spat, 'nepotism' became the word most commonly brought up in discussions about Bollywood (for a while at least). At IIFA, Saif, Karan and Varun Dhawan put up a skit which took jabs at Kangana and ended with the trio proclaiming: "Nepotism rocks!" Varun issued an apology after the incident, Saif got into discussions of eugenics, and Karan put up Instagram pics of his babies. Many thinkpieces were written, some soul-searching may have been engaged in — what all of it resulted in remains to be seen.
The National Awards witnessed some high drama after Akshay Kumar was named the Best Actor winner for Rustom this year. That filmmaker Priyadarshan — who has been a longtime collaborator of the actor's — was the head of the jury that awarded Akshay the honour drew much comment.
And the cinema of the North East got some inadvertent (but not unwelcome) attention when Priyanka Chopra called her home production Pahuna the first film to emerge from the region and referred to Sikkim as a state 'troubled by insurgency'. PeeCee was subjected to a social media backlash and a swift lesson on the North East. Amid calls for her to be removed as the tourism ambassador for Assam, Priyanka issued an apology and the matter was resolved.
O
Om Puri
Om Puri's demise was among the first celebrity deaths of 2017. The 66-year-old actor was found collapsed at his Mumbai home.
P
Padmavati
A controversy that came to define Bollywood in 2017, the Padmavati row began with director Sanjay Leela Bhansali being roughed up by Karni Sena members while shooting in Rajasthan. The trigger: a rumour that there would be a dream romantic sequence depicted between Rani Padmini (Deepika Padukone) and Allaudin Khilji (Ranveer Singh). From that incident, a major conflagration ensued, which saw death threats being issued to Deepika and SLB, much discussion over Rajput pride and Rajput history, and an indefinite postponement of Padmavati's release.
Q
Quarrels
We wish it had been on a Qantas flight just so this entry could have been more alliterative, but even without the aid of such literary devices, the quarrel between Sunil Grover and Kapil Sharma was dramatic enough. On a flight from Australia to India, mid-air, the two collaborators had an argument that led to an inebriated Sharma attacking Grover. Grover walked out of Kapil's show, leading to a phase that saw its TRPs plummet, the show being taken off air for a while, and Kapil himself entering treatment for stress-related issues.
Another not-so-saucy spat: the one over writing credit for Simran, that ufolded between Apurva Asrani, Kangana Ranaut and Hansal Mehta.
R
Raees vs Kaabil
Also, Rajkummar Rao; Reema Lagoo
Raees vs Kaabil was the big box office clash of 2017 for Bollywood. The Shah Rukh Khan and Hrithik Roshan starrers went head-to-head (or toe-to-toe if that's the phrase you prefer) at the theatres; the Roshans cried foul, the Raees team (Excel Entertainment + Red Chillies) pleaded helplessness (their film had already been delayed because of the Uri aftermath), and amid furious reportage of the box office numbers, the SRK-starrer pulled ahead.
With starring roles in Behen Hogi Teri, Shaadi Mein Zaroor Aana, Bareilly Ki Barfi, and the Bose web series by ALTBalaji, it was a good year for Rajkummar Rao. Along came Newton, which not only cemented Rao's position as one of Bollywood's finest actors today, but also became India's entry to the Oscars — and 2017 can indeed be considered a year full of high points for Rajkummar.
Tu Tu Main Main and Hum Aapke Hain Koun...! star Reema Lagoo passed away this year, aged 58.
S
Shashi Kapoor
Also, small-town India
Shashi Kapoor, Bollywood's handsomest leading hero of all time, passed away aged 79. Tears were shed, hearts were broken, and the end of an era was noted.
Small-town India had its moment in the spotlight as Bollywood celebrated stories set outside the metros and tier-I towns. From Toilet: Ek Prem Katha to Babumoshai Bandookbaaz, small-town India provided great characters, settings and stories to Bollywood in 2017.
T
Tubelight
The Salman Khan-starrer was supposed to shine bright, but instead flickered and died out at the box office. Why this deserves an entry of its own? Because when was the last time you remembered a Salman Khan release not being accompanied by a wave of juggernaut-like euphoria that swept everything in its path? Of course, Tiger Zinda Hai has brought some balance back into the world of shell-shocked Salman fans in the time since.
U
Under-performers
Tubelight, Jagga Jasoos, Jab Harry Met Sejal, Rangoon, Raabta, A Gentleman, Chef — 2017 seemed like a graveyard where big-budget/banner/highly-anticipated films went to die. While some received a critical drubbing, others couldn't bring in the box office megabucks they were expected to. Will 2018 be any better? Such at least, is the hope.
V
Vinod Khanna
Also, Varun Dhawan; Vidya Balan; Virushka
Bollywood bid adieu to Vinod Khanna, who passed away aged 70 after a battle (reportedly) with cancer.
Meanwhile, Vidya Balan and Varun Dhawan had a good year — Vidya for what was widely hailed as a return to form in Tumhari Sulu, and Varun for his moneyspinners (Badrinath Ki Dulhaniya and Judwaa 2) in a year that saw few films cross the Rs 100 crore mark.
For Virushka, see W for weddings.
W
Weddings!
Or rather, *the* wedding. We're talking about Virat Kohli and Anushka Sharma nuptials of course. Airport sighting, Tuscan getaway, Delhi-Mumbai reception, it seemed like there was no end to the couple's shaadi-related updates. Not that we're complaining — rarely have we seen a pair more photogenic than these two. And we're sure wedding planners are going to see a stream of requests for Virushka inspired events.
X
xXx: The Return of Xander Cage
Following close on the heels of Priyanka Chopra, Deepika Padukone too made her Hollywood debut this year with the Vin Diesel film. Making a fair impression as she did the rounds of late-night chat shows and red carpets, Deepika also got Vin to come down to India where he charmed fans.
Y
Young 'uns
Ishan Khatter. Jahnvi Kapoor. Sara Ali Khan. Young Bollywood was ready for its moment in the spotlight, preparing for their debuts, all that nepotism talk be damned. Meanwhile, the youngest of the lot — Taimur Ali Khan — continued to rule social media, chubby cheeks, green eyes et al.
Z
Zaira Wasim
The Dangal actress had a mixed year: She was viciously cyber-bullied for a meeting with Mehbooba Mufti, then got into a war of words over Twitter with politician Vijay Goel, before speaking out against an alleged harassment incident, and being praised for her role in one of the year's best films, Secret Superstar.
— With inputs by Seema Sinha
Subscribe to Moneycontrol Pro at ₹499 for the first year. Use code PRO499. Limited period offer. *T&C apply
Entertainment
Karan Johar, Sidharth Malhotra, and Kiara Advani shared new posters of Shershaah along with the release date announcement
Entertainment
Laskshya is the newest addition to Dharma Corner Agency's talent roster, after Tripti Dimri, Guilty's Gurfateh Pirzada and Uri: The Surgical Strike actor Dhairya Karwa.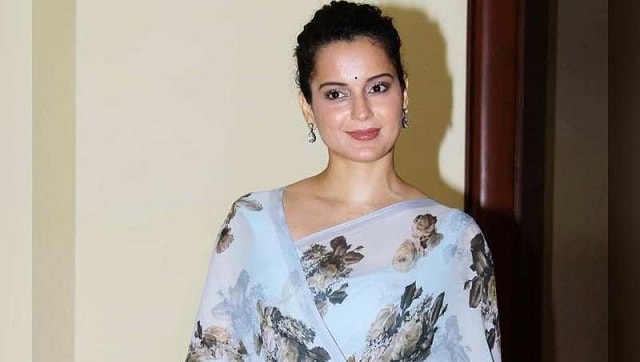 Entertainment
A magistrate court in Mumbai, which was hearing arguments in the defamation case, issued the warrant after Ranaut failed to appear before it on Monday