My dad supported my dream of a comic magazine, says Jatin Varma of Comic Con India
I will always remain the person who started Comic Con in India, says founder Jatin Varma.
Success Quotient is a weekly feature that appears every Friday on Firstpost, which looks at the pains and joys en route to success for a head honcho - whether a CEO, MD or an entrepreneur. The column looks at the ideas that helped launch a company, its highs and lows.
All that Jatin Varma, founder, Comic Con India knew on his return to India in 2007 as an Economics graduate from University of Washington was that he did not want to work with or for anyone. That left him with just one choice, start-up. The route was not hard to begin with, says Varma and shares his joy of the highs of his venture that has become a by-word in comic books and everything funny and thoughtful in the genre in India.
Excerpts from the conversation:
You were 22 and decided to start-up. How did you manage the funds to fuel that dream?
I did not want to work for anyone. My parents have been very supportive of all that I have dreamt, hoped and wished for. My mother introduced me to the world of comics by buying me comic books as a child. I cannot recall my first comic but I remember the series I loved was Tinkle. I followed Tinkle closely and wrote to the editor, Uncle Pai [hailed as creator of Indian comics Amar Chitra Katha and Tinkle]. As an 11 year-old, I remember writing a story for a competition in Tinkle. I knew I had no chances of winning it and I got a rejection letter from the Tinkle office. I did not get it from Uncle Pai, though. I love reading and read voraciously since my childhood.  So when I decided to start-up, I decided to get into publishing. In 2007, when I entered the world of publishing, there were new developments and edgy content was being put out. I was happy as I was doing something that I loved. My dad was very excited and also supportive of my idea. He gave me Rs 5-Rs 10 lakhs for starting a magazine. I was the first person in the family to want to do business and start off on my own.
What gave you the confidence to start-up?
I had friends whose families were not as supportive as mine. I did not think that I would succeed, but felt that even if I did, it was an opportunity too good to pass up. I would never get such an opportunity ever in my life.
What was your first publication?
I set up a company TwentyOnwards Media and wanted to come out with a humorous magazine like MAD. I researched on the project for a year and then went about scouting for staff and put together a team that was very enthusiastic about the job. Random, the magazine had humor as its focus. We also got licences for famous TV characters such as Simpoo Singh -- an animated character we made for promotions for Channel V, and Lola Kutty - the VJ on Channel V, which I made into characters for Random. Through Random I met writers and illustrators in the comic genre. Random had about 25-30 pages and cost around Rs 50. The magazine wound up after two years because magazines as a genre do not work in India. Later, we brought out a few issues as a book and sold it as an anthology. We sold 3,000 copies. None of this ever made any profit but it led to other business opportunities which made a lot of money.
When did you decide on Comic Con?
When I was shopping for comics, I could not find some titles I wanted. People at my company wanted to go to one of the international comic cons. Eventually, I ended up hosting one in Delhi in 2010. In the next two years, we build it up in Delhi, Bangalore and Mumbai. Other businesses continued. The response was fantastic and continues to be so.
And then you tied up with FTSE-listed Reed Elservier Group. How did that happen?
It was a chance meeting. I went to Dubai in April 2013. I met with a few representatives of the Reed group. They asked me if I was looking for funding to grow the business. We inked the partnership in September 2014. ReedPOP, a division of Reed Exhibitions, is one of the largest producers of pop culture events globally. This venture opened up the gamut of ReedPOP's portfolio – New York Comic Con, the Chicago Comic & Entertainment Expo, Oz Comic-Con, Singapore Toy, Gaming & Comics Convention. Comic Con has  grown as a platform where brands and stars and the audience want to be there. We need to make it a happening event and continue to lobby people to come to these events.
Have you ceded control of Comic Con to Reed?
It is a joint venture. As a founder and promoter I continue to run it. Doing any business in India is challenging. Getting funds, vendors, space for events is cumbersome. In the past two years, our set up has become more professional from a startup to an established brand. As you mature, you become realistic of the business. We are secure financially on account of this tie up. At 31, I was mature enough to let go and not want to be the sole owner of the property. Having said that, I don't know what I will do at 35!
So, has your dream to been diluted?
I will always remain the person who started Comic Con in India and the other publications that we do. My frustration with people starting up is that it is not about an idea. It is not about making it big. It is all about making it a profitable business.
What are your future plans?
We will be out with Volume 2 of Widhwa Ma, Andhi behen, a novel which is a spoof on Bollywood in the 70s, and talks of a widowed mother and her six children. It will be out in October - November this year. It will have about 60 pages, priced at Rs 299. We will also come out with a guide to zombies. We had 100 percent revenues in 2015 and the business is growing. We hope to be profitable in 18 months time. I am into comics for a personal reason as I love the genre. I am realistic and the venture also has to make money.
Which is your favourite comic hero? 
I love Superman. He has all the powers. I like him also because he is very righteous.
You have launched the Golden Kela awards too.
It was launched in 2008 and is similar to the Golden Raspberries or Razzies given to the worst films in Hollywood. The idea came about during a conversation at Random. It is easy to poke fun at Bollywood because of the horrible films it comes out with. We decided to call it Golden Kela as that [banana] is a popular fruit in India. It is done purely for fun. It did not work as a biz venture. Yet, we host the awards every year. It is a tongue-in-cheek programme. We give invitations to the winners but they never attend the invite-only event. One year Anita Dutt, the lyricist who won the Golden Kela for Ishqwallah Love came for the event and gave a humour-laced speech. Golden Kela award is a running trophy as we have only two such trophies! The winner for 2015 was the film, Prem Ratan Dhan Payo. By the way, I love bad movies.
Business
Chef Sanjeev Kapoor, a brand in himself, is the man that most turn to for cooking instructions: simple, clear and a no-hassle method of cooking.
Success Quotient
Started purely as a means to earn pocket money, the then 18-year-old college student turned part-time entrepreneur Nina Lekhi put her experience of working for a while with designers and also in a store to do something different in the category of handbags.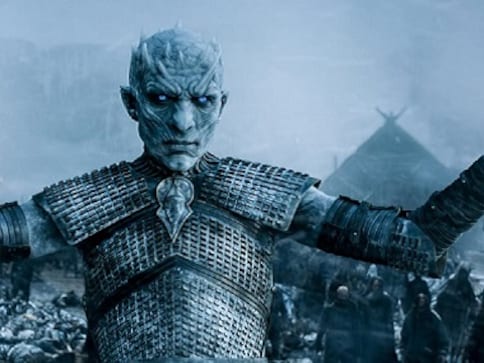 Entertainment
Vladimir Furdik worked on stunts in Game of Thrones before taking on the Night King's mantle in the show's sixth season. The actor is now in India for the Delhi Comic Con 2018.