From Imran Khan, Shehbaz Sharif to Bilawal Bhutto Zardari: Key candidates in fray for Pakistan general election
PTI chief Imran Khan, PML-N Shahid Khaqan Abbasi, and PPP chairman Bilawal Bhutto Zardari are among the main players in fray in the 25 July Pakistan general election.
Pakistan is slated to elect new provincial and national assemblies on 25 July, after witnessing a government complete its five-year-term for the second consecutive time without a military coup or a political crisis leading to the disbanding of the Parliament. However, there is growing political instability in the country, with the Pakistan Muslim League-Nawaz (PML-N) accusing the powerful military, which has ruled Pakistan for about half its history since independence in 1947, of interfering in politics and trying to weaken it.
As the three main political parties campaign to win over voters, here's a look at the key political players in fray:
Imran Khan
Cricketer-turned-politician Imran Khan's Pakistan Tehreek-e-Insaf (PTI) is being seen as the main challenger to the PML-N. Khan is running on a socially conservative, anti-corruption platform and his party's 11-point agenda promises to turn the country into a "Naya Pakistan".
According to Khan, the agenda will help establish "one system of justice, reduce poverty and elevate the living standards of the poor".
The 65-year-old has clearly maintained his position as a frontrunner in the run-up to the election, while not shying away from taking on any of his potential contenders. Throughout his campaign, he has criticised ousted prime minister Nawaz Sharif on several occasions over the alleged money laundering charges and accused the PML-N of encouraging nepotism within the party.
Controversies, too, have largely been linked to the former cricketer ahead of the elections. Speculations had cropped up early in January on Khan having tied the knot for the third time. Khan denied the rumours, and it was only later that PTI spokesperson Fawad Chaudhry confirmed that the party chief had married his spiritual guide Bushra Maneka on 18 February. According to reports, the party had put pressure on Khan to disclose the truth about his marriage since the leaders suspected that there would otherwise be negative consequences in the upcoming polls.
The claims made in Khan's ex-wife Reham's book, the manuscript of which was leaked online, also caused trouble for him and his party. In an interview to News18, Reham said that the tell-all book will reveal instances of sexual assault or sexual favours, including some directly linked to Khan. However, some irked PTI leaders accused her of being part of an "agenda".
Both of Khan's previous marriages ended in divorce. His first marriage was with Jemima Goldsmith, daughter of a British billionaire, in 1995, which lasted nine years.
Khan will contest from five constituencies — NA-35 (Bannu), NA-53 (Islamabad), NA-95 (Mianwali), NA-131 (Lahore) and NA-243 (Karachi).
Bilawal Bhutto Zardari
Pakistan Peoples Party (PPP) chairman Bilawal Bhutto Zardari will make his political debut during the 2018 general election. In his first election campaign, Bilawal Bhutto Zardari, the scion of the storied Bhutto family, is attempting to recapture the support which his mother — two-time former prime minister Benazir Bhutto — enjoyed on her return from exile in 2007, before she was assassinated on the campaign trail in a suicide attack.
The 29-year-old is largely being touted as the next-generation politician. An Oxford alumni like his mother and grandfather Zulfikar Ali Bhutto (also a former prime minister), Bilawal brings a fresh new appeal to the party, which even the PPP leaders agree with.
Bilawal has also been a vocal critic of the PML-N and PTI, asserting that there are little to no chances of PPP joining hands with either of them. "PML-N deceives (others) while PTI keeps taking U-turns. PML-N has not treated PPP well," he was recently quoted by as saying by Geo TV.
As PPP attempts to revive its waning fortunes, Bilawal holds a strong view that the party will fare better than it did in 2013. He is all set to contest from the NA-246 (Karachi South-I) and NA-200 (Larkana-I) in Larkana, and one from Malakand.
Asif Ali Zardari
Husband of slain former prime minister Benazir Bhutto, Asif Ali Zardari of the Pakistan People's Party's is a strong player in the election.
He has been elected as Member of National Assembly from Karachi's area of Lyari in 1990, and from Nawabshah in 1993.
Zardari suffered a blow to his image due to numerous corruption allegations. He spent a total of 11 years in jail on charges of corruption and murder, though he was never convicted of any of the offences for which he was held.
He was released in 2004 after an eight-year stretch behind bars, and returned to Pakistan from self-exile three years later alongside Benazir Bhutto in her bid to again take over the prime minister's office and end the military rule of Pervez Musharraf.
After Bhutto's assassination in December 2007, Zardari led PPP to victory in the 2008 general elections and served as the 11th President of Pakistan from 2008 to 2013.
Despite overseeing the country's first transition of power by a civilian government, Zardari retains a tainted reputation. His is still referred to as "Mr Ten Percent", a nickname attached to him for his alleged role as an intermediary in deals involving the government.
Zardari will contest from NA-213 (Shaheed Benazirabad-I, formerly Nawabshah).
Shahid Khaqan Abbasi
Abbasi is a prominent leader in the PML-N who succeeded Sharif as the prime minister in 2017 on getting 221 votes in the House of 342 after his disqualification from office.
The Western-educated PML-N leader began his career as a businessman, and has spent most of his political life by Sharif's side. He was put behind bars after Pakistan's powerful military staged a coup in 1999 to topple a previous Sharif government.
As minister of petroleum and natural resources in Sharif's last cabinet, he championed a push to build liquefied natural gas (LNG) infrastructure and alleviate energy shortages.
In 2015, a National Accountability Bureau (NAB) inquiry case was filed over the alleged procurement irregularities in the LNG terminal project. Though the case made little progress over the years, this June, the NAB approved a fresh inquiry against both Sharif and Abbasi over the alleged misuse of power in the project.
Abbasi's candidature for the upcoming polls was also marred by an election tribunal which ruled against him saying that he was not forthcoming on details on some of the properties he owns. However, on 29 June, the Lahore High Court cleared him for contesting the the election from his home constituency, Murree's NA-57, averting another blow to the PML-N. He's also running for a seat in NA-53 Islamabad.
Shehbaz Sharif
Upon being ousted as the prime minister, Nawaz Sharif had proposed his brother Shehbaz's name to be his successor. However, since Shehbaz was not an MP then, Abbasi was made the interim prime minister, though he held the post till the end of PML-N government's tenure.
Shehbaz, who's tenure as the Punjab chief minister ended recently, began his political career as a member of the Punjab Assembly in 1988 and became the Opposition leader of the Punjab Assembly in 1993.
He has controlled Punjab for much of the last decade, presiding over a series of big ticket infrastructure projects, including Pakistan's first metro bus service. He has also, reportedly, represented Pakistan at several international forums including the United Nations,
The PML-N central president will contest the election from NA-132 (Lahore), NA-192 (Dera Ghazi Khan), NA-249 (Karachi) and NA-3 (Swat).
Khawaja Asif
Defence Minister Khawaja Asif is one of the senior figures in the PML-N and among Sharif's most trusted allies.
The former banker has held a series of key positions within the PML-N since 1991. He was elected to the National Assembly from his home district of Sialkot – an important manufacturing centre in Punjab province – since 1993.
Having won elections from Sialkot on four consecutive occasions — 1993, 1997, 2002 and 2008 — he once again emerged as the winner on the NA-110 (Sialkot-I) seat in the 2013 election.
A strong critic of the powerful military, Asif has earlier headed the defence and power ministries and last held the post of the foreign minister until the Islamabad High Court disqualified him as a Member of the Parliament in April. He was removed for not being "honest" and "truthful" — as required by the Constitution — about his source income from a UAE company. The high court also ruled that he can no longer hold public or party office.
The Supreme Court overturned his disqualification from politics in June and allowed him to contest in the upcoming election.
He will contest from the NA-73 Sialkot-II constituency.
With inputs from agencies
Entertainment
Humayun Saeed will be essaying the role of Princess Diana's former companion, Dr Hasnat Khan in Season 5. For the uninitiated, Elizabeth Debicki features as Princess Diana in The Crown.
Entertainment
Imran Khan has opted for anonymity over fame. There is no chance of a comeback. Imran is just not interested in being a film star.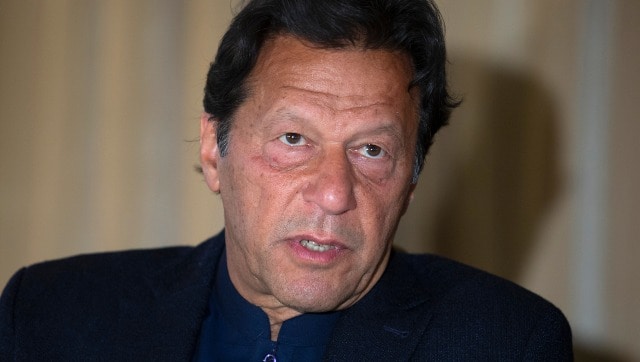 World
Bajwa, a close confidante of Khan, was to retire on 29 November 2019 at the end of his three-year original term but the prime minister gave the army chief an extension till 28 November 2022, citing the regional security situation