Food blogger fined $18,500 for eating great white shark in viral video
The great white shark was reportedly bought for 7,700 yuan ($1,141) on the shopping website Taobao, which is owned by Alibaba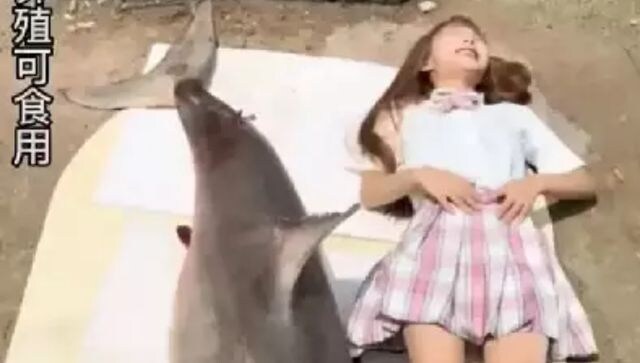 A content creator has been fined 125,000 yuan ($18,522) after she illegally bought and ate a great white shark. This matter was informed by the officials in Nanchong, China to Dexerto. The accused has been identified as Jin Moumou, also known as Tizi online. The footage was uploaded on social media sites, Douyin and Kuaishou. In the video, the food blogger was seen posing with the creature after illegally purchasing it. Then, the shark was cut in half, marinated, and barbecued. The head of the sea predator was cooked in a broth. Jin said in the viral video, "It may look vicious, but its meat is truly very tender," while she tore off the large chunks of barbeque meat, before consuming it.
As per the media reports, Jin had purchased a six-foot great white shark in April, 2022. But the controversy was brought to the surface when she made a video of her preparing and eating the sea animal. This clip had violated the Wild Animal Protection Law of the People's Republic of China. A person can be imprisoned between 5-10 years for illegally possessing a white shark.
Initially, she stated that she purchased the marine animal at a Nanchong shop. However, it was reportedly bought for 7,700 yuan ($1,141) on the shopping website Taobao, which is owned by Alibaba.
With the help of DNA test from the tissue remnants, the meat was identified to be that of a great white shark. Two people have been arrested by the authorities for catching and supplying the shark for Jin. The investigation of the food blogger was commenced by the police in August last year, after her clip led to a widespread backlash. According to Jin, she had purchased the sea creature legally. She also said that she was seeking a lawyer.
China had put an immediate ban on the purchasing, selling, and eating of wild animals in February, 2020. The ban was launched during the beginning of COVID-19 pandemic with a motive to contain the spread of zoonotic diseases. After this, influencers were facing harsher punishments for streaming mukbang videos that involved endangered animals, as reported by Insider previously.
Read all the Latest News, Trending News, Cricket News, Bollywood News,
India News and Entertainment News here. Follow us on Facebook, Twitter and Instagram.
Entertainment
Celebrities including Deepika Padukone, Ranveer Singh, Amitabh Bachchan along with his family, Kiara Advani, Janhvi Kapoor, Kangana Ranaut, Allu Arjun, Kartik Aaryan, Karan Johar, among others shared videos of themselves as they clanged 'thalis'
Entertainment
The video of the actor's gesture is going viral on social media.
Entertainment
In the meantime, Twitter users were too quick to spot the 'awkward' interview as many took to the microblogging platform and shared divided reactions to the actor's responses.