Editor's note: Arsène Wenger on Friday announced his decision to step down as manager of Arsenal Football Club at the end of the season. This move, coming a year before his contract runs out, will see the Frenchman mark 22 years as the Gunners' gaffer. This article was originally published on 31 May, 2017 after Wenger signed his most recent contract extension and is being republished as a flashback in light of his decision to call time on his career with the North London club.
It's official.
Arsène Wenger will stay on for another two years as manager of Arsenal Football Club. And before we get into the pros and cons of this move, it's instructive to revisit the words of team captain delivered moments after the final whistle of the season — the whistle that confirmed Arsenal would be FA Cup champions for the third time in four seasons.

Per Mertesacker was, along with Wenger, probably the most polarising figure throughout the 2016-2017 campaign, despite injury preventing him from making more than two appearances — one as a substitute in the last league match of the season and the second in the FA Cup final as part of a 3-4-3 formation in which he, by his own admission, had never played before. The 6'6" defender was criticised by sections of the media as well as Arsenal supporters, who questioned if he was good enough to stay on the club's payroll and were then incensed when he got a year's contract extension in January.
"Not bad, isn't it?" seethed Mertesacker through gritted teeth. He repeated himself for good measure.
Aside from being a barely-concealed swipe at the British media's carnivorous treatment of Wenger and the club at large all season long, it was also a damning indictment of the repeated questions asked by members of the press about the manager's future. Never mind the result that was little more than a mere caveat in post-match analyses for mediapersons who would much rather play the role of MMA referees, constantly enquiring, "Do you give up?"
And despite being beaten, bruised and groggy, he refused to tap out; and only gave his answer, albeit unofficially, on Tuesday evening, with the official announcement coming on Wednesday.
***
The 21-year-old (and counting) Wenger era that saw the world — or significant sections of it, anyway — go from 'Arsène who?' to 'Arsène whooo!' and all the way to this season where 'Arsène No!' swiftly turned to 'Arsène Go!' has arguably been the most eventful in the club's history.
On 22 September, 1996 — a month shy of his 46th birthday, a scrawny bespectacled and endearingly awkward Wenger was unveiled to the world as the successor to manager Bruce Rioch, who was dismissed after a year in charge. The manager of Nancy and AS Monaco in France, and Nagoya Grampus Eight in Japan was a strange appointment for a club that was reportedly turned down by Alex Ferguson (before the 'Sir' part was tacked onto his name). Most people wondered what he even knew about the rough-and-tumble world of English football. Even his successor Rioch had one major contribution to his name, which was the acquisition of a certain Dutch aviophobic forward who was an exponent of Total Football by the name of Dennis Bergkamp. Would Wenger even manage that?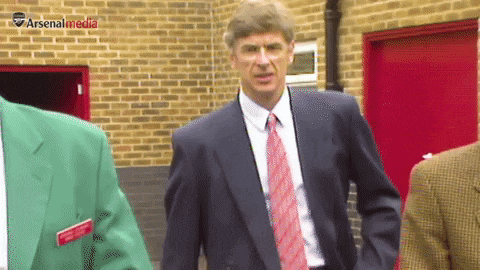 This is a good point at which to turn back the clock, because in the years since his appointment, Le Professeur would make his mark on English football with, among other things, a series of game-changing acquisitions of his own. Thierry Henry, Nicolas Anelka, Patrick Vieira, Marc Overmars, Sol Campbell, Cesc Fabregas, Kolo Touré and some Dutch striker who went on to join Manchester United because the 'little boy within' him demanded that of him, make up just a handful of those acquisitions. Of course, and as with any manager, not all his transfer moves have been successful. Remember Sébastien Squillaci, Mikaël Silvestre, Francis 'fox-in-the-box' Jeffers, Julio Baptista, Yaya Sanogo or a certain Kim Källström, who was brought in injured?
With patience running out among fans in the past few seasons, Wenger has found himself on the lookout for more-or-less finished — or nearly-there — articles rather than little-known talents to groom and mould into stars. Alexis Sánchez, Mesut Özil, Petr Čech and, to an extent, Granit Xhaka come to mind.
But simply buying players isn't enough. Grooming them and helping them achieve their potential was one of the hallmarks of the early Wenger era. Obviously — and as the likes of Lucas Pérez, Mohamed Elneny and Joel Campbell will bear testimony — you need to actually play them before you can even think of helping them achieve their potential. Nevertheless, Wenger has over the past two decades groomed such players as Henry, Anelka, Jack Wilshere and Theo Walcott (to name but a few). Some have been roaring successes, while others have disappointed and others still, well, they've just been Nicklas Bendtner.
To revisit the moulding of players alluded to a couple of lines earlier, this process wasn't restricted to their technique, their diet, their training methods or drills. It's here that a little digression is required.
Players who go on to try their hand at management bring insights, learnings and tips from their own playing days to their playbook as managers. The likes of Kevin Keegan, Brian Clough, Franz Beckenbauer and Johan Cruyff demonstrated (and Pep Guardiola and Didier Deschamps continue to demonstrate) this aspect. One of the most important pages Wenger drew from his days as a fairly below-average footballer is the one detailing how he began his career as a midfielder and ended it as a defender. Deploying players out of position and helping them to grow into the role has been something of a hallmark of the Wenger style of management. Henry (winger-turned-striker) is a prime example of this. Another one is Kolo Toure, an attacking midfielder converted into a centre-back. So too is Ashley Cole — an attacking player converted into one of the best left-backs in England. Or even Lauren, the Cameroonian midfielder, who was played as a defender by Wenger. The less said about André Santos, however, the better.
Looking back, there's no doubt that the first decade of Wenger's 1,175-match (at the time of writing) career as Arsenal gaffer was a lot more successful than the rest of it — marred as it was by stadium rebuilding debts, constantly losing his best players, hitting a massive roadblock in Europe and managing a team that just didn't seem to have the mental fortitude to sustain a season-long battle. That said, the man has three Premier League titles, seven FA Cup trophies and six Community Shields — a bit of silverware that was confirmed as being a 'real trophy' by Zlatan Ibrahimović last year — to his name.
And with two more seasons to play with, he will be expecting to add to that tally.
***
But, it didn't always look like he would get the chance to do so. The recently-concluded 2016-2017 season — the first in which Arsenal finished outside the Champions League spots — was supposed to be the one in which everything would come together for Arsenal. Or at least it did until 13 December, 2016. The 1-2 loss to Everton at Goodison Park set in motion a pattern of underachievement at best, mediocrity at worse and egregiousness at worst, marked by the 10-2 (on aggregate) battering at the hands of Bayern Munich in the Champions League Round of 16.
With every press conference or post-match interview, Wenger's brow was increasingly furrowed, his thin lips increasingly pursed and his manner increasingly terse. It's not hard to see why. When it wasn't the media asking him about whether it was time to go, it was a section of fans abusing him, holding up 'Wenger Out' banners and flying similar messages over the stadia.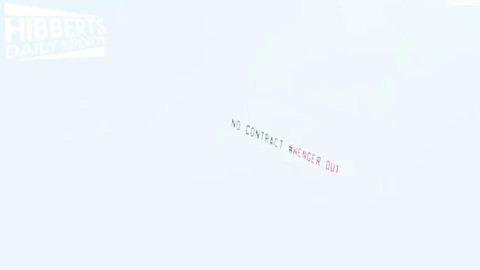 And that's not even to mention the sort of publicity heights Arsenal Fan TV scaled with its vitriolic rants against the manager. Then there were pundits, former players, former rivals and whatever Piers Morgan is holding forth on why he should leave. Let's not forget the 'Wenger Out' banners appearing at NBA events, WWE events, IPL matches and even an anti-Donald Trump rally, if memory serves.
It's fair to say Wenger emerged as a globally unifying force; except that 'unity', as the Frenchman would admit very recently, destabilised a team that was already hurt by injury, defeat and demoralisation. But through all of this, one clear fact emerged — a fact that probably led to the veteran manager being offered the two-year extension that he has signed: Through thick and thin this season gone by, Wenger showed himself to be the only person to truly care about the club.
We've already spoken about the fans.
When results didn't go their way, the players let their shoulders drop and at times, looked like they'd rather be anywhere else than on the pitch.
While taking the time to drop soundbites about how the manager must be a 'catalyst for change', club chief executive Ivan Gazidis remained absolutely silent when the club, its supporters and manager could have done with him speaking in his defence.
That brings us to Stan Kroenke. It's beneath the dignity of an article about Wenger to even address the sort of person that sees a club as an investment and little else. Decorum and etiquette precludes the use of the word 'parasite' in the context of this owner.
Apart from the care factor, let's be honest: Who are you going to replace him with? With two extra years at his disposal, Wenger can groom his own successor.
***
The 2016-2017 domestic season came to a close four days ago and already it has been dissected in every way possible. With Wenger having signed his new contract, it would be worth looking to the future and what he can do to ensure that the decision to carry on doesn't backfire on him and the club.
Use ropes, chains or even cables to tie this man down to a new deal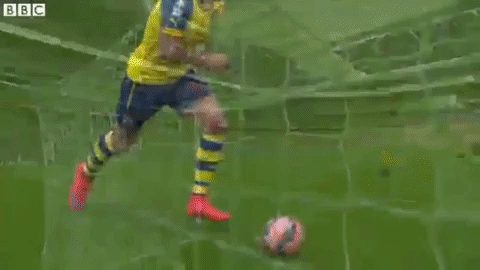 In an age in which the worth of footballers is seen in relation to their price tags, Sánchez has more than than shown he's worth far more than the £31.7 million (around $40 million) Arsenal coughed up for him in 2014. With 30 goals and 13 assists across all competitions in 2016-2017, the Chiléan has emerged as a talisman for the club and embodies the sort of never-say-die spirit most managers would love to have in their teams. Apart from the value he adds to the team, retaining his services would send out a statement of intent to rivals that Arsenal are no longer the selling club of yore and that they have the ambition — the lack of which has been cited as some as reasons to reject the club.
And while Wenger's at it, retaining the services of Özil and Alex Oxlade-Chamberlain would not go amiss either.
Take the Europa League seriously
Although it did not seem that way when neither Liverpool nor Manchester City dropped points on the final day of the Premier League season, but failing to make it to the Champions League could well be a blessing in disguise. Arsenal appear increasingly out of their depth in the business end of the Champions League, and the Europa League provides a more realistic chance of securing some European glory. Over the course of this decade, the only benefits of qualifying for the Champions League have been the carrot that can be dangled in front of potential signings and the extra money to can line the pockets of the club's owner. As last season proved, the offer of Champions League football is no longer a make-or-break for new signings and as history has proven, the club's owner has enough money already.
Wenger would do well to take the challenge before him seriously and not use it as an opportunity to blood youngsters. At the very least and as Jose Mourinho showed, winning the second-tier title will give Arsenal another way back into the Champions League.
Decide what to do with the English core
Jack Wilshere, Carl Jenkinson, Calum Chambers, Kieran Gibbs and Walcott were key components — along with Aaron Ramsey and Chamberlain — of the 'British core' that was Wenger's response to criticism that his team was far too reliant on foreigners. Now with the exception of Ramsey and Chamberlain, the futures of the rest of the core seem uncertain. Wilshere and Chambers went out on loan this season, while Jenkinson was on loan at West Ham United in the previous season. While Chambers is still young and could use another loan spell, Wenger will need to think long and hard about Wilshere and Jenkinson, who have not shown significant improvement — whether from a fitness or skill standpoint. Gibbs and Walcott have also not been able to make the jump to the next level, despite the minutes afforded to them by an indulgent Wenger. With Sead Kolašinac all set to join the club, Gibbs might be on his way out. Will he be joined by Wilshere, Jenkinson and Walcott?
Stick with the 3-4-3
The shift, at the end of the season, to an attacking formation built on a back three reaped rich dividends for Wenger, who ironically chose the system because of the defensive stability it afforded. It clearly works, as the clinical dismantling of Premier League winners Chelsea in the FA Cup on Saturday showed. The defence looks more solid, the wing-backs have been very effective and the likes of Özil and Sánchez have been afforded plenty of room to roam around.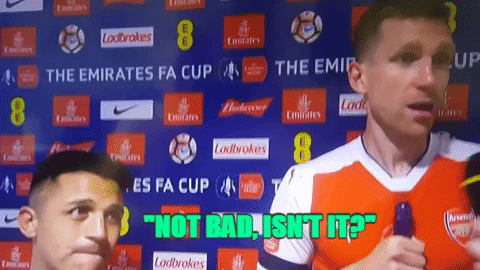 With left-back/left wing-back Kolašinac on his way, the manager would do well to stick to this blueprint and sign players who can add to this system. Let the 4-2-3-1 be consigned to the history books.
***
It's always nice when uncertainty is put to rest, and there's a whole new season to look forward to. When conceived, this article was supposed to be a warm tribute to a man closing the book on a 21-year stint at a single club — an achievement that is rarer in today's world than a day when Trump doesn't offend someone. Happily as it turned out, this is no curtain call. Instead, it's a preview to two years (at least) that, for Wenger, will be all about redemption, ruthlessness, resurgence and hopefully, a whole lot more of this.
If there's only one thing you take away from this piece, let it be these five words: There's only one Arsène Wenger.
Firstpost is now on WhatsApp. For the latest analysis, commentary and news updates, sign up for our WhatsApp services. Just go to Firstpost.com/Whatsapp and hit the Subscribe button.
Updated Date: Apr 20, 2018 15:23:15 IST