Vijender Singh a deserving winner against Kerry Hope as India come to embrace pro boxing
On way to his first Pro title, Vijender or Viju as he is popularly known as, stopped Australian Kerry Hope 296-274 on unanimous decision for his seventh straight victory.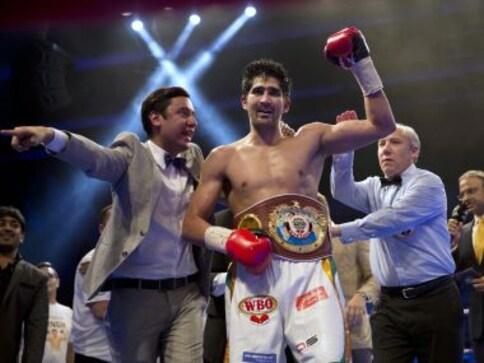 It had all the trappings of an entertaining Saturday night. And Beijing-Olympic-bronze-medallist-turned-pro Vijender Singh made it even more memorable for over 10,000 boisterous spectators at Delhi's Thyagraj Stadium.
On way to his first Pro title, Vijender or Viju, as he is popularly known as, stopped Australian Kerry Hope 296-274 on unanimous decision for his seventh straight victory.
"This is as special as the Olympic medal," said a beaming Vijender after winning the bout.
The newly-crowned Asia Pacific Super Middleweight title winner, 30-year-old Vijender looked like a winner all through the 10 rounds against his much-experienced opponent. Vijender took to professional boxing just last year while 34-year-old Kerry Hope has been a professional boxer for past 12 years.
Vijender has won all his previous pro fights on knockout. And on Saturday he appeared to be trying to repeat the feat. He was definitely the better boxer in terms of technique and footwork. Hope on the other hand began with an awkward open guard and looked more of a street fighter. But his main strength was his staying power. Otherwise Vijender, a former amateur World Number one, would have emerged winner midway through the bout.
Vijender even came close to a knock out midway through in the 7th round. After missing close upper cuts in second and third round Vijender continued to have better exchanges but sheer determination helped Hope stay in the fray.
The result of the fight apart, there is no denying that the pro boxing has attracted Indian masses in a big way and a packed Thyagraj Stadium was testimony to this. Olympic bronze medallist Mary Kom was on stage to profusely thank the hyper crowd as she apologized to her fans for not qualifying for the Rio Games. "I would like to thank each one you for coming and cheering boxing," she said to the excited fans at the Stadium.
Cricketer Suresh Raina also came up on the stage to tell that the atmosphere felt "like the World Cup".
Newly installed sports minister Vijay Goel, former Sports Minister Shahnawaz Khan were among the dignitaries present at the stadium, so was Rahul Gandhi and Rajeev Shukla from the Congress. Yuvraj Singh, Virender Sehwag and Neha Dhupia were some of the other well-know faces in the audience.
The pro competition is all the more interesting as parallel bodies are fighting to control the game at the national level in country and in the process doing nothing.
The cheering crowds at Thyagraj Stadium brought back the memories of  the early eighties when New Delhi YMCA had revived boxing in the country by organising national and international level championships.
The pro series, however, have disadvantage too. The money and razzmatazz is sure to attract budding boxing talent in the country, but will create vacuum for top amateur level competitions like Asian and Olympic Games. But with Pros making maiden Olympic entry at Rio, some of them may hopefully find way to the future Games.
also read
Sports
The annual meeting of the ASOIF comes more than two months after the IOC detailed advice on how individual athletes from Russia and its military ally Belarus could be reintegrated as neutral athletes
Sports
According to a press release issued by the Ministry of Youth Affairs and Sports, the Tokyo Olympic champion intends to train at Kuortane Olympic Training Centre in Finland during this time.
Explainers
The French government plans to move homeless people out of Paris ahead of the 2024 Olympic Games in the capital, sparking criticism from some mayors of regional towns and villages which are expected to house them