Hockey World Cup 2018: India coach Harendra Singh's comments on umpiring unacceptable, says FIH CEO Thierry Weil
Indian coach Harendra Singh's comments have not gone down well with the FIH, and the global body has made its displeasure clear.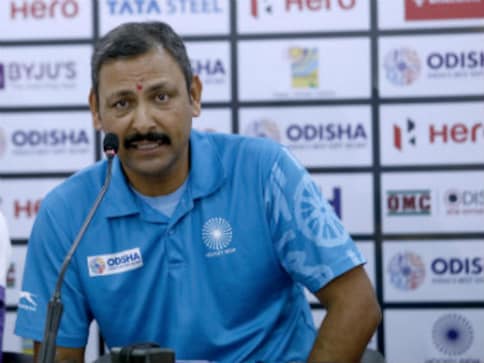 Bhubaneswar: Two days after he questioned the umpiring decisions in India's quarter-final loss to the Netherlands, coach Harendra Singh might have landed himself in trouble, with International Hockey Federation (FIH) taking strong exception to his comments.
Addressing the media ahead of Saturday's World Cup semi-finals, FIH CEO Thierry Weil called Harendra's behaviour "unacceptable", and said the global body will not review any umpiring decisions. "What we will review, instead, are the comments made against the umpires," Weil said.
"I think the beauty of sports lies in the principle that you have a winner and a loser. The day you win, you are happy. The day you lose, you are sad, which I understand. Even Argentina team cried on the bench. Respect for fair play is such a nice thing. When you lose, what do you do? You have to look forward to playing better and win next time.
"To blame umpires is not the hockey style. Umpires have a tough job, they have to make decisions within seconds. It (questioning umpires) is not acceptable. If you lose, you have to accept it and look forward. Blaming umpires is not the right thing," he said.
Harendra was particularly miffed with the yellow card being shown to Amit Rohidas in the 53rd minute of the game against the Netherlands, and went on to claim that India were up against 13 men in the high-voltage match.
"Can anyone define Amit Rohidas' yellow card? What about Manpreet, when he was pushed from behind? Why no yellow card there? We have lost two major tournaments this year — this, and the Asian Games — because of umpiring. I don't agree with one of the penalty corners they got," the coach had said.
His rant didn't go down well with FIH President Narinder Batra either, and the former Hockey India president said he will speak on the matter in detail after the World Cup.
"I have a very strong view on this kind of behaviour, and I will express them when I go back to Delhi. Thierry already said that they are doing a great job, and I'd say theirs is a thankless job. They will get criticised by anybody who loses. Be graceful whether you win or lose. Finding faults is very easy. You should rather appreciate and respect their efforts," Batra said.
FIH sources told Firstpost that the Indian coach is likely to be slapped with a fine and censure.
Harendra's comments were played down by Duch coach Maximiliano Caldas, who simply said that the team with more goals won the match.
"In the end, the umpires didn't play the game, the players did. We never discuss umpires because they just don't count. We review our games, not the umpires," he had said.
Harendra's contract with Hockey India ends with this World Cup, and it would be interesting to see if he gets a renewal.
Further, the FIH announced that the Junior Hockey World Cup will now be held after every two years, instead of four. The latest edition of the tournament was held in Lucknow in 2016, and the next installment is likely to be held in 2021.
also read
Explainers
Martha Stewart has become the oldest-ever cover model to feature in Sports Illustrated's annual swimsuit issue. Some have called this tokenism even as arguments of sexually objectifying women continue
Sports
According to a press release issued by the Ministry of Youth Affairs and Sports, the Tokyo Olympic champion intends to train at Kuortane Olympic Training Centre in Finland during this time.
Football
LaLiga chief Javier Tebas insisted Thursday he didn't mean 'to criticise' Vinicius Junior following a charged exchange on Twitter after the Real Madrid forward was racially abused during a march.