FIFA World Cup 2018 diary: Mithun Chakraborty's fandom, discussing politics with locals and other notes from Russia
The best bits and bobs from the sidelines of the FIFA World Cup in Russia.
"Futbol, Futbol?" For the umpteenth time, a person asked me with obvious bewilderment. Almost as if it was difficult to fathom that someone would travel thousands of miles merely to watch a few games. I nodded and replied, "Gazeta (newspaper)." It was not entirely accurate but it conveyed my purpose.
The security man at the metro station was delighted. He wanted to know more. But then his colleague butted in, wondering if India was playing. In my best voice, hiding any suggestion of embarrassment, I replied, "No." He laughed and said, "India, champion!" Two days in Moscow and I was trolled. The guard was pleased with himself for the joke and he flashed a thumbs-up.  Ostensibly for me, but it may have been an act of self-praise.
At least, he did not break into the song, "Jimmy, Jimmy!" For my conversations with most Russian people always seem to find a way to that old earworm. In Russia, though, the song feels as fresh as today. Mithun Chakraborty is a name the locals enjoy saying, tasting the letters as they come out. Past visitors have told me that Raj Kapoor used to be a big draw in the Soviet Union. Not anymore, as the Russians have dragged themselves into the '80s. When the World Cup will return to Russia in 2050, somebody will mention Shah Rukh Khan.
Even when conversations are not limited by my inability to speak Russian — the best I have been able to manage till now are pleasantries and directions — there has not been much I have been able to gather. As I walked in the courtyard outside the Hermitage Museum in Saint Petersburg last week, I found a few Iranians who were freely conversing in English. This was my chance. I was working on a story about the US-imposed sanctions and their impact on Iran fans travelling to the World Cup.
Bummer! As it turned out, they were Iranians living in Germany. Like many supporters who are in Russia for the tournament, their financial worries were banal in nature. But there was still hope. One of them was from Tehran. As it turned out, it was more likely to get a joke out of them. When I asked, "How have the sanctions affected you?" The man in question replied, "They have affected me a lot. It cost me a lot to come here… in my private jet." He later added, "The price of caviar has gone up."
At least it was a good laugh and my work did get done eventually. Some of it completed on the sleeper trains, which are carrying fans and journalists for free during the World Cup from one venue to another. I undertook a seventeen-hour return journey to Saint Petersburg after the opening game in Moscow, joined only by those who had dedicated their time to the tournament.
On my way back to the capital, I shared a coupe with three Russian men, one of them a journalist, and spent the night wondering what they were saying as their conversations lasted a few hours. Unintelligibility, though, is not necessarily a problem, as I discovered a few days later. Following Mexico's win over Germany, my friend (another Indian journalist working at the World Cup) and I decided to look for the Vietnamese restaurant which had met our approval a few days ago.
I was hoping to finish some work while having dinner there but those plans went awry when we were joined by an excitable Mexico supporter and an inebriated Russian man. They wanted to discuss football and they would not stop talking. The trouble was that the Russian man barely spoke a word of English, so I had to pull my phone out and translate everything while he plodded on in Russian. At least I know that he thinks Brazil will win the whole thing!
The previous morning, however, I did get more out of a conversation when about 90 minutes were spent talking politics with a group of locals following a night of heavy drinking. Perhaps, it was not the best moment to air my misgivings about the Vladimir Putin regime but you could not blame me for not trying. However, my company would have none of it and stood by their support for the Russian President. By the end, I was worried that I had alienated them, which was probably not the best strategy since my phone had run out of charge and I had to take a taxi back to my rented apartment. But since I am writing this, clearly there was no ill-will and they generously negotiated with the driver for a ride.
That was not the only moment I felt grateful to someone over the past week or so. When I arrived at my rented place in Moscow, the owner presented me with a Panini sticker album, in addition to some other tournament-related gifts. The weather was cold and grey in the initial days, but you could not say the same about my host's mood.
Even as I have battled linguistic challenges, there has been time to watch some football. Away from the ground, it was the adoration for Hirving Lozano among Mexico fans which stood out during the opening week of this World Cup. But of course, familiar issues did not leave me. Even though I speak Spanish, it took me days to figure out what Mexico fans meant when they sang "Oh, Choo-ki Lozano" to the tune of The White Stripes song, Seven Nation Army. As it turned out, this was a reference to Lozano's smile which reminds fans of the creepy doll, Chucky, from the horror movie Child's Play. The things you learn when you watch, "Futbol, futbol"…
Click here for full coverage of FIFA World Cup 2018
Click here to view the full schedule of FIFA World Cup 2018
Click here to view the points table of FIFA World Cup 2018 
Football
The Uruguayan football federation has also been fined 50,000 Swiss francs ($54,248) and handed a partial stadium closure for their next home match over the "discriminatory behaviour of its supporters" and the "misconduct" of the players.
Football
RB Leipzig climbed to second in the table after extending their unbeaten run to 16 matches in all competitions.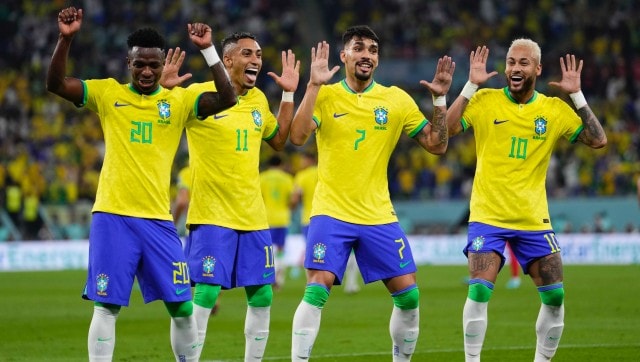 Football
There are potential Brazilian candidates, but none have garnered widespread support.