Parliament Logjam Part 3: Core problem cannot be fixed till we introduce checks on Speaker's discretionary powers
Reports on Parliament's dysfunction focus on images — such as Members of Parliament rushing to the Well; or on statistics to highlight the increasingly fraught manner in which legislative business is conducted in the country.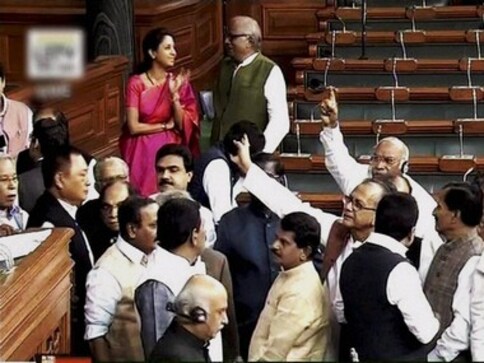 Editor's note: The recently concluded Budget Session of Parliament was, by all accounts, the least productive in at least a decade, marked by protest, adjournment, and very little constructive debate, let alone passage of bills. Firstpost will examine, by way of a multi-part series spread across a six-week span, the reasons why the Parliamentary process in particular, and the democratic apparatus in general, has failed India's citizens. The clutch of essays, written by experts in the Constitution and constitutional law, will investigate the defects, introduced by design, that have enabled the degeneration of legislative functioning. Series has been curated by Bangalore-based lawyer and tutor of democracy and active citizenship, Malavika Prasad.
Reports on Parliament's dysfunction focus on images — such as Members of Parliament rushing to the Well; or on statistics to highlight the increasingly fraught manner in which legislative business is conducted in the country. However, despite Opposition claims, very little attention is paid to the role that the Offices of the Speaker of Lok Sabha and Chairperson of Rajya Sabha play. In light of Rajya Sabha Chairperson's decision to not admit a motion of impeachment and refusal of the Lok Sabha Speaker to allow a no-confidence motion, it is important to assess the role of these offices and how they contribute to parliamentary dysfunction.
Besides the Constitution of India, these offices are governed by statute, parliamentary rules, speakers' directions and convention. Parliamentary rules and speakers' directions allow for wide ranging discretion to the Speaker in various circumstances - including, admissibility of questions, allowing a resolution, amending a notice and most importantly, the power to adjourn or suspend sittings.
When these broad discretionary powers are combined with reliance on "consensus" within the Business Advisory Committee (consisting of floor leaders of all political parties), one is faced with a situation where the legislative agenda of the treasury is prioritized over all other matters. This results in a situation where there is very little space for private members to represent their constituents' issues, thereby leaving MPs with very few non-disruptive options.
One of the most frequent examples of this wide-ranging discretion is the frequent din over Rules 184 and 193 of the Lok Sabha. While both rules allow for a discussion on an issue of importance, the latter does not allow for a vote at the end of the discussion. However, whether a discussion will be allowed, and allowed under what rule is solely contingent on the Speaker's discretion. Without consensus between the treasury and the opposition, the Speaker's decision to disallow a discussion or a vote is bound to result in disruption from the opposition.
It is easier to blame MPs who routinely disrupt proceedings, than to address how lopsided rules allow the Chair and the treasury to effectively set the agenda and prevent other voices from even making it to parliamentary record. Suggestions often focus on increasing disincentives against 'disruptive' MPs - pay-cuts, suspensions and removals. However, one must interrogate further - what other opportunities do MPs have, apart from disruption, when even procedural concerns are not heeded by the Chair?
While discretionary powers relating to routine legislative and parliamentary business are an important concern, their operation in critical areas - the determination of a proposed legislation as Money Bill, the submission of a no confidence motion, the circulation of a Bill prior to its introduction and the submission of an impeachment notice - requires a critical reading.
It is not possible to argue that the Chair's discretion be curtailed or limited to specific circumstances. The nature of parliamentary democracy requires that the Chair has discretion to address unforeseeable circumstances. However, the difficulty is in how the Chair chooses to exercise their discretion. Unlike other constitutional and administrative offices, the Chairs of both Houses enjoy relative insulation from judicial review of their decisions. In conjunction with how irreversible and contingent most parliamentary business is - 'wronged' MPs (and their constituents) are left with almost no remedies to correct or review a decision of the speaker. In other words, regardless of the outcome of Jairam Ramesh's petition in the Supreme Court, the 'money bill route' would have already resulted in its intended effects: legalizing foreign donations to political parties, legalizing Aadhaar and rendering the Council of States irrelevant.
The Chair's discretionary powers are often not hard-wired but meant to allow for special circumstances. For example, the general rule is that the Chair must ensure that a proposed legislation is circulated at least two days before its introduction. However, nothing prevents a Speaker from deviating from this rule when they deem fit.
Therefore, in the current context, it is difficult to set rule-based limits on discretionary powers nor is it possible to rely on judicial review as a possible check on the Chair's powers. How, then, can one improve the non-partisan role of the Chair while retaining the flexibility necessary for parliamentary business?
Automated Rules
Perhaps the most important response must be to create 'automated rules' in certain specific areas. Such rules would neither rely on the Chair's discretion, nor on the treasury's preferences, but would be legal requirements for the functioning of the House. In other words automated rules do not require concessions from the treasury, nor do they require the use of discretionary power to be enforced.
One of the more frequently recommended change is to mandatorily assign specific number of days for Opposition's parliamentary business. Another example of an automated rule would be mandatorily having non-voting discussions when a minimum number of MPs sign-off on a discussion.
Such automated rules allow for a fairer distribution of responsibility and power - and recognise that Members of Parliament are public representatives and legislators, not infants requiring a little bit of "disciplining".
However, such automated rules would not be helpful in the case of matters that immediately affect public interest - impeachment and no-confidence motions, money bills and lawmaking. In such matters, it is required that the Chair exercise a certain amount of application of mind.
Remedies in Case of Wrongful Exercise of Discretion
These are also matters that are time-sensitive; when there is a wrongful exercise of discretion, its effects are almost always irreversible, and currently, without any remedy. Remedies that go beyond judicial review would focus on permitting the parliamentary membership to bypass the Chair when discretion is wrongfully exercised: for instance, members should be permitted to introduce a motion after its disallowance by the Speaker, if there are sufficient numbers.
In a context where Anti-Defection laws have reduced representatives to mere numbers, parliamentary rules of procedure need to recognise the opposition benches as a block. Where the opposition benches have unanimously resolved to introduce a motion or a Bill for consideration - such motions must be brought to the floor of the House.
It is, of course, possible for the Opposition to use this to obstruct the government's legislative business. However, the requirement of consensus between all opposition parties would limit the possibility of this power being invoked routinely. The presence of such a requirement in the rulebook would also act as an implicit check on the Chair's discretionary powers.
Reliance on foreign procedural reforms do not account for the unique composition and representational diversity of the Lok Sabha. Similarly, the institutional value of the House of States - and its role in preserving States' interests cannot be dismissed solely because it is indirectly elected. Therefore, it is important to develop solutions that are uniquely Indian, and tailored to correct continuous reliance on discretion of the Chair and concessions of the government.
The author is a Hyderabad-based policy lawyer with a focus on federalism, electoral democracy and identity. He is currently a Fellow at NALSAR University of Law, Hyderabad.
Read about the series: Budget Session 2018 washout, worst in over a decade, shows why legislature desperately needs reform agenda
Read Part 1: Obsolete system of voice votes needs to be replaced with electronic voting
Read Part 2: Examining legislative avenues available to keep govt accountable, exercise necessary oversight
Read Part 4: Strengthening committee system can improve quality of drafted laws, fast-track implementation
Read Part 5: 'Bye-Partisanship'; What Indian legislature needs to break deadlocks, improve discourse
Read Part 6: Waning legislative influence, lack of clear mission flags need to redefine Rajya Sabha's functioning
Read Part 7: Political parties must be tamed, their incomes regulated to revive Indian democracy
Read Part 8: Anti-Defection Law must be curbed to empower legislature, promote deliberative democracy
Read Part 9: Corporate funding of elections continues to bankrupt legislative morality, weaken electoral integrity
Read Part 10: Enabling stakeholder consultations in policy-making can deepen democracy, improve transparency
Read Part 11: Time, the unseen yet powerful factor of politics, holds key to controlling legislative discourse
Read Part 12: Understanding 'political value' of time and how it is weaponised in democracy
Explainers
Dilip Mahalanabis gained national fame in 1971 while serving at a refugee camp in West Bengal's Bangaon where his oral rehydration solution saved umpteen lives. He never patented ORS, arguably the greatest medical discovery of the 20th Century
World
The surge in bird-raising interest underscores how America's first experience of rapid inflation and shortages since the 1980s is leaving marks on society that may last after cost increases have faded
World
Until 1971, Radio Free Europe was a covert US intelligence operation seeking to penetrate the Iron Curtain and foment anti-communist dissent. The Russia-Ukraine war has shaken up its operations and highlighted its importance