Narendra Modi's Pakistan jibe: Foreign ministry in Islamabad slams PM, tells him to win election on own strength
The Ministry of Foreign Affairs in Islamabad, taking offence to political comments in India invoking Pakistan, said that politicians across the border should 'win victories on own strength rather than fabricated conspiracies'
Taking offence to political comments made by Prime Minister Narendra Modi invoking Pakistan, the Ministry of Foreign Affairs in Islamabad slammed politicians across the border and said that they should "win victories on own strength rather than fabricated conspiracies".
Spokesperson of the ministry Dr Mohammad Faisal said on Twitter:
India should stop dragging Pakistan into its electoral debate and win victories on own strength rather than fabricated conspiracies, which are utterly baseless and irresponsible.

— Dr Mohammad Faisal (@ForeignOfficePk) December 11, 2017
On Friday, Modi addressed a public gathering in Gujarat's Bhabhar, where he lashed out at Congress leader Mani Shankar Aiyar, and alleged that Aiyar had told "people from Pakistan to remove Modi from the way." "Did you go to Pakistan to offer a supari on my head?" Modi asked.
On Sunday, he invoked Pakistan once again in a rally in Palanpur, saying Congress leaders held secret meetings with Pakistan officials.
"You people must have read the newspapers about the incident at Mani Shankar Aiyar's house. It was an issue of hot debate, and the media said that a meeting between former Pakistan high commissioner, former minister of external affairs of Pakistan, former vice-president Hamid Ansari and former prime minister Manmohan Singh was held at Mani Shankar Aiyar's house. The meeting had run for three hours and the next day he called me neech," the prime minister was quoted as saying by The Times of India.
Calling it an issue "of serious concern", Modi said, "Former director general of Pakistan army Arshad Rafiq has insisted that Ahmed Patel should be made chief minister of Gujarat. Former army director general intervenes in Gujarat election. They held meeting with Pakistanis at Mani Shankar's house... Congress must answer what suspicious activities they are doing. They must answer the country," the report added. Reacting to the prime minister's comments on Monday, Congress leader Anand Sharma said, "For the first time in history, a prime minister has said these kinds of words for the Opposition — we condemn it. Former vice-president and former prime minister served the country for decades." Sharma then asked for an apology from the Modi.
PM should retract his statement and should apologize to maintain decorum of his post: Anand Sharma, Congress on PM's Pak plot charge #CongPakContract

— News18 (@CNNnews18) December 11, 2017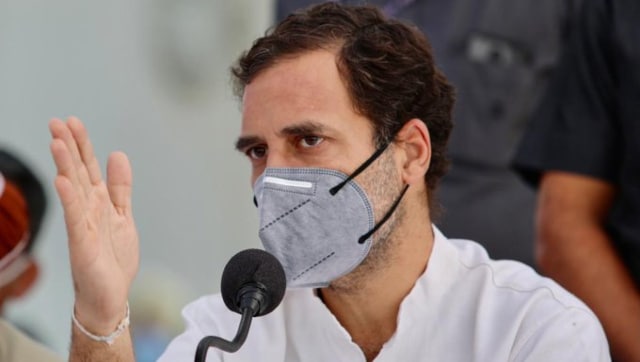 India
The former Congress president also shared a video on Twitter highlighting the alleged slow vaccination rate and media reports where people were not getting vaccines
India
Prime Minister Narendra Modi in his address to the nation on last Independence Day had announced that a new university would be established in Ladakh
Politics
A six-time consecutively elected MLA from the Bishnupur seat, Konthoujam had quit the Congress a few days ago