In Kutch, Narendra Modi attacks Congress over ignoring region for 30 years, categorically avoids topic of GST
In a stinging attack on the Congress in Gujarat, Narendra Modi said on Monday that the election is a fight between development and dynastic politics.
In a stinging attack on the Congress in poll-bound Gujarat, Prime Minister Narendra Modi said on Monday that the upcoming Assembly election is a fight between trust on development and dynastic politics.
गुजरात में जहां एक ओर विकास में विश्वास है वहीं दूसरी ओर वंशवाद है। गुजरात की जनता ने कभी कांग्रेस को स्वीकार नहीं किया है : पीएम श्री नरेन्द्र मोदी - लाइव देखें https://t.co/B73XERQfrO पर #GujaratWithModi pic.twitter.com/J6anq9HRQD

— BJP (@BJP4India) November 27, 2017
He was addressing a BJP rally in Kutch district's Bhuj town ahead of the first phase of the elections on 9 December. He also alluded to allegations thrown at him during the campaign by Congress leaders, including party vice-president Rahul Gandhi. "This Gujarat son has no stains in his public life. You come to the state and level baseless allegations on the son of the soil... the people of the state will not forgive you," he said. During his campaign in the state in the last few days, Gandhi had trained his guns at the Modi-led government over the Rafale fighter aircraft deal. "The Gujarat election is a contest between trust on development and dynastic politics," the prime minister said at the rally. Taking another dig at the opposition party, which is making all out efforts to dislodge the long-ruling BJP in Gujarat, Modi asked, "When our soldiers were standing eye-to-eye in Dokalam for 70 days, why were you hugging the Chinese ambassador."
A Pakistani court released a Pakistani terrorist and the Congress is celebrating. I was surprised why. And this same Congress refused to believe our own army on surgical strikes and preferred to believe the Chinese Ambassador : PM @narendramodi #GujaratWithModi — BJP (@BJP4India) November 27, 2017
He also said that the BJP was not here for power, but is here for 125 crore Indians. It want to take India to new heights of glory
Modi playing 'Gujarati asmita' card to deflect criticism on GST
It is instructive how Narendra Modi is focussing on the past to build his narrative of present, argues Firstpost. In his first pit stop in Bhuj on Gujarat campaign trail, the prime minister embarked on a two-pronged strategy to counter Congress. One, highlight his achievements in Kutch as Gujarat chief minister. Two, project himself as the son of soil and claim that his insulting him is akin to insulting Gujaratis.
None of these are exactly new strategies but Modi obviously feels confident enough that his work as an administrator — be it rebuilding Kutch after the devastating earthquake of 2001 or bringing Narmada to the water-starved district — has not been forgotten. In his avoidance of GST topic and conflation of self with Gujarati 'asmita' lies another pointer. A tacit acceptance that Modi is aware of the potential political repercussions of a glitch-ridden implementation of GST.
Campaign continues
The prime minister will address a series of campaign meetings today and on Wednesday in Saurashtra and South Gujarat, which go to the polls on 9 December.
The elections to the 182-member Gujarat Assembly will be held in two phases on 9 and 14 December. The counting of votes will be on 18 December.
India
Rahul, along with party MPs Pratap Singh Bajwa, Ravneet Singh Bittu, Deepinder Singh Hooda, Gurjit Singh Aujla, Jasbir Singh Gill and other leaders like Randeep Surjewala, also carried banners and raised slogans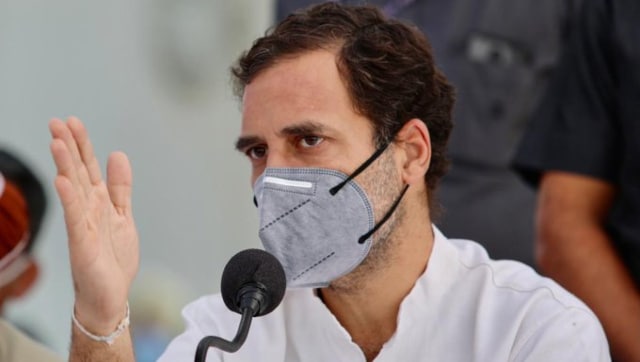 India
The Congress leader had asserted that any phone that he uses are tapped, adding that a Supreme Court-monitored probe should be ordered in the matter
India
The reaction tweet of Modi has been liked over 62,000 times, with thousands of people commenting on it