After his saalas, Lalu now caught up in sons' rivalry
The sudden emergence of his sons Tejashwi and Tej Pratap in politics is making things difficult for RJD chief Lalu Prasad Yadav.
by Manoj Kumar
Patna: Some years ago, the saalas (brothers-in-laws) gave the mighty chief of the Rashtriya Janata Dal, Lalu Prasad, nightmares of the political kind. The ambitious duo of Sadhu and Subhash all but ruined the party under the indulgent patronage of sister Rabri Devi. If the RJD is a spent force now, it is mostly due to the self-serving antics of the two during the 15-year tenure of the party in power. The saalas have been silenced by Lalu, however, a similar problem is back to haunt him. This time it has to with his sons.
Both of his 'unemployed' sons – Tej Pratap, a BA dropout, and Tejashwi, a cricketer going nowhere in his career - are currently locked in a bitter rivalry over who should be Lalu's political heir. Their politician father, aware of the possibility of this situation arising, had taken utmost care to place his siblings in different fields. However, it does not seem to have worked. Both have suddenly started taking a keen interest in politics and party affairs. They have virtually left the party divided, with sections in the RJD split over where their loyalties lie.
Lalu brought Tejashwi into politics by introducing him in the 2010 state assembly polls, after he failed to show any promise as a cricketer. The son addressed scores of election rallies and emerged as one of the party's star campaigners although the RJD fared badly in the elections. The party got a mere 22 seats out of state's 243 assembly seats - its worst ever performance in the past two decades. After the poll debacle Tejashwi turned to cricket again hoping to get chance in the IPL, but failed.
The eldest son, Tej Pratap, tried his hand at business with ample support from his father. Lalu helped him open a Hero Honda motorcycle showroom at Kama Bigha in southern Bihar's Aurangabad district in May last year. The showroom was named `LaRa' agency, the first two letters from the names of his parents, Lalu and Rabri.
However, Tej Pratap always nursed the ambition to be in politics. It was noticeable when he started leading a team of students in Patna's Bihar National College in a manner similar to his father, who began his political career as a student leader. His ambition suffered a serious setback when he was not allowed to contest the students' union polls, since he failed in his examinations. Subsequently, he actively campaigned for the party candidate in the student union polls but his candidate finished fourth. However, he continued to be active in politics and a couple of months ago was invited as chief speaker at a conference of Mahadalits organised by a section of his party men in Jehanabad district, according to media reports.
The fresh twist in the tale came when Lalu's cricketer son suddenly appeared on the scene with a bang after a two-year gap and declared that he would make politics his career. He announced that he would give all his time to the RJD. Last week, he addressed a seminar on education organised in Patna by his party in which several leaders participated.
However, Tejashwi has denied any rivalry with his elder brother.
"These are all nonsense…there are no differences between us," Tejashwi said, adding he was getting active support from his elder brother in his mission to infuse new life into the party.
He said he was working hard to carry everyone together and strengthen the party base with the active support of youth community.
"No one has taken care of youth community and my focus will be to give proper attention on the problems left uncared," Tejashwi said, adding he would prefer to be addressed as a "saathi" than a youth icon.
The Lok Janshakti Party (LJP) which is an alliance partner of the RJD, however, hopes things will improve and described it as the RJD's private matter.
"Although it won't be fit to comment on this being a private matter of the RJD, we think this could be a strategy of Lalu. The way Rahul Gandhi and Priyanka Gandhi have different roles to play in the Congress party, Lalu too might have something in his mind," remarked LJP general secretary Rohit Kumar Singh.
The present situation is reminiscent of the bitter rivalry between Lalu's brothers-in-law - Sadhu Yadav and Subhash Yadav - where the former had the support of his sister Rabri Devi while the latter enjoyed the support of Lalu.
Their entry into politics too was equally interesting. Initially, Lalu had sent Sadhu to the Upper House of the State Legislature under pressure from his wife Rabri. When he started interfering in the functioning of the government, Lalu sent his other brother-in-law Subhash Yadav to Rajya Sabha.The wily RJD chief had done this to keep a track of Sadhu's activities while he was in jail in connection with the fodder scam.
The strategy worked wonders for him as neither of his brothers-in-law were able to grab power. In the 2004 Lok Sabha polls, Sadhu contested on a RJD ticket and won. But as their rivalry cost the RJD dear, Lalu finally shut the door on both of his saalas after being routed in the last assembly polls. Presently both the brothers-in-lawof them face political oblivion. Should Lalu's sons ensure they don't face the same fate?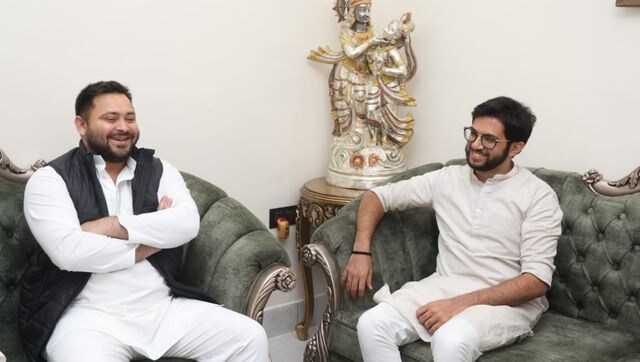 Politics
Bihar Deputy Chief Minister Tejashwi Yadav and Shiv Sena leader Aaditya Thackeray also met Chief Minister Nitish Kumar in Patna
India
Lalu Prasad enjoys a cult status among the OBCs and the minorities, despite allegations of corruption during the tenure as Bihar CM and Railway Minister