At a time when women are leaving no stone unturned to fight for their rights,  social networking site Instagram has reminded us that biases against women are rife not just in India, but across the world.
Photographer and artist Rupi Kaur, who also describes herself as a poetess on her Instagram account, put up photos depicting what a woman goes through during menstrutation. While there was no violence or nudity, Instagram chose to take the photos down because it showed blood stained clothes.
After the photos were taken down, a visibly outraged Kaur posted this on her page: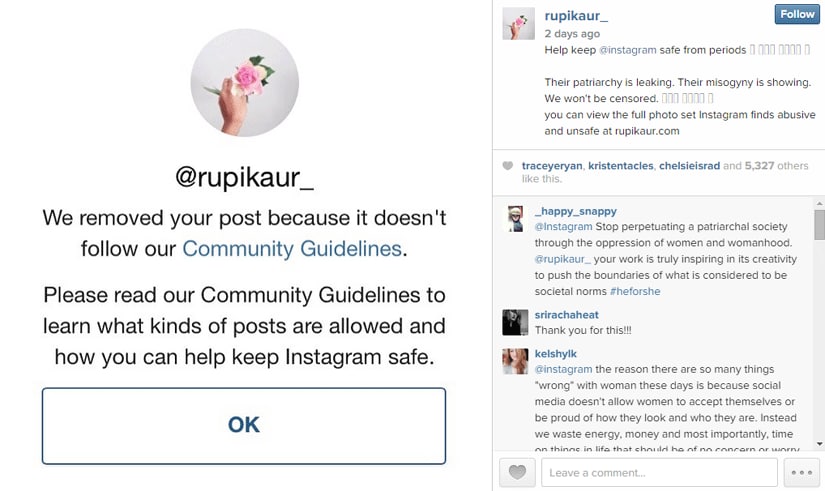 Even though menstruation is a natural biological process, it is approached with hesitance and misinformation because of deeply–rooted cultural taboos. By removing the picture, Instragram is only giving in to the stereotypes of a misogynist society.
Women on their period are nothing short of ostracised in India. Some are not even allowed to enter temples and attend poojas, while in some states women are forbidden from sleeping on their beds, entering the kitchen or touching food that is to be eaten by the rest of the family.
Instagram taking down the post also comes after Twinkle Khanna had spoken about the topic in her blog in Times of India.
Speaking of how sanitary napkins are sold over the counter, she had said, "Why are sanitary napkins treated like radioactive isotopes? They are wrapped in layers of plastic and newspaper, then someone ties a string over this mysterious package and then it's put in a bag of its own — separate from any vegetables or cereal boxes that it may contaminate by its very presence."
Khanna is not alone in voicing her opinion on the subject. In fact, to fight against the stigma attached to menstruation, there have been several movements with the recent one being #PadsAgainstSexism started by German artist Elonë.
Elonë has been writing messages on sanitary napkins and placing them all over the German city of Karlsruhe. Elonë shared a series of photos, which documented her project, on her Instagram and Tumblr accounts.
The movement was picked up by students of Jamia Millia Islamia University and Delhi University in India as well.
And as if the taboos were not bad enough, Instagram — a place where one is supposed to be able to express freely — taking down Kaur's photos reeks of the patriarchal mindset that often tries to control how a woman's body should be viewed.
Menstruation blood, a normal bodily function, shouldn't be the grounds on which photos are taken down, when content that objectify and sexualise women are present aplenty all over the internet and even on Instagram.
There was much outrage on social media when Instagram decided to take the posts down, because it was seen as trying to stifle art that doesn't live up to the biased standards of society women are supposed to adhere to.
Instagram's move suggests that even in this day and age, a woman cannot express herself freely because some people still believe that menstruation is "dirty business" and is best dealt with behind closed doors.
Your guide to the latest cricket World Cup stories, analysis, reports, opinions, live updates and scores on https://www.firstpost.com/firstcricket/series/icc-cricket-world-cup-2019.html. Follow us on Twitter and Instagram or like our Facebook page for updates throughout the ongoing event in England and Wales.
Updated Date: Mar 27, 2015 20:14:23 IST