Experimenter Curators' Hub 2018: Shumon Basar on artificial intelligence and the future of art
Shumon Basar, a writer, thinker and cultural critic, has been instrumental in shaping stimulating and provocative conversations around a range of subjects that don't seem to rest immediately within the purview of art — like artificial intelligence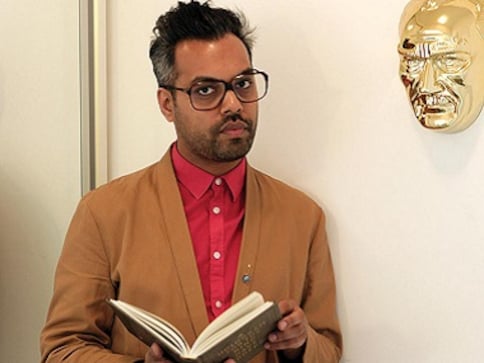 His name has become synonymous with the Global Art Forum, easily among the most anticipated features of Art Dubai. As its commissioner, Shumon Basar, a writer, thinker and cultural critic, has been instrumental in shaping stimulating and provocative conversations around a range of subjects that don't seem to rest immediately within the purview of art; like artificial intelligence. Basar is also editor-at-large of Tank magazine and contributing editor to Bidounmagazine, while simultaneously functioning as director of the format program at the AA School, London, and a member of Fondazione Prada's 'Thought Council' and Art Jameel's Curatorial Council.
Basar is among the participating curators at ECH 2018. Firstpost caught up with him over email for a quick chat.
You write in Huck Magazine about the first time you went to Dubai; you locate yourself as someone from Bangladesh, but who "grew up entirely in England and have had a privileged and wonderful European/American-centric education at Cambridge." You recognised Dubai as a new gravitational center that was speaking about a future you were unaware of at that moment. Since then, I imagine your links with Dubai have only grown deeper roots. As someone whose professional associations lie in different parts of the world, where and how do you locate yourself today in terms of your writing and curatorial practice?
I exploit all my privileges. My British passport is one of the greatest privileges, no doubt. It has allowed me to live out my restlessness by deciding to live and work across a number of cities and countries. I have a more productive relationship to feeling ever so slightly alienated from my surroundings than belonging to them. It's human, maybe, to want to belong, to a place, to a people. My worry with that is that this attitude elicits intellectual complacency. A short-circuiting of who or what or where the Other is. The worst of this is something like nationalism. Or a sickening pride in "X is the greatest city in the world!!" Frankly: fuck off to all of that. As Rana Dasgupta recently posited, can we please enter the next phase of geopolitical organisation that puts the nation state behind us? Another way to say this would be to claim I am driven more by what I believe I don't know than the many things I think I know. This translates into inhabiting a kind of Frankenstein of place, which for the last several years, is essentially Berlin, Dubai, Milan and London. Each has its own frequency of attentiveness, each frames the current condition in its own way, and each consists of minds I work and love with, without which, I really would be nothing.
You concern yourself very directly with the consequence of technology on our future. This is the subject of your book, The Age of Earthquakes, co-authored with Douglas Coupland and Hans-Ulrich Obrist. You also commissioned the 2018 edition of Global Art Forum, titled "I am not a Robot", that had automation as its subject. Have you thought about the repercussions of Artificial Intelligence on curating as a discipline? The brief for the last Global Art Forum mentions the first AI-authored short story and pop song. How far away are we from AI-curated, potentially algorithm-based exhibitions?
It's already happening. Our content, our playlists, our shopping choices are all being curated, as it were, by the algorithms that learn our tastes, and then reflect back at us. Google Image search is the curating of images (by what surreal logic, you might ask). Their Face-Match app from January this year curated our faces next to art historical faces, an indication of how deep facial recognition has gone. I want to get away from the notion that creativity is inimitably human, that it's a mark of what makes us uniquely human, and what makes a machine a machine. We have been machines, cyborgs, etc, for a very long time. Machines have been extensions of man, to use the McLuhan term, since the invention of the first agricultural tool. Technology is at its most powerful when you no longer realize it is there. We passed this moment a long time ago.
Somewhere in The Age of Earthquakes, there's an aphorism about how human beings don't change, only technology does. It's a somewhat bleak perspective, proposing a collective inability to self-actualise. How do you contextualise the role of art within this state of "proceleration" ("the acceleration of acceleration?")  
There are two crucial aspects to art. The first is Kantian: its so-called "purposelessness". Which ironically gives it huge power to disrupt a way of knowing the world, which is predicated on functional, output-based, positivist results. Art can conceptually take things apart by misusing objects and also technology. The misuse reveals the unconscious of that thing. It makes it visible, audible, palpable. Secondly, art's right to opacity is also a means of, to use an old Greek term, "alethiea," which is to un-conceal. The fact that so much modern and contemporary art is difficult to decipher or decode is exactly why it's so rich in meaning and fact. Art has the potential to work perpendicularly to the proceleration of technology, which, as we know, is also an embodiment of its own theological, Utopian agenda.
This interview is part of an ongoing collaboration between Experimenter Curators' Hub and Firstpost. Visit the ECH blog for more information. 
Also read: Experimenter gallery's Priyanka and Prateek Raja on how they put together the prestigious Curators' Hub