Experimenter gallery's Priyanka and Prateek Raja on how they put together the prestigious Curators' Hub
Experimenter, a contemporary art gallery responsible for putting the city of Kolkata on the international art map, kicks off the eighth edition of its homegrown Curators' Hub today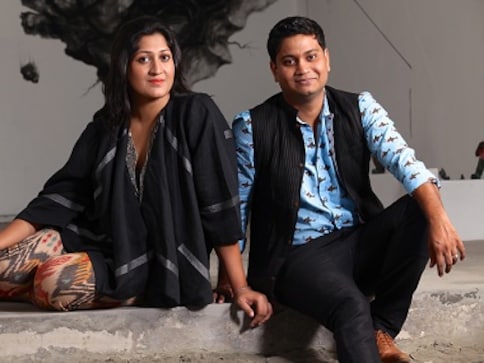 Experimenter, a contemporary art gallery responsible for putting the city of Kolkata on the international art map, kicks off the eighth edition of its homegrown Curators' Hub on Thursday, 26 July. This year's line-up includes a diverse array, representing fascinating curatorial practices from around the globe; including Adam Szymczyk, Bonaventure Soh Bejeng Ndikung, Erin Gleeson, Jeebesh Bagchi, Kavita Singh, Léuli Māzyār Lunaʻi Eshrāghi, Övül Durmuşoğlu, Prasad Shetty and Rupali Gupte, Sabih Ahmed, and Shumon Basar.
On day one, Firstpost, in collaboration with Experimenter, presents a series of interviews with Experimenter's directors, Priyanka and Prateek Raja; the hub's returning moderator, Natasha Ginwala, and each of the participating curators, who reflect on their individual intuitions and perspectives regarding their many-faceted roles within the world of Contemporary art.
What is your modus operandi, whether conscious or subliminal, for programming ECH? Your directorial manoeuvring is a form of curating. In choosing whom to invite, and from where, you create, each year, a different set of potentialities.
This year will see documenta14's artistic director, Adam Szymczyk return to ECH; not only that, the line-up shows Bonaventure Soh Bejeng Ndikung, who was curator at large at documenta14 and is well known for his work managing SAVVY Contemporary, will also be present. Given Natasha Ginwala is moderating, and she was also curatorial advisor to Syzmcyzk's team, one sees this as an intriguing grouping, and I'm sure audiences will benefit from the existing intimacies between these curators. On the other hand you also have Sabih Ahmed, known for his dedicated work at Asia Art Archive, and Kavita Singh, among the most important art historians in India today.
What goes into determining the line-up? How do the two of you make decisions about whom to invite?
Each year there is a set of (subliminal) agendas we are interested in. They may not be overtly presented but are easily captured by the audience. The presenting curators of each year, in our understanding, have shown interest in the same ideas or agendas in their exhibition making process. We find a juxtaposing of these diverse yet connected positions via the presentations and discussions that follow to be a very potent way to discuss and address the concerns at large.
The process of selection of a meaningful group, so as there is a tight flow, precision, passion, balance and momentum at the hub each year, is a deeply deliberated decision between the two of us. This decision takes shape over a year or longer. Our decisions are informed by our interactions and conversations with the curators over the years and our experiences of the exhibitions they have presented. Also, quite often, it is informed by ongoing conversations with colleagues whose opinion we value. Natasha Ginwala, our returning moderator for the hub, understands our position and intention quite clearly and is a close advisor to the process of selection as well.
With regards to your observations on the curators involved with documenta 14, yes this is a very deliberate decision, despite the fact that all the three curators you mention, have strong individualistic and highly developed practices, their recent work makes them share an intimate relationship, we felt that the audience may benefit from a possible dialogue that will emerge from their individual presentations. Sabih's in-depth work in archiving and open source sharing as well as Kavita Singh's amazing years of research and pedagogy are a great combination to hear and learn more about at the same forum.
Seven editions later, ECH really has evolved as an alternative site for intense exchanges between curators, artists, art historians, institution heads and audiences. The informality of the format has ensured much of the casualness that has become a characteristic feature—free entry; lack of fixed seating; chai breaks, and a deliberate repression of hierarchical structures. How do you, each year, re-evaluate your individual roles as hosts in promoting this fraternity?
The kernel of ECH lies in learning and we look at every edition of ECH as an opportunity for us to learn — individually and as a team. All the aspects that you mention about ECH, that makes it unique, such as free entry, suppression of hierarchy, intimacy, casual conversations, all break the traditional structures of learning as we know it. We both agree that one of the biggest inhibitors to knowledge in our country are our structures of learning and education, and we are deeply interested in breaking these structures even in our limited capacities. We re-evaluate our roles as directors of Experimenter all the time and have been thinking about how we can make a definitive impact to the world we inhabit individually and as directors of our program. We have felt over time, that discourse and conversation lies at the crux of understanding our dystopian contemporary moment and possibly the only way to establish a future of awareness that appreciates plurality and celebrates contradiction and diversity and would like to invite thinkers, writers, curators, artists, philosophers, architects, designers and so on from all over the world.
In the pursuit of that intention, we will begin our ambitious Experimenter Learning Programme (ELP) this year, which is envisioned as a long-term, intimate and multifaceted learning and education program that keeps visual culture at its root to build discourse around it. ELP will enable dialogue in fields of contemporary and performing arts, curatorship, film, writing, language and social culture. The program will have an intermittent, year-long modular schedule which includes the annual Experimenter Curators' Hub, workshops, salon-style classrooms, symposia, lecture performances and a young-adults learning program. The ELP program is being organised in partnership with Sharjah Art Foundation and over time will forge further collaborations to further reach and content.
Last year's ECH offered complex perspectives about the need to decolonise the curatorial perspective. What is your approximation of the locus of power shifting away from the West, which has been its mainstay for centuries, in terms of the curatorial and institutional gaze? How do you view ECH's position in furthering such a redistribution of power? By locating the hub in Kolkata, within Asia, and by pointedly facilitating cross-continental dialogues between curators, ECH has poised itself as a very significant platform. How do you see this role expanding?
We feel that ECH as a platform is crucial, not only because of the role it plays as an incubator or a propeller of ideas or as a fertile ground for debate, but also what it has meant for participants who return to it every year. The locus of power has been consistently shifting from the West outwards and southwards, and we find ourselves in a moment when these tectonic shifts are taking place. ECH acts as a recorder of this shift and over time will serve as an archive or a learning tool to understand these shifts. Therefore, the redistribution of knowledge and the ability to form opinions outside the Western canon (which to us is power) is a significant turn of the tide and ECH is at the center of this tide of change. ECH amongst other similar but still few such initiatives also act as a critical tool that enable this change that is taking place, at a pace that we cannot yet fathom. The role of ECH is thus continuously expanding.
On the other hand, it is equally important to locate the Hub in Kolkata, a decentralised location of power, economy and even culture over the last few decades, yet a place which is a confluence of cultures, a trade route for opium, the birthplace for revivalism of Indian art, cinema and literature. It is also the best place in the world, in our opinion, to have a dialogical program like ECH and as I mentioned in the previous question, with the Experimenter Learning Programme in place, ECH becomes an important peg in that wheel of change.
This interview originally appeared on the Experimenter Curators' Hub blog and is republished here with permission.
also read
India
Known for his luminous metscapes, Akbar Padamsee was among the pioneers of modern Indian art
Lifestyle
India's return to the Venice Biennale, in the form of a Gandhi-themed pavilion exhibition, has put the spotlight on the CII's Taskforce on Art and Culture.
Arts & Culture
In the Indian art world, the first six months of 2021 have been about sustaining physical programming and executing new online initiatives.