Amish Tripathi: For books to achieve mass success in India, stories need to connect with our roots
Author of the bestselling Meluha series, Amish Tripathi talks about new age book marketing, the making of a bestseller and the future of the Indian publishing industry.
Author of the bestselling Meluha series, Amish Tripathi talks about new age book marketing, the making of a bestseller and the future of the Indian publishing industry. Excerpts from an interview: 
You pioneered the trend of the author taking control of all aspects of his book. Have you seen other authors successfully follow in your footsteps? Does this approach work only for commercial and mass market books?
At the outset, I must clarify that my answer is relevant to a fiction book, not necessarily to a non-fiction book. I believe that every single author — literary or commercial — must take control of all aspects of his book. You should certainly not allow the story to be corrupted by what you think either the critics or the readers expect. You shouldn't attempt to write a "bestseller" or an "award-winning book"; you should just write what comes naturally to you. Write with the honesty of your heart.When it comes to marketing though, you should be pragmatic. But even here, you cannot just leave it all to the publishers. You must be in control. For an author, his book is like his child. You don't just hand over your child to someone else and walk away. You must be involved in every single aspect of it.
With the growing prominence of Facebook and Twitter as promotional channels, have mainstream media and book reviews somewhat lost their relevance? I know of many books that have gone on to become bestsellers in 2016 without somuch as a mention in print media. At the same time, not all books benefit from aggressive social media promotions and spend. Is there any particular manner in which social media campaigns should be carried out?
It is certainly true that mainstream media and review pages are not so important anymore in the success of a book. Nowadays, many readers pick up books that are recommended by their friends on social media. There are many Indian fiction books that have achieved success on their own strength, without any support from the old establishment. In a way, this is a democratisation of the literary scene in India. The Indian publishing industry is finally growing roots in the real India rather than being restricted to a tiny Anglicised elite.
In terms of social media campaigns, I believe the best approach is to simply be yourself. It's difficult to pretend to be something that you are not on social media, over a sustained period of time. So be yourself. Some people will like you, some won't. That's okay. Also, marketing can only induce trials. It cannot guarantee success. For that the book has to be good i.e. the readers have to like it.
This year saw an unknown, small town girl — Savi Sharma — successfully self-publish her book on Amazon and go on to sell over 1 lakh copies. But for every Savi Sharma, there are thousands of authors who self-publish only to be left completely disillusioned. Is there a correct way to self-publish?
I met Savi at a litfest. She came across as a bubbly and positive person. I wish her success. But why has her book succeeded while others have not? Because her story and book have obviously served a purpose in the life of her readers. Today, due to social media, word-of-mouth is the most powerful determinant in the success of a book. You cannot do any 'marketing' to control word-of-mouth. The readers have to genuinely like your book. Ultimately, it is the content that matters.
Why do you think e-books haven't taken off in a big way in India? And what is your take on new mobile publishing platforms such as Juggernaut? Have you ever considered publishing a book just on a mobile app?
It's early days yet for e-books in India. I am still hopeful of the market growing over the medium to long term. But at this point of time, I would not release my book only on a mobile app. Also, mobile apps these days are designed better for shorter books. Longer books may be cumbersome to read on an app, at least at the present time. My books are adventure thrillers, with elements of mystery, mythology, interpretations of Indian history etc. So they are, necessarily, long. So one has to see how apps can carry such content.
Coming to your own books, how has the Meluha series fared in the foreign markets? Have readers taken to it?
My books have been released in various international languages like Spanish, Portuguese, Polish, Bahasa Indonesian, Turkish. It has also been released in the UK, US, Australia etc in English. It will soon be released in French.I am grateful that my books have been received well in these foreign markets.
What about the long awaited film based on the book Immortals of Meluha?
That will take some time. I will certainly keep you informed on the progress of that.
Barring you and Anand Neelakanthan, we hardly have any popular writers in the mythological fiction space. And if publishers are to believed, the sales of books in the genre have gone down drastically. Do you think the genre has run its course in India?
The mythological genre (called Itihasas or Pauranik tales in Hindi) has been the most popular genre in India for millennia. Some books in this genre may do well and some may not. But the genre will continue to remain popular.
Have you ever thought of starting an imprint with a major publishing house and curating your own list like Hussain Zaidi or Oprah Winfrey in the US?
No. I am a writer. And my focus will continue to be on my books and stories.
Can we expect you to experiment with different genres in the coming years? 
Why not? But at least at this point of time, my focus will remain on mythology. I have enough story ideas to keep me busy for the next 20-25 years. And I have left clues for many of these stories in the Shiva Trilogy.
This year you won the Crossword prize after successive years of losing. What does this award mean to you? Also, what is your take on the awards circuit in India? Do you agree that we don't have a single literary prize in the country that shapes readers' tastes?
It is an honour to win the Crossword prize. I have won other awards but this one is a reader's choice award so that makes it more special. On your question of a single literary prize determining reader's tastes, you are right, there is no such award in India. And I don't think any single entity can or will determine reader tastes in our country. We are too diverse for that.
I have been telling a lot of industry people how India badly needs literary influencers to bring in new readership for books. For instance, I wonder why we don't have a single influential book club in India. And while we're at it, do you think literary festivals help drive sales of books? 
India does have a culture which appreciates good stories with complex plots and finely etched characters. Consider our great epic Ramayana, and the awe-inspiring characters of Lord Ram, Lady Sita, Lord Hanuman, even Ravan. So the market does exist. And what must be realised is that for books to achieve real mass scale success in India, we need stories that are connected to Indian roots. Also, I was hopeful a few years ago that litfests would grow to be a significant sales channel for books. But sadly, it has not worked out that way.
Westland's Gautam Padmanabhan recently made a very interesting observation. He said: 'We are also, like never before, having to compete with other forms of entertainment — most notably the kind of television that Netflix or HBO provides.' In fact, Salman Rushdie recently commented that these serials with their complex story lines and well etched out characters were the new literary fiction! Do you think the book business is facing a threat as never before?
The key difference between a book and a movie was time. The time committed by a reader to a book is far more than the time committed by a viewer to a movie. The short running time of a movie ensured that complex and layered plots were difficult to build. Also, there was little to etch out a character well. The big-budget TV programmes that are coming out now, with 10-12 episodes per season, have solved the time problem. So they can have the same depth as a book. But I don't see this as a threat. I see it as an opportunity for authors. There is another medium that has opened up for people of their skills.
Kanishka Gupta is among India's leading literary agents
Find latest and upcoming tech gadgets online on Tech2 Gadgets. Get technology news, gadgets reviews & ratings. Popular gadgets including laptop, tablet and mobile specifications, features, prices, comparison.
Lifestyle
The origins of the game date back to 2017, when the creators studied the diverse methods employed globally in the restoration of film from around the world at Italy's Pordenone Silent Film Festival.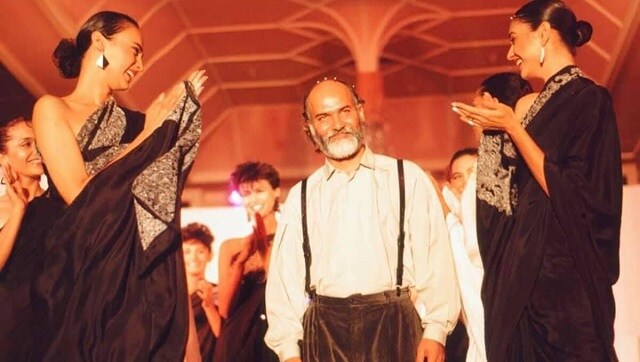 Lifestyle
By recasting the sari — which, since the days of the Indian freedom struggle, had come to become a symbol of Indian nationalism — through his itinerant imaginations, Satya Paul imbued the national garment with a transnational spirit, capturing the mood of that period.
Lifestyle
The dentist confesses that there are, of course, long-term difficulties attached to mass production of the Lego arm, one of the primary ones being the practical challenge of obtaining spare parts in India.