Unnao rape case: Kuldeep Singh Sengar, BJP MLA accused of raping 18-year-old, is a known political turncoat
Kuldeep Singh Sengar, BJP MLA accused of raping an 18-year-old from Unnao, has earned the reputation of being a political turncoat.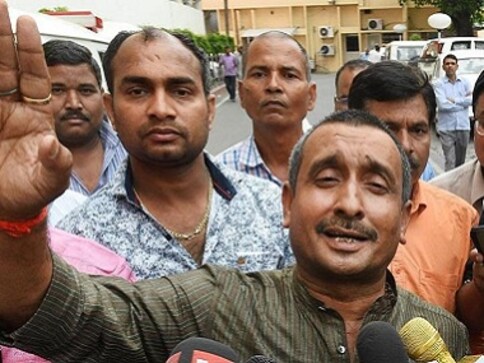 Kuldeep Singh Sengar, the BJP MLA from Uttar Pradesh's Bangarmau district in Unnao, has been caught in controversy ever since he was accused of raping an 18-year-old woman in 2017.
The four-time lawmaker and his brothers allegedly gang-raped the girl in Unnao – who attempted suicide outside Uttar Pradesh chief minister Yogi Adityanath's residence in Lucknow on Sunday – and are also accused in the custodial death of the victim's father. A special investigation team (SIT) has been constituted to probe the alleged rape and killing.
But the BJP MLA has since rejected the charge as a conspiracy by his opponents. His brother Atul Singh, meanwhile, was arrested on Tuesday in connection with the alleged custodial killing.
Sengar, a political turncoat
Sengar, seen as Brahmin-dominant Unnao's most prominent Thakur leader, has earned the reputation of being a political turncoat. He is known for siding with whichever party is in power and has regularly changed parties and Assembly constituencies.
According to MyNeta, Kuldeep passed his Class 12 exams from Raja Shankar Sahay Inter College in Unnao in 1982. The leader has one criminal case registered against him related to the disobedience to order duly promulgated by public servant (IPC Section-188) and assault or criminal force to deter public servant from discharge of his duty (IPC Section-353).
His political career started in 2002 when he was elected as a BSP MLA from Unnao Sadar. Ahead of the 2007 Assembly elections, he switched allegiance to the Samajwadi Party. He contested from Bangarmau as SP candidate and won.
Kuldeep again changed his seat to Bhagwant Nagar in Unnao in the 2012 elections and contested on an SP ticket. Then, before the 2017 Assembly election, he joined the BJP and once again won from the Bangarmau seat.
Kuldeep passed his Class 12 exams from Raja Shankar Sahay Inter College in Unnao. He started his political career with the Congress and became the pradhan of Makhi village in Unnao in 1997-98.
In 2002, he contested Assembly elections as a Bahujan Samaj Party (BSP) candidate from Unnao Sadar constituency and won.
Family's political clout
Sengar's family has also been involved in politics. His wife Sangeeta was elected chairperson of the Unnao Zila panchayat during the SP regime, a position she still holds. His brother Manoj Sengar had won a local-level election.
A report in The Indian Express quoted a BJP leader as saying that Sengar is considered close to independent MLA (Kunda) Raghuraj Pratap Singh alias Raja Bhaiyya. "Sengar also gets votes of Muslims. He is the most influential Thakur leader in the entire district. With the combination of Muslims and Thakurs and some other upper castes, he wins the polls. While Brahmins are divided here, Sengar keeps the Thakurs united in his favour by helping them," he said.
The report said that the MLA is known to help local people financially. Another BJP leader quoted by The Indian Express said he offers Rs 10,000 as minimum cash gifts to brides in his constituency.
A Hindustan Times report quoted Unnao-based political analyst Shailendra Shukla as saying: "Kuldeep has positioned himself as a prominent Thakur leader in Brahmin-dominated Unnao. He has a good hold on Muslim votes and also enjoys the support of other upper castes. He has considerable support among lower caste voters too. His formula to win the election is through high social presence."
The report quoted a police officer posted in Unnao as saying that while Sengar is a full-time politician, his brothers Manoj and Atul work to maintain his image of a 'bahubali' leader. Both brothers have criminal cases against them.
"His family is feared in the region because of Manoj and Atul, who manage the muscle and money power of the family," the police official told Hindustan Times on condition of anonymity.
According to another report in The Indian Express, such is the clout of Sengar and his family, that the girl who accused him and her family have refused to return home, saying they fear for their lives.
The girl's mother was quoted by the report as saying: "We will not return to the village until the situation is normal. The MLA and his associates must be planning something. No one in the village will dare support us. No one will raise his voice against the MLA and his family. They hold all administrative posts in the village."
On Monday, two police officers and four constables were suspended after the death in police custody, following which Adityanath summoned the accused BJP MLA. This came only a day after the woman had tried to commit suicide outside the chief minister's residence in Lucknow on Sunday, saying no action has been taken against the accused yet.
Later on Monday evening, Sengar arrived at the secretariat to offer his explanation to the chief minister, but reportedly could not meet him. The state's home department said the girl had not named the MLA in her first complaint lodged last year. "It is an unfortunate incident. ADG (Police) Lucknow has been asked to probe the matter thoroughly. Those at fault — whoever they might be — will not be spared," Adityanath said.
Briefly addressing the media after meeting Adityanath, Sengar ruled out the possibility of resignation. "Does one tender resignation upon being accused? Will you resign if your name comes up?" the MLA asked the reporters.
#WATCH Kuldeep Singh Sengar, BJP MLA from Unnao against whom a woman leveled rape allegations,rules out resignation. Says 'Naam kisi ka aane se koi isteefa de deta hai?' pic.twitter.com/G3ZttjIE4g

— ANI UP (@ANINewsUP) April 9, 2018
"There is no allegation against me — I'm open to any kind of investigation. Strict action should be taken against the real culprit," ANI quoted him as saying.
However, the woman had alleged that she was raped in June 2017 by Sengar. She also accused the police in Unnao of not taking any action or registering a case on her complaint, Vijay Sen Singh, in-charge of the Gautam Palli police station, said.
With inputs from agencies
India
During the meeting with Uttar Pradesh ministers, PM Modi presented his views on good governance and how to improve the performance of the government. He also asked them to ensure that benefits of government schemes reach common people
India
'Today India is firmly moving ahead in the world under the leadership of Prime Minister Narendra Modi,' Adityanath said
India
The chief minister said he is of the view that the more practical a public representative is, the easier it is for him to communicate with the public and live up to their expectations