#MeToo in India: Allegations surface against Meghnad Bose, Ishrath Nawaz, Rameez Shaikh, Manoj Ramachandran
Allegations against journalists and advertising professionals have emerged on Twitter
Editor's note: Following Rituparna Chatterjee's report — Is India's #MeToo moment here? Women are angry and they are naming and shaming their abusers — Firstpost will publish a series of articles collating personal accounts of those who have made allegations of harassment, along with responses from those who have been accused of such behaviour. This is an ongoing exercise and will be updated to reflect new developments. If you wish to draw our attention to instances of harassment you may have experienced or witnessed, tweet to us @firstpost with the hashtag #MeToo.
Also read — #MeToo in India: KR Sreenivas, Gautam Adhikari respond to sexual harassment allegations
Also read — #MeToo in India: Writer Kiran Nagarkar, photographer Pablo Bartholomew named in harassment accusations
***
After veteran journalists KR Sreenivas and Gautam Adhikari were named in a slew of sexual harassment allegations that surfaced on Twitter over Friday (5 October), more stories have emerged of inappropriate behaviour, involving male media professionals. Many of these allegations have been brought forward by journalist Sandhya Menon on Twitter (@TheRestlessQuill).
Sandhya accused Manoj Ramachandran, who is currently with Hindustan Times, of sending her an inappropriate text message in 2005, when they both worked at the same organisation in Mumbai. When she confronted him, he claimed that he was drunk and had meant to send the message to his wife, not her. She is not sure how he got her number.
Meghnad Bose, a journalist with The Quint, has been accused of objectification, making lewd comments about women, inappropriately touching them, and harassing them — by more than three of his peers from the Asian College of Journalism (ACJ). Journalist Poulomi Das posted a thread on Twitter, outlining one instance of harassment in particular.
A journalist who wishes to remain anonymous says that many of ACJ's students were aware of Meghnad's behaviour, adding that he would allegedly often pick on female students while he was with a group of his friends, thus making the woman in question feel embarrassed.
She says that he asked her about the lingerie she was wearing, in front of many students in the college canteen. Meghnad allegedly routinely 'rated' women based on their looks and body shamed them, too. An anonymous first-person account that details how he allegedly inappropriately touched a fellow student who was drunk has emerged on Twitter, and the journalist speaking to Firstpost confirmed its veracity.
Meghnad posted a statement addressing these allegations on his Facebook profile:
Much of Meghnad's work has been on gender and rape culture, and he has also won accolades for it. When contacted by Firstpost, The Quint said that it has been made aware of these allegations and that it will publish a statement shortly.
They also tweeted about the allegations against Meghnad:
We have been made aware of certain allegations against @MeghnadBose93, an employee of The Quint. We are currently in the process of ascertaining further details.

— The Quint (@TheQuint) October 6, 2018
Ishrath Nawaz, who currently holds a significant position at advertising company Publicis, has been accused of harassment by Sneha Dhakan, an advertising professional. This harassment, she says, allegedly took place from August 2016 to January 2017 in Mumbai at the firm they used to work at together. Ishrath was the creative director and the manager she directly worked under. "He's a habitual predator and still keeps climbing up the ladder in spite of everyone knowing everything," she wrote on Twitter on 5 October.
When she complained, she was transferred to another team, and her probation, which was to end at the time, was extended by six months. She says that this was because he allegedly gave her a bad review. She alleges that no action was taken against him. She adds that he did not apologise. When contacted by Firstpost, Ishrath said, "I have no comment to offer at this time. However, I would request you to please verify all the facts and allegations before publishing anything in this regard." Multiple accounts (some anonymous) have also emerged on Twitter against Rameez Shaikh, who has previously been a writer for Homegrown. Journalist Sonia Mariam Thomas has accused him of harassment, and highlighted one incident which allegedly took place in 2014. "On our 'date', I was pushed against my own window and he hit me once. I held his hands behind his back and firmly asked him to stop or I wouldn't let him stay. We continued doing our thing and he made me go down on him and tried to coerce me into sex. I declined but he kept pushing. I stood my ground. Keep in mind. I didn't say no to him at the time. But I wasn't happy about it either. Power dynamics are weird and I was afraid of saying no to anything but sex," she wrote on Twitter. One anonymous Twitter user has accused him of persistently asking for nudes on multiple occasions, as well as harassment. She said that they met over Twitter when they were both college students and that the harassment and demands for nudes allegedly went on for two years (between 2013-15), despite her making it clear that she did not consent to these interactions. Rameez responded to these allegations in a statement he put out on Twitter:
pic.twitter.com/XyrtPNfWg3 — Rameez (@Battameez) October 7, 2018
Homegrown has tweeted that it has taken cognisance of the allegations against Rameez.
Firstpost has reached out to Manoj Ramachandran and Hindustan Times for their comments regarding the allegations (on 6 October at 2:32 pm). They have not responded to our emails. We will update this story if they do.
Also read parts one, two, and three of this series.
Network 18, of which Firstpost is a part, has received complaints of sexual harassment as well. The complaints which are within the purview of the workplace have been forwarded to our PoSH committee for appropriate action.
Find latest and upcoming tech gadgets online on Tech2 Gadgets. Get technology news, gadgets reviews & ratings. Popular gadgets including laptop, tablet and mobile specifications, features, prices, comparison.
Entertainment
Both the Kerala government and the survivor have alleged that the trial judge at Kerala High Court refused to record certain portions of the survivor's testimony without any justification, despite repeated requests by the prosecutor.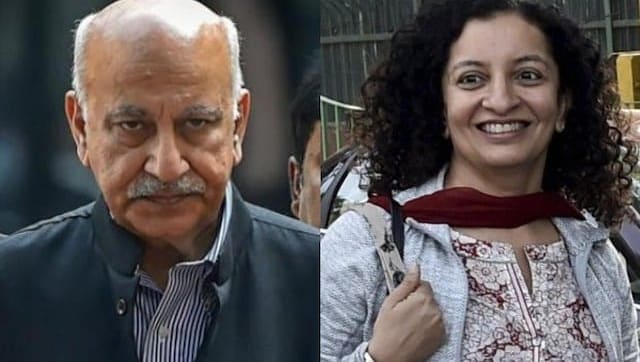 India
The court asked both the parties to respond on the point of settlement and get back on 24 November, the next date of hearing
World
The #MeToo survivor has accused Chinese CCTV host Zhu Jun of groping and forcibly kissing her in 2014. She is asking for a public apology as well as 50,000 yuan ($7,600) in damages