Four years of Modi govt's foreign policy: From Doka La to ties with Iran, Sushma Swaraj explains India's stand on global issues
The government has achieved 'unprecedented outreach and unparalleled outcomes' at the global stage in the last four years, EAM Sushma Swaraj said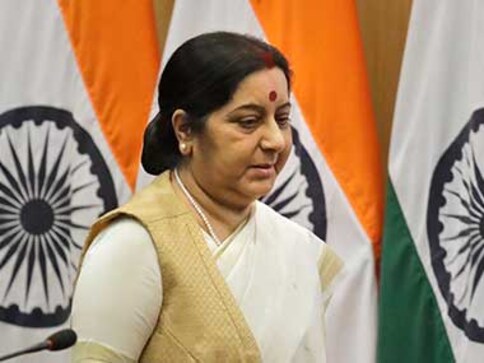 The BJP-led NDA government at the Centre has achieved "unprecedented outreach and unparalleled outcomes" at the global stage in the last four years, External Affairs Minister Sushma Swaraj said in a press conference in New Delhi on Monday.
Outlining the work of the Narendra Modi-led government in its four years of governance, Swaraj said India has secured membership of three export control regimes out of four since this government came to come in 2014, among achieving several other goals in foreign policy.
Addressing her annual press conference, Swaraj said the government has reached out to 186 out of 192 nations through its policies. Here are some of the key topics the Union minister touched upon during her speech on Monday:
Persuading the US over H-1B, H-4 visas
Given the US plan to scrap a rule allowing spouses of H-1B visa holders to work legally in the country, Swaraj said the government would make all efforts to persuade the Trump administration against such a move.
The US government is planning to end the Obama-era rule under which spouses of H1-B visa holders are given work permit or H-4 visa, a move that could affect more than 70,000 such visa holders. A significantly large number of these H-4 visa holders are highly-skilled professionals from India.
When asked about the US administration's move, Swaraj said it was true that President Donald Trump was reviewing the H-4 visa programme and there were reports of its possible revocation. "This is not just for H-4 — I am also talking about H1-B visa as well. We are making a three-pronged effort to save these visas. We are talking to the White House, we are talking to state adminstration, and we are also talking to Congressmen and Senators," Swaraj said.
This has yielded results as 130 members of Parliament, both Congressmen and Senators, have written a letter to Trump asking him not to revoke H-4 visas, stating that the American economy will be jolted by it, she said.
"We are trying our best to save H1-B visas, H4 visas. But America is a sovereign country. Ultimately they have to decide. How successful we will be, will be decided in the future. But I assure the country from this platform that we would not spare any effort," she said.
The H-4 visa holders had obtained work permits under a special order issued by the previous Obama administration. Indian-Americans were a major beneficiary of this provision; over 1,00,000 H-4 visa holders have benefited from this rule.
Ties with Maldives
Amid increasing strain in the India-Maldives relationship, Swaraj said that although bilateral ties may have seen ups and downs, they were "not broken and cannot be broken". She added that India plays the role of a counsellor and gives humanitarian assistance to the island nation.
"Maldives is our neighbour. 'India First' is part of their foreign policy. In ties with Maldives, whichever government has been in power (in India), there have been ups and downs. There had been ups and downs in the past, there are (ups and downs) now also. But ties with Maldives are not broken and connot be broken," Swaraj asserted.
Swaraj's remarks come days after Chief Admiral Sunil Lanba said Maldives is a "challenge" for India at the moment as its current government is more inclined towards China. Lanba's remarks indicated that the ties between New Delhi and Male were yet to reach a level of normalcy.
India's ties with Maldives nose-dived after it criticised the Abdulla Yameen government for imposing a 45-day emergency in the archipelago nation earlier in 2018. During the crisis, India had ignored calls for military intervention from Opposition parties in the island nation.
The influence of China over Maldives, an island nation in the Indian Ocean, considered a backyard of India, has been growing and it is seen as a concern in New Delhi.
Maldives neither participated in the multi-national 'MILAN' naval conclave, a congregation of littoral navies conducted biennially by the Indian Navy at the Andaman and Nicobar Islands, which was held in mid-March, nor did its defence minister lead his country's delegation to take part in the DefExpo2018.
Bringing Mallya back
Prime Minister Narendra Modi had conveyed his unhappiness to his British counterpart Theresa May over focus on conditions of Indian prisons during court hearings on extradition of fugitive Vijay Mallya to India, according to Swaraj.
Modi, during a meeting with May in London in April, told her that it was not proper for courts to ask about the condition of Indian jails as the British themselves had kept Mahatma Gandhi, Jawaharlal Nehru and other Indian leaders in these prisons, Swaraj said.
"These are the same jails where you (British) had kept Mahatma Gandhi, Jawaharlal Nehru and other top Indian leaders," Swaraj said, when asked about focus on conditions in Indian jails during hearing in a British court over Vijay Mallya's extradition to India.
She said Modi, during his talks with May on the sidelines of the Commonwealth Heads of Government Meeting, also raised the issue of delay by British authorities in sending back Indian fugitives.
Mallya's lawyers have been opposing Indian Government's plea for extraditing him, citing poor hygiene and overcrowding in Indian jails. A British court is considering India's requests for extradition of Mallya, who is facing charges of fraud and money laundering amounting to around Rs 9,000 crores.
On trade with Iran, Venezuela amid US sanctions
The Ministry of External Affairs on Monday said it will continue trading with Iran and Venezuela despite US sanctions against the two countries, asserting that it only recognises UN restrictions.
"We only recognise UN sanctions. We do not recognise any country-specific sanctions," Swaraj said. She made the remarks while responding to a question on whether US sanctions against Iran and Venezuela will hit India's oil imports from the two countries. Iran is India's third largest oil supplier. Venezuela is also one of the major suppliers of oil to India.
"We don't make our foreign policy under pressure from other countries," she said.
Earlier in May, the US had pulled out from the landmark Iran nuclear deal of 2015 under which Tehran had agreed to stop its sensitive nuclear activities in return for the lifting of crippling economic sanctions. Announcing the decision, Trump had reimposed sanctions against Iran which were suspended after the nuclear deal was finalised three years ago.
The US had also announced tightening sanctions against Venezuela following re-election of President Nicolas Maduro.
Swaraj also ruled out using cryptocurrency in oil trade with Venezuela saying the Reserve Bank of India had banned it. Her comments came hours before a meeting with Iranian foreign minister Mohammad Javad Zarif who is in New Delhi to seek India's support to salvage the nuclear deal.
China, Russia and several European nations have been trying to salvage the nuclear deal after United States' pullout.
According to the External Affairs Ministry, India-Iran bilateral trade during the 2016-17 fiscal was $12.89 billion. India imported $10.5 billion worth of goods, mainly crude oil, and exported commodities worth $2.4 billion.
On relations with China after Doka La standoff 
Swaraj said there was no change in status quo at the face-off site in Doka La, and asserted that a major outcome of last month's informal summit between Modi and Chinese president Xi Jinping was enhancing of mutual trust between the two countries. She said both sides managed to resolve the crisis through dialogue and diplomacy.
"The global community appreciated India for being able to resolve the Doklam standoff with China through dialogue and diplomacy," she said.
Swaraj said there were apprehensions that the standoff would not be resolved without the two neighbouring countries going to war. "There has been no change in the situation at the Doka La face-off site. Status quo is continuing," Swaraj said, replying to a question on the issue.
Asked about reports that some devotees at Kailash Mansarovar in China were not being allowed to take a holy dip in the lake, Swaraj said it was not correct. She said there has been a designated area for taking holy dip in the lake and it continues to be so. Hundreds of Indian pilgrims undertake the Kailash Mansarovar Yatra every year.
Swaraj said the informal summit between Modi and Xi was very successful as all its aims were achieved.
"The aim of the informal summit was to improve easiness in ties, enhance mutual understanding between the two countries on global issues and improve mutual trust. And we achieved all these three objectives," she said.
With inputs from agencies
also read
Explainers
A new survey published in The Lancet Diabetes & Endocrinology journal estimates that over 11 per cent of people across India suffer from diabetes. Experts say diabetes is no longer a disease of the affluent and those in cities and warned that patients are getting younger and younger
Explainers
Many on social media weren't pleased when Alejandro Núñez Vicente's design of a double-decker airplane seat went viral last year. Now back with an updated version, Vicente thinks his design will change the face of air travel. But some critics say it is unlikely to ever see the light of day
Explainers
In 2003, Kathleen Folbigg was dubbed Australia's 'worst serial killer' and sentenced to 40 years in prison for killing her four infants. But new evidence showing a rare mutant gene in her DNA suggesting the children died of natural causes led to Kathleen receiving a full pardon