Netflix shares soar on huge growth in subscriber additions | Reuters
Netflix Inc (NFLX.O) added many more subscribers in the third quarter than analysts expected as new original shows such as 'Stranger Things' kept users hooked to the service, sending the company's shares up 19 percent in extended trading on Monday.The company, which had reported disappointing subscription growth for the last two quarters, forecast current-quarter subscriptions that blew past analysts' expectations.Netflix added about 3.20 million subscribers internationally in the third quarter, beating the average analyst estimate of 2.01 million. (bit.ly/2e2gsRD)In the United States, Netflix added 370,000 subscriptions, compared with analysts' estimate of 309,000, according to research firm FactSet StreetAccount.The company, which started as a DVD rental firm in 1977, has been expanding in international markets to counter slowing growth in the United States
Netflix Inc (NFLX.O) added many more subscribers in the third quarter than analysts expected as new original shows such as "Stranger Things" kept users hooked to the service, sending the company's shares up 19 percent in extended trading on Monday.The company, which had reported disappointing subscription growth for the last two quarters, forecast current-quarter subscriptions that blew past analysts' expectations.Netflix added about 3.20 million subscribers internationally in the third quarter, beating the average analyst estimate of 2.01 million. (bit.ly/2e2gsRD)In the United States, Netflix added 370,000 subscriptions, compared with analysts' estimate of 309,000, according to research firm FactSet StreetAccount.The company, which started as a DVD rental firm in 1977, has been expanding in international markets to counter slowing growth in the United States. The service has a strong presence in more than 130 markets worldwide, except China.The company said it plans to license content to existing online service providers in China rather than operate its own service in China in the near term.
Netflix has been facing a slowdown in subscription growth in the United States as its decision to increase prices is putting off potential customers. It also faces competition from the likes of Hulu and Amazon.com Inc (AMZN.O).The company, whose other popular original shows include "Orange is the New Black" and "House of Cards", said it expects to add 1.45 million subscribers in the United States in the current quarter.
Analysts on average were expecting 1.27 million additions, according to research firm FactSet StreetAccount.In its international markets, it expects subscriber additions of 3.75 million, compared with the average analyst estimate of 3.32 million.Third-quarter revenue rose 31.7 percent to $2.29 billion.
Netflix's shares have surged in the past few years, driven by rapid growth as the company redefined television and fueled "binge watching".The stock, however, is down 12.7 percent this year as investors fretted about slowing growth in its domestic market and increasing competition. (Reporting by Rishika Sadam in Bengaluru; Editing by Don Sebastian)
This story has not been edited by Firstpost staff and is generated by auto-feed.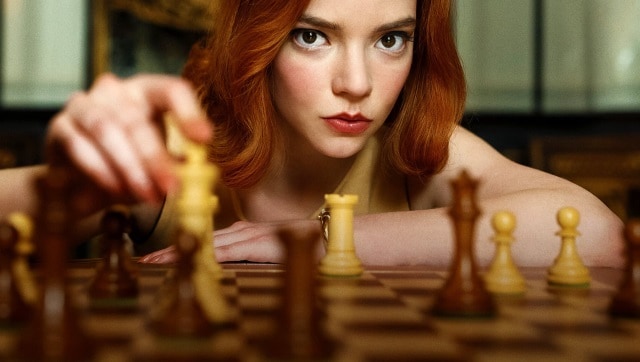 Sports
Gaprindashvili's lawsuit says the show falsely suggested that the ex-female world champion never played competitive chess with men, and states that she competed against dozens of top male players, beating 28 of them.
World
Defence Minister Benny Gantz met Abbas in Ramallah late Sunday for what were reportedly the first direct talks between an Israeli cabinet member and the 86-year-old Palestinian leader in several years
World
In the report "You're going to your death," the rights group said many Syrian refugees who returned home have been subjected to detention and torture by Syrian security forces