PM Modi raises temple attacks with Albanese: How Khalistani threat is growing in Australia
PM Narendra Modi in his meeting with his Australian counterpart Anthony Albanese raised the issue of temple vandalism in Australia. In the recent past, there's been a rise in Khalistani activity – several holy places have been defaced and the Indian consulate in Brisbane was forced to close
After receiving a rock-star reception at Qudos Bank Arena in Sydney where Australian prime minister Anthony Albanese called his Indian counterpart the 'boss', the two leaders held wide-ranging talks aimed at boosting the ties in areas of renewable energy, trade and defence.
Prime Minister Narendra Modi also raised the issue of the vandalism of temples in Australia as well as the closure of the Indian consulate in Brisbane owing to growing Khalistan sentiments.
"PM Anthony Albanese and I have in the past discussed the issue of attack on temples in Australia and activities of separatist elements. We discussed the matter today also," PM Modi said. He added that the Australian PM had assured him of strict action against those indulging in such vandalism.
"Prime Minister Albanese assured me once again today that he will take strict actions against such elements in the future also. It is not acceptable to us that anyone hurt the friendly and cordial ties between India and Australia by their actions or ideology," added Prime Minister Narendra Modi.
In recent times, Australia has seen a rise in anti-India sentiment, courtesy Khalistani elements. Temples have been vandalised, people of Indian origin have been attacked and even the consulate has been defaced.
Here's a look at the growing Khalistan menace in Australia and how little has been done until now.
Attack on the Indian consulate in Brisbane
On 15 March, Khalistani supporters attacked the Indian consulate in Brisbane, forcing it to shut down.
The honorary consulate, located on Swann Road in the Taringa suburb of Brisbane in Australia's Queensland was first targeted on the night of 21 February. Honorary Consul of India in Brisbane Archana Singh found a Khalistan flag attached to the office when she arrived on 22 February. She immediately notified the Queensland Police, which confiscated the flag and ensured that the consul was not under any immediate threat, reports news agency ANI.
The consulate was shut down on 15 March after Khalistani extremists blocked the entrance. Slogans were raised against Hindus calling them supremacists with 'Khalistan Zindabad', according to a report in The Australia Today.
The Queensland police said it was an unauthorised gathering.
"Indian consulate was forced to close due to safety concerns after Sikhs for Justice targeted them with their propaganda," Sarah L Gates, director of Hindu Human Rights, told The Australia Today.
Sikhs for Justice is a United States-based group seeking a separate homeland for Sikhs, a "Khalistan" in Punjab. Its presence has been growing in countries like Australia and Canada with attacks on Hindus and temples growing.
Indians and Indian-Australian lives are getting affected because of increasing Khalistani activities.
Parvinder Singh, a resident of Queensland took leave from work for an appointment at the Indian consulate. His work was stalled. "These thugs should not be allowed to dictate how we live our life in Australia," Singh told Australia Today. "They are threatening us when we visit the Gururghar (gurdwara) and now Khalistani supporters are entering into our daily life for worse."
"Till now, there have been attacks on Indian Australians. But now, the target is institutions belonging to the Indian government. This is a direct attack on the Government of India when the Indian Consulate in Brisbane is attacked (by Khalistani elements)," J Bhardwaj, editor of the publication said while speaking to ANI.
The police have reportedly stepped up surveillance in the area. However, the increased activities of Khalistani supporters in the country cannot be ignored.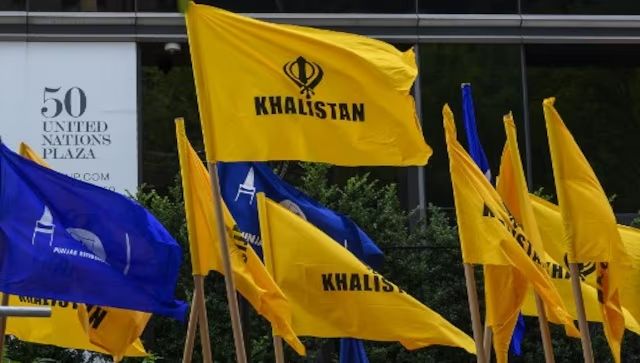 'Terrorising Australian Hindu community'
The last few months have seen several attacks on Hindu temples in Australia.
Since January, at least four Hindu temples were attacked by Khalistani elements.
On 8 March, as Albanese left for India, Shree Swaminarayan Mandir in Perth, Western Australia received a threatening call from Khalistan supporters. The man warned the temple president that Hindus should support Khalistan or face dire consequences, The Australia Today reports.
On 4 March, Shree Laxmi Narayan Temple in Brisbane was vandalised, as anti-Hindu graffiti was scribbled on its wall. "Khalistan supporters are terrorising the Australian Hindu community and making it a very traumatising experience to practice our religion and visit temples," a long-time resident of the suburb said.
Now, Shree Laxmi Narayan Temple defaced in Brisbane, Australia.

A week ago, Consulate of India in Brisbane was targeted by Khalistan supporters. pic.twitter.com/aHP0a8w4yn

— Anshul Saxena (@AskAnshul) March 4, 2023

On 16 February, a priest of a Kali Mata temple in Melbourne received a threat for organising a bhajan (devotional songs) programme.
In January, two people were injured and two Sikh men were detained when two separate brawls broke out between Khalistani activists and pro-India demonstrators in Melbourne during the so-called 'Punjab independence referendum'.
In January, there were three attacks on Hindu temples in the city: The walls of Hare Krishna Temple located at Albert Park were defaced with 'Khalistan Zindabad' and 'Hindustan Murdabad.' The miscreants reportedly hailed slain Khalistani terrorist Jarnail Singh Bhindranwale as a martyr. Then the Shri Shiva Vishnu Temple in the Carrum Downs suburb was vandalised during the "Thai Pongal" festival.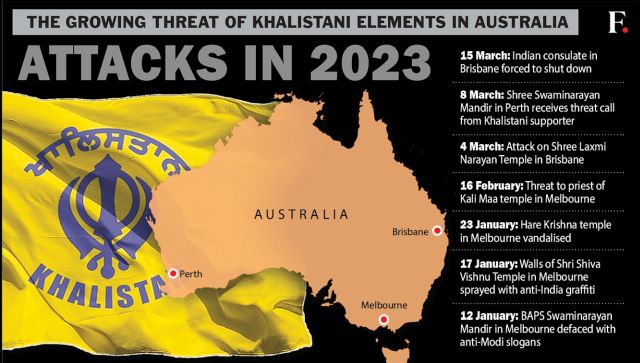 Among the first attacks, this year was at the BAPS Swaminarayan Mandir in Melbourne. It was defaced with anti-India graffiti, demeaning Prime Minister Narendra Modi by local Khalistani supporters on 12 January.
India's concern
The Hindu population in Australia is growing fast. The 2021 census found there were about 210,000 Sikhs in Australia – up from 130,000 in 2016 – with almost half this cohort living in Victoria. The number of Hindus in Australia grew from 440,300 in 2016 to 684,000 in 2021. Immigration has made it the fast-growing religion in the country.
The Indian government is concerned and has brought up the matter time and again.
When Albanese was in India in early March, the attacks by Khalistan supporters on Hindu religious sites was discussed. "It is a matter of regret that reports of attacks on temples have come regularly from Australia over the past few weeks. It is natural that such news worries everyone in India, disturbs our mind," Prime Minister Modi in a joint press conference with Albanese had said.
Foreign ministers – Penny Wong of Australia and S Jaishankar of India – had discussed the matter in their bilateral talks as well in February. During his visit to Sydney, the Indian diplomat emphasised the need for vigilance against "radical activities".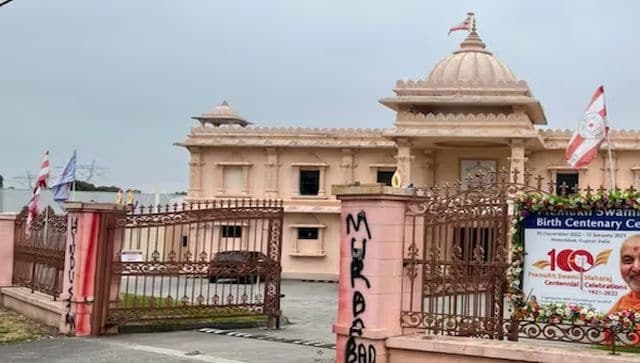 In January, when the attacks began, the Indian High Commission in Canberra issued a strongly worded condemnation, blaming pro-Khalistan groups like Sikhs for Justice. "The frequency and impunity with which the vandals appear to be operating are alarming, as are the graffiti which include glorification of anti-Indian terrorists. These incidents are clear attempts to sow hatred and division among the peaceful multi-faith and multi-cultural Indian-Australian community," said the High Commission.
"Signals that pro-Khalistan elements are stepping up their activities in Australia, actively aided and abetted by members of proscribed terrorist organisations such as the Sikhs for Justice (SFJ) and other inimical agencies from outside Australia, have been evident for some time," it added.
Assurances from Australia
Albanese has reportedly assured PM Modi that the Australian authorities will deal with the matter to assure social stability.
The Australian leader said that such attacks have no place in his country, "…we will take every action, through our police and security agencies, to make sure anyone responsible for this faces the full force of the law."
The time is now for Canberra to act on its promise.
With inputs from agencies
Read all the Latest News, Trending News, Cricket News, Bollywood News,
India News and Entertainment News here. Follow us on Facebook, Twitter and Instagram.
also read
World
Anthony Albanese said the partnership of Australia with India will deliver benefits for trade, investment and business
World
During his address, PM Modi urged the Indian diaspora to bring their Australian friends and their families to India whenever they plan to visit the country
India
PM Modi mentioned the famous Chatkazz 'Chaat' and 'Jalebi' from Jaipur Sweets at Harris Park. He even asked the people of the Indian diaspora to take the Australian PM Anthony Albanese to that place