Trivikram brought light into our dark lives via Aravinda Sametha, says Jr NTR at film's success meet
Aravinda Sametha, the Telugu action drama that marked the first time collaboration of Jr. NTR and Trivikram, has struck gold at the box-office.
Aravinda Sametha, the Telugu action drama that marked the first time collaboration of Jr. NTR and Trivikram, has struck gold at the box-office.
The film, which also stars Pooja Hegde, Jagapathi Babu, Sunil and Supriya Pathak, has grossed over INR 100 crore in its opening weekend and continues to run to packed houses everywhere. In the US, it has breached into the $2 million club, becoming the tenth Telugu film to achieve this feat. To celebrate its grand success, the makers organised a success meet on 21 October in Hyderabad and the event was presided over by actors Nandamuri Balakrishna and Kalyanram.
Set against the backdrop of Rayalaseema and revolving around two warring families that have been at loggerheads for over two generations, the film talks about the aftermath of war and how it changes one man's opinion about revenge and peace. Speaking on the occasion, NTR thanked audiences for accepting the film making it successful. He specifically thanked Trivikram for bringing lightness into the dark life of his family which is still mourning the recent death of his father Nandamuri Harikrishna, who passed away in a road accident.
"I'd like to wholeheartedly thank Trivikram, who is a friend and well-wisher, for breathing life into a different attempt. He brought a new light into our lives which have been shrouded by dark clouds after the recent tragedy. He's given me a film to remember for a lifetime. This success doesn't belong to me alone. I'd also like to thank to every technician and actor who shouldered this film and made it successful," NTR said, thanking his uncle Balakrishna for taking out time to attend the event.
Jagapathi Babu played the film's antagonist and his menacing character left audiences in shock. He said nobody else could've portrayed his character as cruelly as Trivikram. "I don't think any other director could've shown me as cruelly as Trivikram. If my character Basi Reddy is being celebrated in every nook and corner of Telugu states, the credit goes to Trivikram and vision." Jagapathi went on to narrate his association with the Nandamuri family. "My days as a hero were over in 2010. In 2012, I started my career as an antagonist with Balakrishna's Legend. I worked with Tarak in Nannaku Prematho and now in this film. I'm glad the association with Nandamuri family is continuing with really good roles."
Pooja Hegde said she has so much to learn from NTR's commitment. She also thanked Trivikram for writing strong women characters in the film, which showcases the aftermath of war through the perspective of women. "Rarely women get such strong characters in mainstream cinema. I'd like to thank Trivikram sir for writing such strong roles. I hope I get more such challenging characters." Talking about NTR, she said he's an amazing co-star. "I though I'm very committed. But after seeing Tarak work, I realised I have a long way to go. To shoot a happy song after the tragedy in his life takes a lot of courage and commitment."
Balakrishna congratulated the entire unit for the film's grand success. He said audiences need to be thanked specially for celebrating the film, which is doing extremely well in both Andhra and Telangana. "This success belongs to the audiences who have embraced this film. I really like Trivikram's work and his strength is in his writing and this film is a perfect example. He's Telugu cinema's pride and we have to celebrate him," said Balakrishna.
Trivikram, in his very brief speech, thanked each and every member of the crew. He said the film wouldn't have been possible if not for the support of every single member of the team.
Entertainment
Was 1971 the gold standard for pop, rock and soul? Any answer would be drenched in subjectivity. But it was absolutely an exit point from the '60s into a hectic new era, hard to define but rich in conflict and possibility.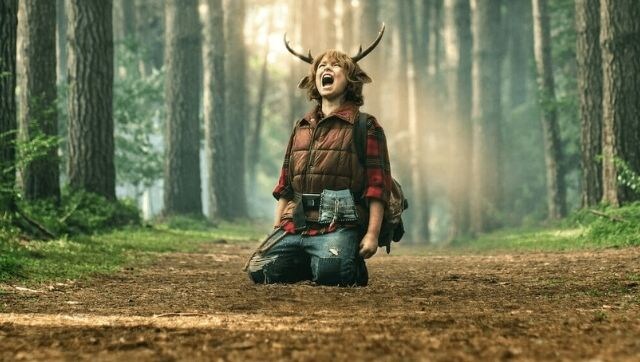 Entertainment
Sweet Tooth is much tamer than its source material, but nonetheless, is a wholesome and beautiful, if unthreatening road trip.
Entertainment
The Mumbai Police said that the incident is old and involves a 17-year-old complainant