Tiger Shroff on transforming into a 'one-man army' in Baaghi 2: I trained really hard, put on 5 kg of muscle
Four films old, and yet one can see the maturity and confidence in Tiger Shroff. Excerpts from an interview with the actor who is waiting for the release of Baaghi 2 with bated breath.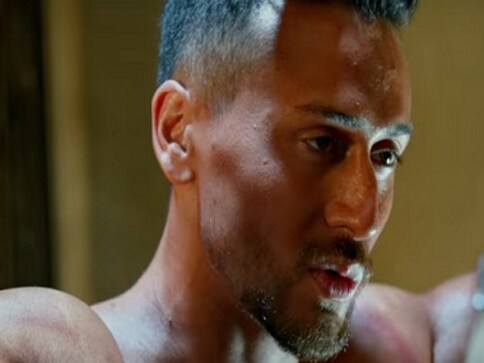 His death-defying stunts, mid-air punches and kicks, amazing somersaults and fluid dance moves can leave you stunned. But Tiger Shroff's off-screen demeanor is a complete contrast: calm and reserved. He is reticent, endearing, soft-spoken and a man of few words.
Perhaps, the contrasting personality works in his favour as Jr Shroff has a massive fan following among younger audiences.
Four films old, and one can see the maturity and confidence in the action star as he saunters around his mentor Sajid Nadiadwala's spacious office armed with perfect abs and a shy smile. Excerpts from an interview with the man of the moment, who is anxiously awaiting action flick Baaghi 2.
For Baaghi 2, you seem to have gone through a complete transformation.
I have never changed myself before like I've done for Baaghi 2. I completely chopped off my hair, pushed myself physically and put on muscle for the role. We had to push the envelope in action. Luckily, we scaled up on that front and went outdoors. I am fighting men and machines, as you can see from the helicopter scene. I had to put on five kg of muscle; I trained really hard for that. All these things were very challenging for my character and for me personally, as well. But I am quite open to these changes now. My new hair cut was very well-accepted by the public. I was initially very scared about how they would react to my new look. Their acceptance has given me the confidence to take risks and try different looks.
Did director Ahmed Khan ask you to stress more on your voice?
He asked me to speak from my stomach, and not my throat, to come across stronger. Ronnie [Tiger's character in Baaghi 2] is a one-man army. He needs to look like he can take on an army all by himself. Everything from the physicality to the dialogue has come out like that.
Do you fear being stereotyped as an action hero?
It was my dream to be an action hero! Action is such a universal language; a powerful expression. You may not understand what I am saying, but if I throw a punch or a kick, you will understand that. That is what is really intriguing about this expression.
I believe that mainstream heroes have always been action heroes — Salman Khan, Sunny Deol, Sanjay Dutt, Jackie Shroff. These guys were the macho heroes in the 1980s and 1990s. Then in the new millennium, Hrithik Roshan was perhaps the last action hero. After that, the romantic comedies and chocolate-boy heroes have become the reigning urban multiplex flavour. Today they don't make hard-core action heroes any more. You can give me the tag, I don't mind that. The fact that you have given me one is a sign that perhaps I have already made some sort of impression.
Also read: Baaghi 2 star Tiger Shroff has carved out a niche in Bollywood as the go-to guy for action, dance movies
Your last two films, A Flying Jatt (2016) and Munna Michael (2017), didn't do well at the box office. What did you learn from these failures?
I don't know if you can ever point out what was right or wrong. You never know what will work, or what will not. After the success of Heropanti (2014) and Baaghi (2016), I was on cloud nine. I felt whatever I touched would turn to gold. Besides, I have a fan following in kids, and I'm doing action films where I play a superhero [referring to A Flying Jatt], that's a sureshot [hit], how can that not work? That is what the kids want to see. So how did that not work? (pauses)
When a picture doesn't work, the blame game starts. I don't like to blame anyone but myself. I would ask myself what I did wrong. But I don't know what I did wrong. I don't want to say stuff like story wasn't good, second half wasn't great, the director didn't do a good job. So, I have to blame myself, but I don't know what to blame myself for. You have to move forward.
Do you discuss with your family or friends to understand what went wrong?
No, I am very internal. I have purposely kept my family away from my career. I don't want people to say, 'Arey yeh Jackie Shroff ke beta hai [Oh, he's Jackie Shroff's son].' I want my own identity. I want people to call me Tiger, not Jackie Shroff ka beta.
Baaghi (2016) was a hit. Do you feel the pressure for Baaghi 2 to follow suit?
Definitely, but that is healthy pressure. You have to take the franchise forward. The fact that they have announced the third part shows the confidence that the makers have in the film.
Is it comfortable working with Disha Patani?
Yeah, definitely. Just the chemistry that we share, the comfort factor, both on and off the sets, it really helps while doing an emotional or romantic scene.
The film is adapted from the Telugu film Kshanam (2016). Have you seen the film?
No, I chose not to watch it because I didn't want to start going through the same route taken by that actor [Adivi Sesh]. I wanted to give my own take on it.
You have signed Student Of The Year 2. Is that a move to break away from the action hero image?
I am not doing it intentionally. I am not experimenting. I am just happy with what I have on my plate. Student Of The Year 2 is a complete contrast to what I am doing currently. That is out-of-the-box stuff for me. Here [in Baaghi 2] I am a one-man army, there I am getting bullied. I will have to lose my muscles to look more like a college boy. The body language will have to change. I don't know what my look is going to be. Maybe I will be asked to grow my hair, trim my beard.
Then, with Hrithik [Roshan] sir, there is an action bonanza coming up. I will be shooting for Student Of The Year 2 first, then the movie with Hrithik. Rambo will be after Baaghi 3.
Hollywood icon Sylvester Stallone had tweeted a video about Rambo being remade in India.
Yes, I saw that, his reaction was amazing. I have grown watching the man. He shared the poster and wished me luck. That was a good feeling, to get a few words of encouragement. What more I could have asked for?
How would you react to the 'Ek Do Teen' song getting mixed reviews?
That's unfortunate. Honestly, the intention was to just pay a little tribute, homage to a legendary person like Madhuri ma'am. It's a lovely song as well. Sajid [Nadiadwala] sir wanted to relive, recreate those tunes. I thought Jacqueline did a great job. It's unfortunate that it got mixed reviews. By no means can you compare [her] to the great Madhuri Dixit. It's just a small tribute from our side. We haven't done it to ruin the song. Jacqueline did her best, I am proud of her.
Entertainment
The video of the actor's gesture is going viral on social media.
Entertainment
Twitter users were furious at Jimmy Kimmel's error in calling RRR a "Bollywood" movie and immediately expressed their displeasure at the matter.
Entertainment
Rani Mukerji starrer Mrs Chatterjee vs Norway released on 17 March 2023.