Sui Dhaaga stars Varun Dhawan, Anushka Sharma signed as ambassadors for PM's Skill India campaign
Varun Dhawan and Anushka Sharma's Sui Dhaaga: Made in India endorses a life of self-reliance and entrepreneurship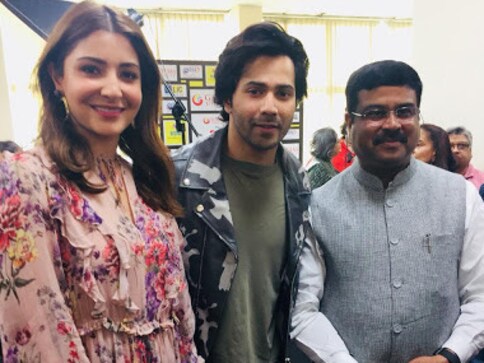 Varun Dhawan and Anushka Sharma, through their much awaited film Sui Dhaaga - Made in India, are saluting India's entrepreneurs and skilled workforce, especially homegrown artisans, craftspeople and weavers. Now, the actors have been signed to endorse the Skill India mission to promote India's skilled talent by engaging with them across different parts of the country.
Speaking about the association, Varun Dhawan, who plays a tailor, Mauji, in the film, said that the campaign aims at train and provide financial support to craftsmen and artisans and praisrf Prime Minister Narendra Modi for chairing the initiative. "We are proud to be promoting this campaign that we feel extremely close to like our movie Sui Dhaaga that celebrates self-reliance and entrepreneurship'' he said.
Anushka Sharma added, "Skill India Campaign reflects the government's determination to include and support the talented skilled force of the country. While making Sui Dhaaga, we came across so many stories of talented, skilled crafts people and artisans who don't get a fair chance to showcase their talents."
Dharmendra Pradhan, the Minister of Petroleum and Natural Gas, and of Skill Development and Entrepreneurship said that it was heartening to witness young actors such as Varun Dhawan and Anushka Sharma doing a film with a significant social message.
"India is one of the youngest countries in the world; and it is a matter of great pride for us to see such dedicated and passionate skilled youth with entrepreneurial skills in our country who are bringing name and fame to the nation with their work." he said in a statement.
He further added that his wished Sui Dhaaga is able to influence the youth to take up skill training.
Directed by Sharat Kataria and produced by Maneesh Sharma, Sui Dhaaga will release on 28 September.
Watch the video of the actors promoting Skill India campaign here:
Entertainment
While replying to Hema, Rakhi said that this was supposed to be a big surprise, and although PM Modi and Home Minister Amit Shah were about to announce it, she is grateful that Bollywood's dream girl has done it.
Entertainment
When PM Narendra Modi talks the world listens. It's not the accent or even the language (be it Hindi or English). It's the sincerity of each word he utters that makes him more than just a rigorously rehearsed orator.
Entertainment
Prime Video today dropped a humorous film where we see Varun Dhawan being questioned by his neighbor, his driver and even his makeup artist for inside scoops on their favorite Amazon Originals.