Sanjay Dutt's Bhoomi shoot in Agra may be discontinued after controversial brawl with journalists
Sanjay Dutt's comeback film Bhoomi found itself in trouble when a group of media persons were allegedly 'roughed up' by the security and crew members of the Omung Kumar directorial on Thursday 4 March 2017.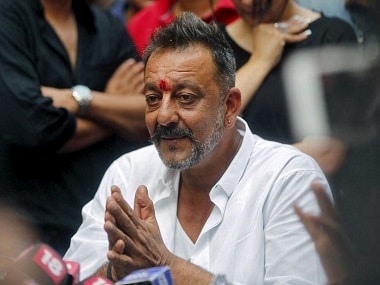 Dutt and Aditi Rao Hydari were in Agra for shoot. Trouble started at VVIP road near Taj Mahal when a large number of people gathered to have a glimpse of shooting along with persons from the media. In the mean time, his bouncers started pushing the crowd away and they even manhandled some of the media persons and allegedly snatched their camera, which led to a journalist registering a complaint against the film unit.
Producer Sandeep Singh, however, claims that this is an attempt to get publicity on Sanjay's name, reports Mumbai Mirror. He said that though they've been shooting in the city since the last 10 days and yesterday's location was a petha shop, but now after this incident, they might not continue the shoot in Agra.
He said, "Luckily Sanjay had left the location an hour before the incident but at the hotel he had to come out and apologise. The man who started it all was wearing a blue shirt earlier. He turned up in a torn, white shirt at the hotel and claimed the bouncers had ripped it. If such incidents continue, producers will be afraid to shoot outside Maharashtra," he warns, admitting he's lost two days of work and claims he's unaware of the FIR. "We were supposed to shoot for another month here but now I'm not sure."
Sanjay Dutt on brawl during Bhoomi shooting: 'It's a shame'
Updated Date: Mar 04, 2017 16:19 PM