Chitrangda Singh, Freida Pinto, Parineeti Chopra tweet support for Tanushree Dutta after harassment revelation
Tanushree Dutta accused Nana Patekar of inappropriate and aggressive behaviour on sets of 2009's Horn 'OK' Pleassss after which she withdrew from the film
Tanushree Dutta recently opened up about an alleged sexual harassment incident which occurred 10 years ago. The actress accused Nana Patekar of inappropriate and aggressive behaviour on the sets of 2009 film Horn 'OK' Pleassss, which ultimately pushed her to retract from the project. Arousing the debate on whether the #MeToo movement would succeed in Bollywood, Dutta had revealed that no one came to her support a decade ago when she spoke about Patekar's alleged behaviour.
(Also read — Tanushree Dutta accuses Vivek Agnihotri of harassment: Irrfan Khan, Suneil Shetty stood up for me)
Actress Sapna Pabbi, known for her work in Anil Kapoor-starrer TV series 24, spoke out in support of Tanushree Dutta, recounting her own encounter with sexism at workplace. In an Instagram post, she said that she was forced to wear a bikini for a song sequence by a director, despite her discomfort.
Chitrangada Singh, too, came out in support of Dutta and congratulated the actress for standing up and taking names of her perpetrators. "I totally support Tanushree and kudos to her for standing up, taking names and saying exactly what happened with her. It takes a lot of guts to do what she's doing and to be able to come forward after all these years. I'm pretty sure she knew what will happen when she speaks up - the trolling, the comments, the opposition" She further said, "Whatever her reason is to come out now and not come out then, doesn't make a difference, what matters is that she's telling her truth. And if she is, it should be heard, it doesn't matter when you tell it. There are so many rape or molestation victims who might not have been in a state of mind to talk about an incident when it happened and choose to speak up later. It doesn't matter when you say it, but if it's the truth, it has to be heard." Shilpa Shetty said that her empathised with Tanushree, stating that no woman should go through any kind of indignity . "As a woman I don't think any woman should go through any kind of indignity. I don't know the details but my heart goes out to Tanushree if she been through any kind of trauma that she's talked about." she said, as per News18. Love Sonia star Freida Pinto shared an Instagram post with an image that read " I Believe Tanushree Dutta", on 2 October. The post drew a parallel with Dr Christine Blasey Ford, who has accused US President Donald Trump's Supreme Court nominee Brett Kavanaugh of sexually assaulting her.
Recently, Richa Chadha, a well-known voice of dissent against sexual harassment in Bollywood, has spoken up about the issue. Chadha took to her official Twitter handle to defend Dutta's claims. Chadha responded to news that claimed that Tanushree's confessions on the matter were a mere publicity stunt. Richa tweeted saying that no woman would expose herself to ridicule and insensitive trolling just for the sake of publicity.
It hurts to be #TanushreeDutta rn. To be alone, questioned. No woman wants publicity that opens the floodgates of trolling and insensitivity.What happened to her on set was intimidation.Her only fault was she didn't back down-takes a special courage to be #TanushreeDutta. — TheRichaChadha (@RichaChadha) September 27, 2018
Actor-cum-director Farhan Akhtar also came out in Tanushree's support by highlighting Janice Sequeira's Twitter thread where she claimed to be on the sets of the film and witnessed the harassment that Dutta had to face when she refused to dance with Patekar. Akhtar reiterated Janice's statement and said that Tanushree's courage should be lauded rather than her motives questioned.
This thread is very telling. @janiceseq85 was there at the time of the incident being debated today. Even when #TanushreeDutta had career concerns to keep quiet 10 years ago she did not & her story hasn't changed now. Her courage should be admired, not her intention questioned. https://t.co/Ola3MNdmtS — Farhan Akhtar (@FarOutAkhtar) September 27, 2018
Priyanka Chopra tweeted agreeing with Akhtar's statement, saying that the world ought to believe the survivors of such harassment.
Agreed..the world needs to #BelieveSurviviors https://t.co/ia82UsCkkq — PRIYANKA (@priyankachopra) September 28, 2018
Sonam Kapoor voiced her support as well.
I believe #TanushreeDatta and @janiceseq85 recollection of the account. Janice is my friend, and she is anything but an exaggerator or a liar. And it's upto us to stand together. https://t.co/sF3mS5o1P8 — Sonam K Ahuja (@sonamakapoor) September 28, 2018
Many of my co-workers,female and male have been harassed and bullied, but it's their story to tell. If we don't encourage their voices and instead vilify and question them, how will victims ever become survivors? Let them speak up! Stand up with them! — Sonam K Ahuja (@sonamakapoor) September 28, 2018
Parineeti Chopra tagged sister Priyanka's tweet and voiced the fact that the issue needs to come out in public.
I agree too. Survivors are survivors because they have dealt with something horrible and come out on the other side. So believe them, respect them. @janiceseq85 #TanushreeDutta — Parineeti Chopra (@ParineetiChopra) September 28, 2018
Konkona Sensharma spoke out as well, lauding Dutta's courage to come out and speak.
Please read this thread. We all know the reality of the power imbalance that exists in the workplace. Let us encourage these voices instead of shaming them so that others may have the strength to come forward. https://t.co/5NefCpWpCs — Konkona Sensharma (@konkonas) September 28, 2018
Director Anurag Kashyap tagged Janice's tweet mentioning that all speculations revolving around Tanushree's intentions should immediately stop.
This should stop the speculation .. about the intention of the survivor https://t.co/1R9Zs12DIM — Anurag Kashyap (@anuragkashyap72) September 28, 2018
If my previous tweet sounds vague let me clarify it. This should stop the questioning of intention of Tanushree Datta because there is a witness account of what happened and @janiceseq85 is as credible as the come . — Anurag Kashyap (@anuragkashyap72) September 28, 2018
Actor Siddharth spoke up about the issue stating that accounts of sexual abuse should be heard irrespective of time.
If a women speaks out about abuse, you listen. Even if it's on her deathbed 50 years after the incident,you listen. If you ask why she didn't speak earlier or you rush to dismiss her, the problem is with you. There will be investigation; but first, listen. Period. #TanushreeDutta — Siddharth (@Actor_Siddharth) September 28, 2018
Reporting abuse is traumatic. To be analyzed in public for it is torture. To have some bastard suggest the woman is doing it for attention is inhuman. You always give the victim benefit of the doubt. Enough with shaming! Innocent men will overcome any accusation! #TanushreeDutta — Siddharth (@Actor_Siddharth) September 28, 2018
Raveena Tandon and Chitrangada Singh spoke out as well.
I believe #TanushreeDutta Such people should be listened and admired. More power to you 👏 https://t.co/NLB3nQbZp7 — Chitrangana Singh (@chitrangana98) September 28, 2018
When our industry fails to stand for and protect its own.They get their chance and lose it.Makes our films on women empowerment hollow.The deafening silence on #TanushreeDutta case is sickening. remember the controversy breaking out .( part 1) — Raveena Tandon (@TandonRaveena) September 28, 2018
Comedian Vir das defended Dutta saying her filmography was completely disconnected to her statements on sexual harassment.
Would just like to put this out there. An actor's professional choices should not dictate how they get treated in the work place. All work places must be safe and fair. If you're bringing up an actors filmography to justify the harrasment they faced....you're a piece of shit. — Vir Das (@thevirdas) September 28, 2018
Swara Bhasker also tweeted out saying she believed Tanushree's account.
#IBelieveYouTanushreeDutta https://t.co/slMxDwcGWx — Swara Bhasker (@ReallySwara) September 27, 2018
Sacred Games actor Kubbra Sait said that she was thankful to Janice Sequeira for standing by Tanushree Dutta in her difficult times, declaring that she supports the actress.
I conclude by saying, I support #TanushreeDutta then, now and every other woman who stands up for herself so the future will be brighter gratefully to to the #MeToo movement. Let's raise ourselves and our voice for the brave. — Kubbra Sait (@kubrasait) September 29, 2018
Filmmaker Hansal Mehta too posted a series of tweets, in support of Tanushree Dutta
We must stop asking 'what did you about it then' and start asking 'what can we do about it now'. It's now or never. — Hansal Mehta (@mehtahansal) September 28, 2018
Twinkle Khanna tweeted out saying that it was essential for actors to get a safe working environment during work.
Please read this thread before judging or shaming #TanushreeDutta a working environment without harassment and intimidation is a fundamental right and by speaking up this brave woman helps pave the way towards that very goal for all of us! https://t.co/f8Nj9YWRvE — Twinkle Khanna (@mrsfunnybones) September 28, 2018
To all the people making stupid insinuations about a 'publicity stunt' there are now two very credible witnesses with the same story #TanushreeDutta https://t.co/idbUSXaTbo — kunal kapoor (@kapoorkkunal) September 28, 2018
Recently, Shyni Shetty, who claims that the 2009 film was her first project as an Assistant Director, confirmed Sequeira's account on her Twitter thread saying that the series of incidents happened exactly as Sequeira reported.
Everything in this thread happened exactly the way it's written. It was my first film as an AD. I was proud of what you did then, @TanushreeDutta and I'm proud of you today. https://t.co/5IX01qn0nb — Shyni Shetty (@SceneSorted) September 27, 2018
A recent report in NDTV states that Dutta had even gone on to criticise Rajinikanth and Akshay Kumar for continuing to work with Patekar despite knowing about the goings-on on the film set.
Nana Patekar responded to Dutta's allegations by denying the claims and saying that he would consider legally taking an action against the actress.
Disclaimer: Janice Sequeira is the host and creator of Firstpost's show Social Media Superstar
Entertainment
As Priyadarshan returns to Bollywood after a hiatus of eight years with Hungama 2, a look at his popular Hindi comedy films.
Entertainment
Shilpa Shetty says she refused offers of scripts about hard-hitting subjects and heroine-centric plots, as they lacked commercial value.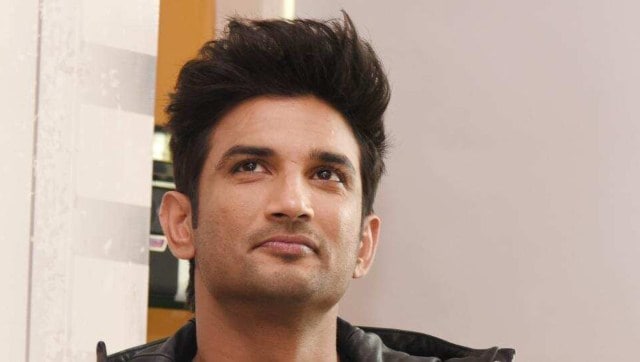 Entertainment
Sushant Singh Rajput's father Krishna Kishore Singh had appealed against the single-judge order refusing to stay the release of the film Nyay: The Justice, allegedly based on late actor's life.