'Tanushree walked out of sets twice, it is obvious something happened': Horn OK Pleasss assistant director Shyni Shetty
Writer Shyni Shetty, who was an assistant director on the film Horn Ok Pleassss, elaborates on exactly what happened between Tanushree Dutta and Nana Patekar that day 10 years ago.
(Editor's note: Writer Shyni Shetty, who was an assistant director on the film Horn Ok Pleassss, tweeted about the incident involving Tanushree Dutta and Nana Patekar, where the former accused the latter of sexually harassing her during the making of an item song. In this personal account, Shetty elaborates on exactly what happened that day 10 years ago.)
The incident
Horn Ok Pleassss was my first film as an assistant director. We were shooting an item song on set in Filmistan Studios and the shoot had not begun since there was a bit of artwork pending. We had been rehearsing for the song the previous day. Since it was my first time as an AD, I was on set trying to make sure everything was in place. Typically what an AD does — making sure the costumes, the props are in place and that everyone is on time.
While the rehearsals were going on that day, I could see that Tanushree was very uncomfortable. She was uncomfortable with the steps and the way the song was being rehearsed. Ofcourse, she didn't scream and shout on set, she went to her vanity van very quietly. Post that there was a whole phase of lots of people going in and out of her vanity van. As an AD, I didn't really know what happened. There were murmurs that she's not cooperating — but we didn't know what about.
Soon she came back on set and we thought, okay, now the shoot will resume. But in less than half an hour she stormed out of the set, went back into her vanity van and shut her door. By this time we were convinced something had happened.
Since this was my first film, I was still very enamored with how things function. Also, I was an eager worker, all about the continuity, and notes, and this and that. So I wasn't one of those people who was a part of the discussions that were happening on set about the incident. What I did see is that she stormed out of the set and the men (director, producer, choreographer) were discussing something very seriously.
Next thing I know, Tanushree's parents were on set and she walked out of the vanity van in her regular clothes, and got into her a car — I think it was a black luxury car. We didn't even realise how and when, but there was a mob on set by this time. There were many people talking in Marathi but I couldn't tell if the mob was from MNS. This was my second year in Mumbai, so I couldn't tell. Some people on the set knew Marathi so they were trying to talk to her, and pacify her but she was unwilling.
As she tried to leave the set, there was a mob going crazy and they broke the window of her car. She was stuck there for 15-20 minutes unable to do anything. Finally she left.
I didn't personally see Tanushree talk to anyone about the incident but that's because I was not inside her vanity van. There were many people going in and out of her vanity van, so I'm guessing discussions were happening. You could tell from her face she was uncomfortable.
Post this incident we didn't shoot for two days, and then we had Rakhi Sawant step in. The first two days that Rakhi shot for the song we had a lot of press on the set, since this had already become a bit of a controversy. It was a sensationalised piece of news.
I also wasn't there when Nana said that Tanushree is like his daughter and he would never do such a thing. So I can't confirm that happened.
'Nana Patekar was sweet to me'
This was my first film, and Nana was very sweet to me and was very helpful. Before I came on board the film, I heard all these stories about how he has a temper and how he's very difficult to handle, but he was very nice to me. He told me where to give the clap, when the lens was wide, and things like that. My director, choreographer and first AD were also very helpful. Nobody ever made a pass at me.
But does that absolve them of what happened with Tanushree? No. We are seeing this in Hollywood pretty much every single day. Whether it's Bill Cosby or Louis CK — these are all great artistes. But does that absolve them of what they did?
If Tanushree walked out of the sets twice it is obvious that something happened that upset her. I remember clearly seeing how uncomfortable she was. I didn't get to speak to her about it, but these were my observations. I didn't have the kind of access to actors that I could go into their vanity and ask what happened. We had chatted on set but not about the incident. And I never worked with her post this.
'Claim that she's doing this for publicity makes no sense'
This incident happened 10 years ago and the reportage of it was very misogynistic, but I feel not much has changed today either. When I tweeted about it, lots of people commented saying she's got 200 followers today, tomorrow it will be 1000. She's doing this for publicity. But if I wanted 1000 followers, there are many other things I could have tweeted about. This doesn't bother me because I'm not a celebrity. I know a lot of celebrity friends who have to deal with a lot of vitriol and damning statements that make no sense.
Even people who say — okay, two people have spoken up, what about the other side of the story? But there's always been the other side of the story. People have said Tanushree's doing this for publicity. But that makes no sense. She wasn't even the main lead in the film. She was merely doing an item number. If she wanted publicity, she would have quietly done the song. Then chances of her getting a full fledged role would be higher. As opposed to being considered difficult. But she didn't do that. Also, if she was doing all this for publicity, she would have called the mob. She would have called the press. But she didn't. She was in her vanity van and before we knew it, Filmistan was filled with a mob. Nobody knows who called them.
Should bollywood be silent?
I think it's each to their own. I know industry people who are very diplomatic and this issue is very layered. For me personally it just felt right to say that I saw this happen. To be very frank, tomorrow if I were working with Nana Patekar or directing a 100 crore film — would I tweet about this? I don't know. I might have sleepless nights about it but I may have to consider so many other things. So when an Aamir or Amitabh don't comment, yes, I do feel bad. But just because I spoke I don't expect everyone else to speak about it. Maybe these celebrities do have a stand but they just don't want to talk about it.
I felt speaking out about this was the right thing to do.
Shyni Shetty has written web shows for Zoom and is currently working on a bunch ideas for film and TV series.
****
Also read:
Priyanka Chopra, Farhan Akhtar, Swara Bhasker rally around Tanushree Dutta after harassment revelations
Nana Patekar denies sexual harassment allegations by Tanushree Dutta: Will see what I can do legally
Tanushree Dutta is brave — Let's not muzzle her by giving in to Bollywood's inherent patriarchy
Entertainment
Bollywood director Mahesh Bhatt celebrated his 74th birthday on 20th September, Tuesday, and his daughter Alia had something to share with fans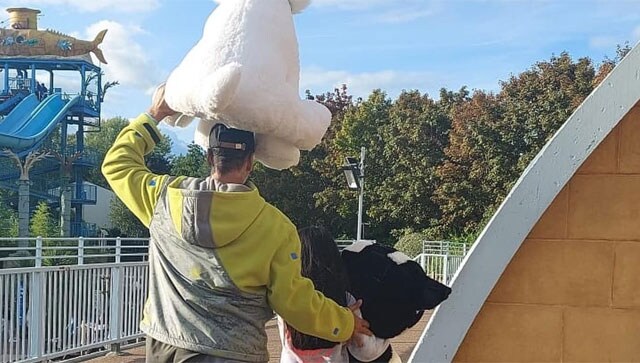 Entertainment
The actor shared videos and pictures of his visit to an amusement park with his daughter Nitara on Instagram.
Entertainment
Fans have been eagerly waiting for the third part of the Don franchise since the release of Don 2 in 2011.