Red Nose Day Actually: Watch the cast of Love Actually reunite for a charitable cause
The sequel features Hugh Grant, Bill Nighy, Colin Firth, Lucia Moniz, Laura Linney, and cameos by Patrick Dempsey and Kate Moss.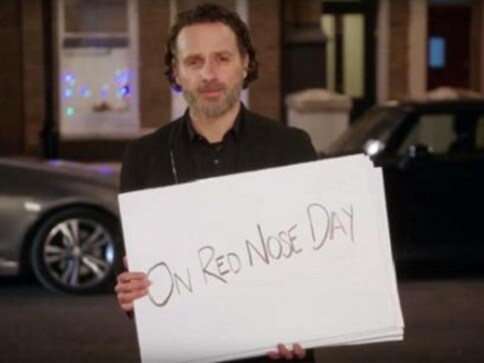 Its finally here: the sequel that we all have been waiting for.
The cast and crew of the 2003 mega hit film Love Actually is back with a 15 minute short for the very charitable cause — Red Nose Day. Red Nose Day is an international charity that helps children across the globe and many celebrities have endorsed the cause across the years.
This year there was alot of anticipation building around the sequel to Love Actually for the charity, which was titled Red Nose Day Actually. The short was conceptualised by the original film's writer-director Richard Curtis, co-founder of Comic Relief, the charity that organized Red Nose Day, to raise money and awareness to help children living in poverty in America and around the world. The effort has brought in more than $1 billion in donations worldwide.
There short had alot of expectations to live upto: the original film had combined the magic of Christmas with the charm of an old fashioned rom-com; and the ensemble cast was nothing short of brilliant.
Does the short live upto the expectations of original?
The film does bring back alot of familiar faces: We first see Keira Knightley opening her front door to Andrew Lincoln and his cue cards ('How do you like the beard?').
Then there's the crowd favourite Hugh Grant, who is back as the UK prime minister, reflecting on the state of things in the world: "Usain Bolt has run his last Olympics, the Harry Potter films are finished, Piers Morgan is still alive," while he continues to dance on songs like Drake's 'Hotline Bling.' Also featured are Bill Nighy, Colin Firth, Lucia Moniz, Laura Linney, and cameos by Patrick Dempsey and Kate Moss.
Though the short lacks in bringing in laughs, it has some great moments that tug at your heart, like when Colin Firth is trying to talk to Lucia Moniz in Portuguese or Liam Neeson trying to reconnect with his son.
Watch the video above and enjoy:
Entertainment
The Game of Thrones musical by Coldplay is here and it is even better than we imagined.
Entertainment
Watch Game of Thrones' Peter Dinklage team up with Coldplay to sing a tribute to the characters who died on the show.
Fwire
Actor Hugh Grant has lent his voice to a campaign calling for a change in the UK's gay marriage laws.