Oscars 2017 recap: Politics, fake rivalries, and the mother of all faux pas
From the Jimmy Kimmel-Matt Damon rivalry to Casey Affleck's underwhelming speech, and the big Best Picture goof-up, here's a quick recap of Oscars 2017
Steve Harvey was nowhere near the Oscars this year, and yet, an "oops..the wrong winner was announced" moment happened during the 89th Academy Awards ceremony. The honour was Warren Beatty's this year;  apparently, he was handed the wrong card which was for a completely different category (it was the best actress card, with "Emma Stone — La La Land" written on it).
It was a surreal moment that got all the right kind of reactions (M Night Shyamalan tweeted about writing the ending, because of its last-minute twist), Jimmy Kimmel jokingly accepted responsibility for this snafu ("I knew I would screw this up, I really did," Kimmel joked, after Moonlight director Barry Jenkins concluded his speech), Twitter had a field day, and somewhere, Steve Harvey heaved a huge sigh of relief and then did a little dance.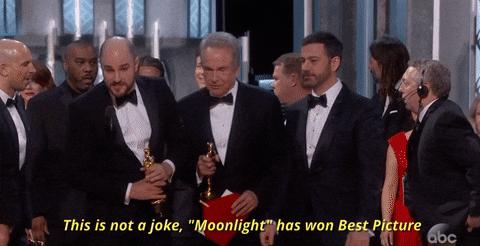 It was all quite unprecedented, and the incident dominated most of the post-Oscars 2017 conversation. But a lot of other things happened during the nearly four hour long ceremony. Let's have a look at what else trended or made an impact (good or bad) during Oscars 2017.
#AskHerMore on the red carpet
On the red carpet, Emma Stone (who was nominated for Best Actress for La La Land, and would eventually win) walked out with a Planned Parenthood pin on her fringed and golden Givenchy dress. She was also asked about her role in the movie and her career, and only then did the reporter move on to her dress. Stone was happy to divulge details (dress — Givenchy, earrings — Tiffany & Co). It was a great realisation of the #AskHerMore movement that started in 2015, and was underlined further by an almost-pointedly sexist question that a reporter asked Casey Affleck ("when are you going to shave your shaggy beard and show us the movie star jawline?"). Affleck stuttered through his response, and let's just say the anti-feminists didn't start a #AskHimMore campaign, just out of spite!
Casey Affleck
Innocent until proven guilty — that's the adage that was clearly taken to heart by the Academy. Casey Affleck (younger brother to 2-time Oscar winner Ben) was nominated and won, despite what many thought was a matter of ethics and morality over talent (i.e. that he shouldn't have been lauded for a performance that was indeed very good because of the allegations of sexual harassment against him). The question wasn't whether or not Casey Affleck was good in his role in Manchester by the Sea; the question was — should he win? Clearly, yes, is what the Academy thought.
Oscars 2017: Casey Affleck's Best Actor win for Manchester By The Sea rekindles 'art vs society' debate
Political statements
Speaking of Casey Affleck, his was a strangely underwhelming acceptance speech (he did, after all, win an Oscar for Best Actor!). Refusing to make eye contact with anyone at all or even look at the cameras, Affleck said a few cursory words of gratitude to his Manchester by the Sea team, before saying, "Man I wish I had something bigger and more meaningful to say." Erm, okay, sure, don't choose to say anything important — it's only one of the biggest world platform, like, ever! For a ceremony that was expected to be super politically charged, it was kinda subdued. In fact, none of the acting award winners said anything about the political situation. BBC's Ian Youngs articulated most people's thoughts when he wrote, "But none of the acting winners went near the subject. What happened? Did they chicken out? Or did they realise that preaching would have done little to change minds and would have just alienated half the country?"
Watch: Casey Affleck's speech after winning Best Actor for Manchester By The Sea at 89th Academy Awards
It wasn't all non-political though — as mentioned earlier, Emma Stone did wear a pin in the shape of Planned Parenthood's logo. It's too bad that the golden pin was barely even visible on her considerably ornate golden gown. Others, such as Ruth Negga and Lin-Manuel Miranda wore blue ribbons in support of American Civil Liberties Union (ACLU). Even Karlie Kloss wore the blue ribbon (which is surprising because she's apparently dating Joshua Kushner — whose older brother is Ivanka Trump's husband and President Trump's senior advisor!). Ezra Edelman's OJ: Made in America won Best Documentary, and Edelman (whose mom was a civil rights activist) said all the right things in his acceptance speech — he dedicated the award to the victims of the infamous crime, Nicole Brown Simpson and Ronald Goldman and said, "This is also for other victims, victims of police violence, police brutality. This is their story as it is Ron and Nicole's."
And Asghar Farhadi, the Iranian filmmaker whose movie The Salesman won Best Foreign Language film (it's an Iranian movie) and who was boycotting the awards ceremony to protest the Trump administration's ridiculous travel ban, sent a statement that was both poignant and subtly scathing of the ban.
Oscars not so white
This was the first time ever that black actors were nominated in all the major acting categories. With Mahershala Ali and Viola Davis winning in the supporting actor/actress categories (for Moonlight and Fences respectively), and Moonlight even nabbing the Best Picture award from right under La La Land's grimy-yet-snobbish nose, you'd be tempted to believe that it really is true — racism has no place in the arts, for the Academy. But whether or not that's truly long lasting, and not just a jerk reaction to the #OscarsSoWhite controversy from two years back. We'll wait and see for the rest of the year, and next, before calling it a win.
La La Land didn't win Best Picture. And that's perfectly fine
As unfortunate as the whole first-we-said-La la land-then-we-realised-and-said-Moonlight fiasco was, La La Land arguably wasn't really deserving of the Best Picture award, especially in a year that had so many incredible movies (looking at you in solidarity, Arrival).
The gender discrepancy  
For the second time in the past five years, an actress went on to win the Best Actress Oscar for a role that was not all that great, in a movie that wasn't all that, and for a performance that wasn't all that superior to the male lead's (who, incidentally, also happens to be nominated for Best Actor). Oh, and the male lead loses to a far better performance. Emma Stone won for La La Land this year (while Ryan Gosling didn't), just like Jennifer Lawrence won in 2012 for Silver Linings Playbook (while Bradley Cooper went home empty-handed). It's something that's bewildering to me - are the Academy's expectations of female actors much lower than the men? Is the calibre of male actors so much higher than their female counterparts, that a female actor wins Best Actress and the male actor (for a more-or-less similar role) doesn't qualify as best. Or sometimes, doesn't qualify at all (remember Leonardo DiCaprio's Titanic snub?).
Jimmy Kimmel
In the end, it was a really good, and it was thanks largely to Jimmy Kimmel. As this year's Oscars go down as unforgettable, Jimmy Kimmel will be remembered as a terrific host. His rivalry with Matt Damon is the stuff of celebrity comedy dreams and he summed up the let's-look-ahead attitude of Hollywood and the Academy perfectly with this line — "black people saved NASA and white people saved jazz!"
He thought he'd screw this show up. But really, he didn't! So long, until next year!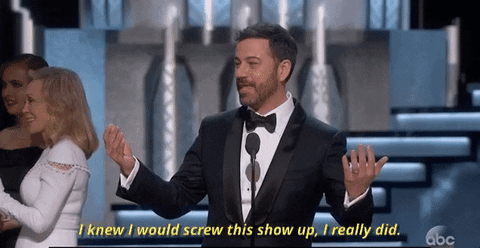 Entertainment
Venom: Let There Be Carnage also exceeded the original 2018 title's opening of $80.2M by 12 percent
Entertainment
To see a couple of privileged folk, frantically trying to scramble their way to safety, their faces whiter than their original white after what they have just seen. It is oddly satisfying to see how it ends for them, because I know it will.
Entertainment
A deep dive into the ending of Daniel Craig's No Time To Die and what it means for the James Bond franchise