On Sarkar 3 eve, here's a reminder of why Ram Gopal Varma's eccentricity is still relevant
Make no mistake, if we have an active 'indie' film scene in India today, it's pretty much because of Ram Gopal Varma's work in the 90s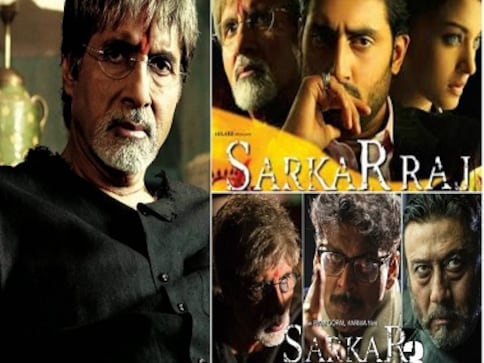 In Baradwaj Rangan's book Conversations with Mani Ratnam, while the man himself, Mr Ratnam, talks about his films from the late 80s and early 90s, he makes a passing remark about often taking feedback from Ram Gopal Varma. Perhaps because he knew he could count on honest, blunt opinions.
If you're a fan – of Mr Ratnam, Mr Varma, or both - this will probably strike you as quaint, odd, almost utopian; because we live in a time when the world just doesn't seem to care what Ram Gopal Varma has to say.
There is a new kind of conflict that arises every once in a while these days – the one that accompanies every new Ram Gopal Varma film.
He has been widely mocked for what feels like forever, now; his films never seem to hit the mark; and his twitter feed gives you the impression that one of the reasons for this could be that the man has simply lost his marbles. Yes, the man they call RGV seems like an eccentric misfit in the age of Buzzfeed, anti-nationalism and lean thrillers like Vikramaditya Motwane's Trapped. (The Buzzfeed reference is only because RGV consistently remains meme-worthy.)
Yet, even after all these years, after dozens of films ranging from all-time-great to downright pointless, I will still always look forward to the next Ram Gopal Varma film.
The reason for this is because you will find it hard to think of another name that has impacted commercial cinema in India in the last two decades, the way he has. Beyond his verbal diarrhoea and his phases of obsession with Mohit Ahlawat and Nisha Kothari, is a man who can only be described as 'genius', in the truest sense of the word.
Right from his first film Shiva – which introduced the Steadicam to Indian cinema and introduced the cycle chain as a fearsome weapon to Indian youth – Ram Gopal Varma has always pushed boundaries and innovated with his cinematic craft.
Remember his 1992 Revathy-starrer Raat? It was one of his earliest films, but his penchant for innovating was already firmly in place. So, in Raat, you'll see the camera used like it never had been till then – it aids more than ever, in constantly creeping the viewer out, because the film was a new kind of horror. It depended on feel and foreboding for its chills, more than blatant jumps and scares. (To date, Raat remains the only film has that managed to scare me. Since then, no film has come close.)
Varma's claim to national fame, however, was his 1995 rom-com Rangeela.
Today, an Aamir Khan-RGV collaboration seems almost counter-intuitive, but Rangeela has aged better than most films from the 90s. Aamir Khan has been most effective when he has played characters rather than messiahs, and Munna remains one of his most iconic, most lovable characters to date. But Rangeela's biggest offering to Hindi cinema was a man named A R Rahman.
Perhaps the one legitimate world-renowned popular artiste India has currently, Rahman had already made cinema buffs in the South sit up and take notice with his early work for Mani Ratnam. But Rahman's first ever Hindi film score – that of Rangeela – was a smash hit back then, and is still quite magical to this day.
It was also interesting to note how Ram Gopal Varma, known mostly for thrillers and gangland flicks, handled comedy with Rangeela. With his deft touch, the humour was rooted in, and born out of, the characters and their lives. It never ever overshadowed the story, which, admittedly, was a simple, sappy romance.
Of course, if there's one film around which Ram Gopal Varma's career and a whole genre of films in India swivels, it is his 1998 film, Satya.
Despite a tepid lead actor in Chakravarthy, the film was training ground for a bunch of people who've gone on to become icons in Hindi cinema – names like Anurag Kashyap (who wrote the film), Vishal Bhardwaj (who scored the music), Apurva Asrani (who, at only 19, edited the film) and Manoj Bajpayee, who, it seems, is finally getting the kind of recognition he deserves.
Satya was immediately followed up the following year with the lean-mean thriller Kaun – and perhaps this is where the Trapped reference from earlier in this piece comes in.
Make no mistake, if we have an active 'indie' film scene in India today, it's pretty much because of Ram Gopal Varma's work in the 90s.
His gangster films began to make our cinema look less glossy, more gritty. His ability to get films made in tight budgets without ever compromising on craft laid the foundation for today's indie filmmakers, most of whom look up to Anurag Kashyap as their godfather, either in deed or in spirit.
Much later, Ram Gopal Varma would go on to be the catalyst in the careers of talents like Sriram Raghavan (Ek Haseena Thi) and Shimit Amin (Ab Tak Chhappan).
But his own cinematic pursuits have always been steady. If Satya was a cult hit in the 90s, at the turn of the millennium, Company was a seminal work in the gangster film genre. Apart from being the first Hindi film of one of Indian cinema's finest actors, Mohanlal, it also brought so much of Bombay's underworld lore into the mainstream, in a way we had never seen before.
And with Sarkar in 2005, RGV finally showed us what we had suspected all along – that politicians and gangsters belong together.
Sarkar was perhaps RGV's last truly acclaimed film. His craft was solid and still-evolving, he got mood right, he made a few people take Katrina Kaif a little more seriously, and it gave Amitabh Bachchan a renewed identity in an industry that was suddenly getting crowded with too much young talent.
It was also probably that last film that people remember him fondly by, because since then he has had a string of disasters peppered with films that look like they were born out of sheer disinterest.
He'll be the first to admit that he shouldn't have made RGV Ki Aag – a film whose name is difficult to even type out, let alone watch.
Through films like Agyaat, Darling, Contract, The Attacks of 26/11 and even a short film called A Day in the life of Lakshmi Manchu's feet, RGV may appear to be busy dispersing his marbles, but you can always tell that despite his lacklustre filmography in the past decade, Ram Gopal Varma has never forsaken his intent to always push his boundaries.
In 2011, he was one of the first in India to shoot a film completely on a DSLR and find it a commercial release -  a Telugu film called Dongala Mutha. Later, he would use the DSLR to film Not A Love Story and even use the GoPro extensively in Department.
Now, he's out with his third Sarkar film, and I'll be honest – it doesn't seem like it can do much to salvage his reputation. But the man is still making films, so you don't know which one can mark a turnaround, and which of them might herald something new in cinema.
This is why I'll always look forward to every new Ram Gopal Varma film.
Sports
Major League Cricket (MLC) is scheduled to be launched this July. IPL's most successful teams, Mumbai Indians and Chennai Super Kings, are also associated with the new league
Entertainment
Zwigato, a slice-of-life drama directed by Nandita Das starring Kapil Sharma and Shahana Goswami, is a cinematic masterpiece that combines two entirely different worlds of entertainment.
Entertainment
Jishan is well known in the music industry for his work in more than 100 advertisements for 50+ national and International brands as a Music director, lyricist, and singer.