Nitya Mehra analyses her directorial debut - Baar Baar Dekho on The Firstpost Show Dissect with Renil Abraham
​The Firstpost Show with Renil Abraham this week has a new segment called 'Dissect' which analyses and carefully discusses what went right and wrong with a movie post it's release. In the first TFS Dissect, we had Nitya Mehra, director of Baar Baar Dekho who spoke to Renil Abraham about her directorial debut in the Sidharth Malhotra - Katrina Kaif starrer.
Baar Baar Dekho had an overwhelmingly humongous promotional period with the trailer and songs going viral. When it came to Kala Chashma, the word 'viral' was an understatement. There was a lot of excitement around the movie. Also considering the fact that Dharma Productions and Excel Entertainment were joining hands for a project and because of the scale in which the movie was projected, the movie was expected to have a ball at the theatres. But much unlike the popular ideas, the responses that Baar Baar Dekho received in the opening weekend ​were largely negative. Although there were a few positive reviews, majority of the critics in the country wrote the movie off. The next week of the movie suddenly saw an influx of positive reviews.
Nitya Mehra has assisted several directors in India and internationally in some of the biggest and best known movies. Baar Baar Dekho was her directorial debut. With zero inhibitions and in complete honesty, Nitya discussed what went wrong and right with her directorial first. Renil started The Firstpost Show Dissect asking her if she was worried at all about the reach of Kala Chashma resulting in a state were that was the only thing the audience cared about. She said she was. She added that when she had gone for promotional city tours, all everyone wanted was for Sidharth and Katrina to dance to Kala Chashma and when she would start talking about the intent of the film, she could see the entire crowd zoning out.
From the commerce of the movie and talking to Sidharth and Katrina about the responses they were receiving and finally a few super fun rounds of 'Five Seconds Rule', the first ever segment of The Firstpost Show Dissect with Renil Abraham featuring Nitya Mehra is a must watch.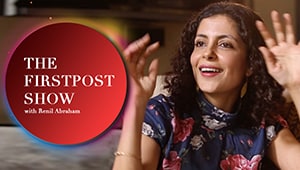 Updated Date: May 23, 2017 17:59 PM