#MeToo in India: 2018 has been an exhilarating, emancipating year for women in entertainment
What's not to love about women who throw off the shackles of celebrityhood to lend their voices to worthy causes, cuss, fight and love on their own terms?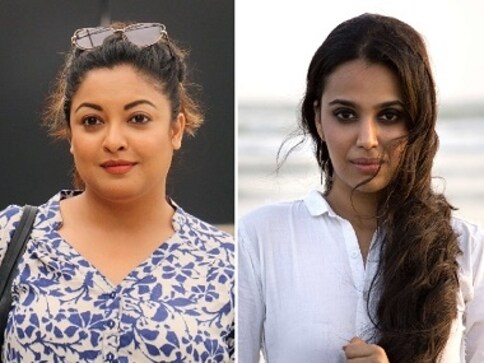 I like to imagine that there was at least one time in the collective psyche of 2018, when ordinary women peered in from the other side of the shimmering curtain that divided them from artists. Their eyes met with their counterparts and in that singular moment of feminist kinship they knew what it must feel to take the power back. And that fleeting feeling of community defined the second wave of the #MeToo movement in India — to know that women suffered the same injustices because of their gender, irrespective of their privilege.
What an exhilarating and emancipating year this has been for women in the Indian entertainment industries. The torch that actors Sri Reddy and Nikesha Patel lit when they complained of sexual exploitation in the Telugu film industry, Bollywood's Tanushree Dutta carried forward in the long and exhausting sprint against sexual violations of women at the workplace.
As the year winds down, there's much to celebrate despite the smoldering pile of rubbish that has been the majority male response to women calling out their harassers.
For every woman that tentatively raised her hand to say "me too", there was an online mob drowning her with skepticism, suspicion, counter-allegations and vicious name-calling. Bollywood remained silent, by and large, about the big names whispered in blind items in magazines. But all was not been lost in the churn of conversations that dominated the industry.
"It's a year I will remember," said singer Chinmayi Sripada, who accused national award-winning lyricist Vairamuthu Ramasamy of sexual misconduct.
"When the first stories broke out, I recall lamenting — 'is nobody going to talk about Vairamuthu'? I waited for somebody to put down the first stone. I asked my mother, I asked other friends, 'should I speak out'? When I shared my story, other people started sharing theirs," she says. Vairamuthu has categorically denied all allegations.
Sripada learnt the hard way that women's testimonies against powerful men came at great personal cost. Her membership of the Tamil dubbing union was terminated and she faced a barrage of attacks online for speaking out against Vairamuthu. But she said she regretted nothing.
"It felt dishonest to the movement. How can I tell people to share their stories and not share mine?"
Her fellow warriors have been casting director Tess Joseph and actors Divya Unni, Varalaxmi Sarathkumar and Samantha Akkineni in their struggle to be heard. All of them highlighted sexual violations in their sphere of work — pointing towards a culture of acceptance of a certain kind of behavior by men.
No offence to Keats, but 'tis hasn't exactly been a season of mists and mellow fruitfulness; rather months of lonely, individual battles against men anointed as keepers of morals of Bollywood. Ask Vinta Nanda. Ask Sandhya Mridul.
Raise a toast to Sona Mahapatra, who accused two powerful Bollywood singers of sexual harassment, and has been campaigning, along with other women, relentlessly to de-platform men who suffer little or no consequences for alleged misdemeanors.
But in the midst of this tidal wave of women's anger, change came — even if with the quietest of footfalls. The Jio MAMI Mumbai film festival and the Dharmashala International Film Festival (DIFF) dropped Balekempa after an anonymous allegation of sexual assault surfaced against director Ere Gowda.
Priyanka Chopra invested in feminist dating app Bumble and Aamir Khan went on Koffee With Karan and spoke about the dilemma of hearing about men he's known as colleagues for years being outed as sexual predators. It sparked a tiny flame of hope that this internal turmoil, that is giving Khan and his wife Kiran Rao, and who knows how many other powerful men and women in the industry pause, will be the trickle that will swell into a stream of empathy and forethought in the coming months.
Raise a toast to Priyanka Chopra, Deepika Padukone, Sonam Kapoor and Neha Dhupia and the other women actors who shattered the bride stereotype by laughing raucously at their weddings, synchronizing with their partners' Instagram and having a right, big ball. Thank goodness for the women who established that there's no "marriageable age" when it came to living full lives and putting careers and themselves ahead of societal expectations. Chopra steamrolled the stereotype of the "acceptable" age difference between partners that traditionally appeals to Indian conservative morals. She's ten year older than her husband Nick Jonas and while that's been a cause for heartburn for many on social platforms, Chopra seemed unaffected and is continuing to party.
Applaud this year the fortitude of unapologetic, confident women. Swara Bhasker battled harassers online, even against calls for the boycott of her work. Radhika Apte dominated Netflix with her presence and had no trouble accepting that she was a becoming household face in an industry where men are seldom questioned for taking on too many projects.
"What summed it for me was that Raazi and Veere Di Wedding broke the glass ceiling and the myth that female-centric films don't make the big bucks," said Bhaskar. "Veere Di Wedding broke the myth that women centric films without a hero don't 'open big'. It made 10 cr plus on day 01," she said.
She gave us her personal highlights of the year.
"Mainstream Bollywood got its first heroine on a wheelchair. Zero gave us a female protagonist who had cerebral palsy." The film, she said, did not project her through a prism of easy pity and sympathy, instead empowered her.
"Women in the media and entertainment industry finally said #MeToo and Bollywood was forced to acknowledge that and act. I guess Bollywood finally blew the cover on depicting female desire and sexuality. And I'm honoured to have been the vehicle for that. In the now infamous masturbation scene from Veere - which seems to have started a trend," she said.
Raise a toast to Padukone who rode out the political turmoil of Padmaavat with wit and grace. What's not to love about women who throw off the shackles of celebrityhood to lend their voices to worthy causes, cuss, fight and love on their own terms?
I would like to think, that for every little girl mooning over half torn posters of their heroines on spit-stained cinema walls, these women, even with all their entitlement and privilege, have planted a sub-consciousness pod of possibilities by their public and private little rebellions. Many of these actors spoke through their work — be it Raazi, Veere Di Wedding or Stree — and showed that when women get work that help them reach their full potential, they shine.
Sripada summed it up best about her most overwhelming feeling this year. It's a feeling that will resonate with many.
"I am happy. There are days it feels hopeless. There are days I wake up hopeful. If I had a chance, I would do it all over again."
Entertainment
The video was shared by an Instagram user, wherein he can be seen sitting with two friends, and is heard expressing how he feels about his exams on the tune of Main Agar Kahoon.
Entertainment
The actress who's an inspiration to millions across all age groups & gender also made headlines for kickstarting her 2023 by meeting her fans, clicking lots of selfies & even having quick candid conversations at a recent beauty collaboration.
Entertainment
While calling her husband a 'thoughtful' person, Priyanka also went on to say that her daughter makes her feel special