Like Varun Dhawan, it's 'first tweet and then delete' for Twinke Khanna, Salman Khan
Varun Dhawan was recently asked for his reaction on Maharashtra Navnirman Sena's (MNS) directive of banning Pakistani artistes from working in India.
The actor said, "I totally stand with the government of India. If banning actors can stop terrorism, then they should do it. But that is something government needs to decide first."
When Dhawan's statement was met with a largely negative reaction, he took to Twitter to clarify his stand. The Badlapur actor tweeted: "Guys, my statement has been misinterpreted. I feel arts and sports are always made scapegoats."
However, Dhawan deleted his tweet within sometime of posting it. The Student Of The Year actor is not the first one to delete his tweet for the fear of sparking a controversy. Take a look:
Twinkle Khanna
Twinkle Khanna is quite popular on Twitter, courtesy her hilarious jokes. But the interior designer-cum-columnist found herself at the receiving end of public wrath in May this year when she took a dig at Sri Sri Ravishankar for his Nobel Prize claim.
Khanna tweeted, "Sri Sri got his nobel foot and half his beard stuck in his mouth in a yogic pose that Baba Ramdev perfected a while ago #HolyMenAndHairyTales"
Followers of Sri Sri Ravishankar even threatened to boycott Akshay Kumar's then-upcoming release, Housefull 3.
It was then that Khanna deleted her tweet and apologized to Art Of Living members for hurting their sentiments.
Didn't mean to hurt anyone's feelings was meant to be a joke and am old enough to accept an error of judgement on my part.

— Twinkle Khanna (@mrsfunnybones) May 7, 2016
Tanmay Bhat

In May this year, Tanmay Bhat braved the heat when he posted a video mocking Sachin Tendulkar and Lata Mangeshkar on Snapchat.
In response to the public outrage and trolls, Bhat had posted 2 tweets where he stated that Twitteratis had no right to call him 'crass' and 'tasteless.'
His first tweet read, "Sab aise baat kar rahe hai jaise har baar life mein George Carlin level thought-provoking joke nikla hai unke muh se."
Another read, "LOL, Twitter, jahan pe logon ke marne se pehle unke marne ki khabar trend hoti hai 'tasteless' aur 'crass' jaise words use kar rahe hai."
However, Bhat deleted these tweets soon after.

Salman Khan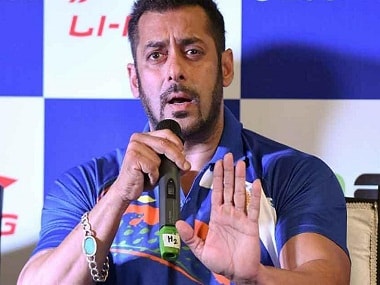 In July last year, Salman Khan invited the wrath of many when he, in a series of tweets, condemned the hanging of 1993 Mumbai blasts accused Yakub Memon.
He demanded that his brother Tiger Memon be brought to justice instead.
What followed was a severe backlash with BJP and Shiv Sena members protesting outside the star's house. Finally, Khan issued an apology.
He deleted his previous tweets and apologized in a series of tweets.
I have not said or implied that Yakub Memon is innocent. I have complete faith in the judicial system of our country.

— Salman Khan (@BeingSalmanKhan) July 26, 2015
Many lives were lost in the Mumbai blasts. And I have repeatedly said the loss of one innocent life is equal to the loss of all humanity.

— Salman Khan (@BeingSalmanKhan) July 26, 2015
My dad called & said I should retract my tweets as they have the potential to create misunderstanding. I here by retract them.

— Salman Khan (@BeingSalmanKhan) July 26, 2015
I would like to unconditionally apologise for any misunderstanding I may have created unintentionally.

— Salman Khan (@BeingSalmanKhan) July 26, 2015
Shruti Seth

When PM Narendra Modi announced the Beti Bachao Beti Padhao project in June last year, he also initiated a social media campaign called 'Selfie with Daughter.' Modi asked parents to tweet selfies of themselves with their daughter.
Shruti Seth criticized the campaign on Twitter, saying, "A selfie is not a device to bring about change Mr. PM Try reform. #selfieobsessedPM." In another tweet, she wrote, "Seriously get over your selfie obsession Mr PM. Be more than a photograph. Come on!"
In no time, the actress was trolled on Twitter. While Seth put on a brave front initially (she even posted a tweet that read 'I heart trolls'), she finally put an end to the chatter by deleting the tweets in question.
Kamaal R Khan
Filmmaker Vikram Bhatt and Kamaal R Khan got into a war of words when KRK passed several derogatory remarks against Bhatt in his review of 1920 London.
Khan insinuated that Bhatt makes use of the casting couch, following which Bhatt slammed him with a legal notice.
Post this, KRK was said to have shared an abusive tweet regarding Bhatt – one that he later deleted.
Updated Date: Sep 28, 2016 18:10 PM