Koffee with Karan season 6: Why Abhishek Bachchan, Shweta were the best sibling pair on Karan Johar's show
Abhishek and Shweta Bachchan brought a lot of personal insight that has been missing from Koffee with Karan this season, which has been marred with PRspeak.
The hallmark of Koffee with Karan is sensationalism. Yet, in the best episode featuring siblings, refreshing honesty completely replaced this element. Undoubtedly, Karan Johar shares a close, informal relationship with Abhishek and Shweta Bachchan. Together, these three celebrities, the very personification of privilege in India, brought in an honest and uninhibited conversation that makes for great TV.  
Shweta and Abhishek Bachchan did not hold back on the show. As Abhishek has been on the receiving end of nasty trolling on social media for a long time, Shweta's protective side emerged clearly. That she found the hatred and negativity for her brother shocking is evident in her revelation that she has tried to keep her kids away from choosing acting as a career. That Abhishek struggles to live under the shadow of India's biggest movie star is no secret. He has stated this indirectly on Johar's show before. This time, he just came out with it, calling it difficult to face his father's feedback on his performances and films. Manmarziyaan, Abhishek Bachchan's second coming won him good reviews. Apparently, it also made Amitabh Bachchan weep. Shweta verified the fact that Amitabh finds it difficult that his son faces backlash and criticism just because of his father's stratospheric career. This is exactly the kind of personal insight that has been missing from Johar's talk show this season. This episode brings more such aspects without filters.  
The Best Part
One cannot help but notice a sense of acceptance and steadiness that Abhishek now carries with him. He stated that playing second fiddle, standing left of center in a film was comfortable. It made him rich, but humiliated him as an actor. For those who have had a chance to interact with him, Abhishek comes across as friendly and genuine. His personal demeanour is pleasant and polite, and now, mature. These traits clearly emerged in this episode. Rapid Fire moments like Abhishek's thumb-sucking and bed-wetting might make for click baits.
But the bigger revelation here is Shweta Bachchan. While her accent does sound off tune at times as it makes guest appearances, she has no pretensions of being down to earth. The fortunate few that have her life, where one has never had to worry about bills, costs, budgets or savings, get judged for simply being. Shweta did not pretend to be a regular woman and this made her endearing. Hers is a blessed life and now, she hopes to make it fulfilling by building a career in designing. This honesty about being privileged and living life in style worked to her advantage, cutting through tiring PRspeak that often rules public discourses of celebrities.
Family Drama Rated
Perhaps making a strategic move against the backlash of nepotism that hit him, Karan Johar worked towards bringing an up, close and personal look at the lives of stars and film families with this season. He dug deep into the well of childhood and youthful memory to portray the kindred spirit that holds together this nebulous bunch called the 'Hindi film fraternity'.  As pairs turned up on the show, we bring you what worked best and why.
Shweta-Abhishek

Honest and fortright, this one will stand out for its freshness and comfort. That Jaya Bachchan hates being photographed by the paparazzi is visible to everyone on Youtube. But that she also hates selfies is news, and watch the show to find out why.
Cool and classy defines this father daughter pair. Straightforward and with no effort at being normal or conventional, Saif and Sara projected all that is good about the celebrity life. Their easy bond brings a lesson in modern day parenting.
Harshvardhan-Rhea-Sonam Kapoor
One simply cannot miss the fact that Harshvardhan can barely get a word in sideways with his sisters on the show. But whatever he did say, reflected a smart, irreverent young man who could surprise us in future. Sonam and Rhea, although a tad bit spoilt, do come across as honest, vivacious girls. This is a family that will always stand together.
Loving and caring, the brothers did bore us a little bit. They are clearly each other's strength but some amount of entertainment, in real life, would have made them a more endearing pair to listen to. But Shahid's dignified tackling of tricky questions does stand out as an actor who has smartened up.
Arjun Kapoor entertained with his trademark sense of humour. Janhvi came across as privileged and not so articulate for the most part, but as an eager actor. Theirs is a relationship that is still growing, faced with adversity. Perhaps in future, both will have more to talk about as individuals who have made it on their own.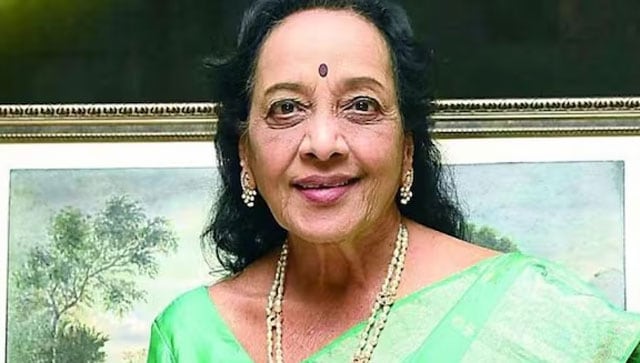 Entertainment
She had won the Filmfare award for Hindi Film 'Milan'. Some of her iconic films include 'Missamma', 'Gundamma Katha' and 'Sri Krishna Tulabharam'.
Entertainment
The other people who have spoken about the legendary filmmaker and his son Aditya Chopra for the series are the late Rishi Kapoor, Neetu Kapoor, Rani Mukerji, Salim Khan, Abhishek Bachchan, and Hrithik Roshan.